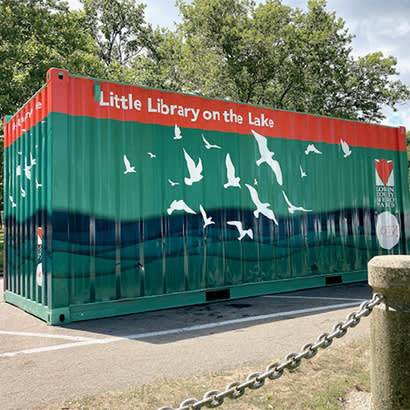 For an enhanced digital experience, read this story in the ezine.
How park and recreation agencies can enhance services by working smarter with libraries
"Parks and libraries and learning: There are so many overlaps and compatibilities. ...When we work together, we get a greater good." — James (Jim) E. Ziemnik, director of Lorain County (Ohio) Metro Parks
When Anastasia Diamond-Ortiz, CEO and director of the Lorain Public Library, came to the county in 2016, one of the first things she did was meet with Metro Parks Assistant Director Jennifer Bracken. The two talked about active transportation.
"We just had a great conversation trying to figure out how we could support that in the community," remembers Diamond-Ortiz.
"Several years ago, I got to know Anastasia very well on a streetscape project. We've done a variety of projects together," Ziemnik recalls. "Our staff had formed relationships years ago that focused on getting families and children to the beach, to the parks, for storytime."
Over the years, navigating this partnership has not always been smooth sailing.
"I think there are some people who will question it from a purist point of view. Why do you work with the library if you're a parks person?" says Ziemnik. "I think that is just a parochial point of view. People don't see those compounding benefits; when we work together, we get a greater good."
"For us, it was just a matter of trying to talk to the board and to the community, and to our staff, so that everyone understands that this is really a shared cost," says Diamond-Ortiz.
Finding Common Ground
Lorain County Metro Parks and the library found common ground centered around the promotion of health and wellness. Both had pre-existing relationships with the local health department, which served as a third key partner, providing crucial financial assistance and logistical advice.
"Our worlds came together [through] the conduit of the health district, with which we both have very strong relationships," says Ziemnik. "We are three organizations, and through a compounding of talents and reach, we get so many more benefits."
Early and open conversations built a climate of trust and transparency, which eventually led to the Go Lorain Bike Share, a collaboration with Lorain County Public Health, Lorain County Metro Parks and the Lorain County Community Action Agency.
As the partnership expanded, it evolved into the Little Library on the Lake, which is modeled on the Cleveland Public Library's Book Box, which sits on the beach at Edgewater Park as part of a partnership between that library and Cleveland Metroparks. It houses various games and sports equipment, such as bocce ball, horseshoes, soccer balls, tennis rackets, badminton sets, bird-watching kits, and bikes, helmets and bike locks. All items are available to be checked out using a library card. Visitors also can take advantage of the Little Library's free Wi-Fi, which covers the entire beach. During Summer 2020, the library had nearly 1,000 checkouts.
Collaborating Through a Pandemic
When the coronavirus (COVID-19) pandemic hit, the partners did not initially know if they'd be able to continue the Little Library on the Lake project. The project's success in the middle of a pandemic reflects the commitment of staff in both organizations.
"I've seen passion from everyone on both sides for doing this project," says Diamond-Ortiz. "This is really a shared cost. It's not like in the middle of a pandemic we're going out and assuming all of that risk ourselves; it was important to everyone to know that lots of people in the community wanted this and we're sharing the cost, whether that's monetary or sweat equity."
Ziemnik adds, "We've continued to push as hard as we can on these types of collaborations and to make them successful, because we serve the same people in many ways."
Lessons Learned
Some of the key lessons gleaned from these examples include:
Start small and build. The logistical work needed to bring Library Storytime and StoryWalk programming to parks paved the way for larger, more complex initiatives like the Little Library on the Lake. Similarly, the relationship building that Ziemnik and Diamond-Ortiz established by working together on a streetscape community planning project set the stage for inter-institutional collaboration.
Know your partner. The more two partners can understand about how the other operates, the greater the likelihood of success, and the smaller the likelihood of challenges. It is also helpful to talk early on about what will happen if the project or program doesn't work, and how you'll support each other if the worst occurs.
Be transparent. The critical foundations of trust and open communication, which must occur at both the administrative level and the staff level, can be used to build and to reaffirm relationships over time.
Communicate collective impact! Collective impact is the commitment of multiple sectors to work together toward a common agenda.
Listen to the full conversation between the authors, Ziemnik and Diamond-Ortiz.
Noah Lenstra, Ph.D., MLIS, is the Assistant Professor of Library and Information Science and Director of the Let's Move in Libraries initiative, at the University of North Carolina at Greensboro School of Education, where he is an Assistant Professor of Library and Information Science Teresa L. Penbrooke, Ph.D., CPRE, is the Director of the Healthy Communities Research Group and Educator for GP RED, and CEO and Founder of GreenPlay, LLC.