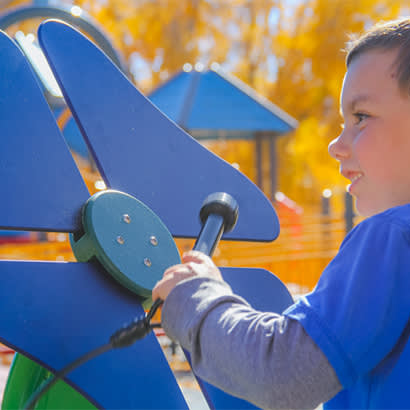 For an enhanced digital experience, read this story in the ezine.
Despite the quarantine due to the coronavirus (COVID-19) pandemic and the slow reopening of our nation, the Orlando, Florida, Parks Build Community (PBC) Grand Avenue Park project has continued to move forward. The city of Orlando's Families, Parks and Recreation Department along with NRPA and donor companies have worked hard to ensure the park renovation continues to forge ahead.
To date, stakeholder meetings have been held, design plans have been created and donors have stepped up to contribute products for the park. A big milestone in the project, the Grand Avenue Neighborhood Center groundbreaking, took place July 16, 2020. The event celebrated the construction of the neighborhood center, as well as the park revitalization. In attendance were Orlando Mayor Buddy Dyer, Commissioner Bakari Burns, the city of Orlando Families, Parks and Recreation Department Director Lisa Early, along with other local officials and personnel.
We celebrate the donors and their dedication to creating an interactive and engaging park for the Grand Avenue community. "This is a strong community that truly values this park. None of this would be possible without the PBC donors," says Ted Mattingly, NRPA's PBC project manager. "Their willingness to donate the products and design the play areas gives the local community more options than they normally would have. The donors are providing the best equipment on the market to this project, and they understand how important the project is and the value of giving back."
Playgrounds
Nothing defines a park and attracts youth more than its playgrounds, and this park will have something for everyone. BCI Burke Company is providing a custom-designed playground for children ages 5 to 12. Targeted for the same age group, GameTime/PlayCore will be supplying a custom challenge course playground with integrated shade. A separate play structure will be furnished for young children ages 2 to 5. To top off the playground, approximately 3,000 feet of artificial turf will be provided by ForeverLawn from its Playground Grass Ultra collection. This advanced product contains antistatic and antimicrobial technology, resists ultraviolet degradation and is manufactured to withstand the heavy traffic of a playground.
Fitness
Designed for accessibility and built to last, Greenfields Outdoor Fitness has generously donated a six-piece fitness equipment set for the park. Its equipment can be enjoyed by people of all ages and fitness levels. To keep the equipment cool, Shade Systems™, Inc. is providing a shade structure for the fitness equipment. "Shade Systems fabric shade designs are engineered for easy removability in the event of a severe storm, [while] the CoolNet™ shade fabric protects against the sun's harmful UV rays," says Brad Buzard, general manager at Shade Systems, Inc.
Fields
Outfitting the sports fields around the country since 1922, Gared Sports has donated fiberglass backboards with goals, stationary bleachers, competition-sized soccer goals, lacrosse goals and outdoor batting cages to the Grand Avenue Park project. "Gared is an advocate for rebuilding communities through the renovation of green spaces, such as Grand Avenue Park, and we love that NRPA shares our passion for play and the importance of recreation," says Kara Oughton, marketing manager at Gared Sports.
Known as a leader in outdoor lighting, Musco Lighting (musco.com) is providing the LED lights for the multipurpose field at the park. This will extend park-use times and allow games and other community events to occur in the evenings.
Park Amenities
Grand Avenue Park is a true community center, and stakeholders of the park specifically asked for the ability to have more community activities on-site. To be able to include movie nights at the park, Epic Outdoor Cinema has donated a 16-foot inflatable movie screen. These screens allow for a pop-up movie night without the added issue of outdoor storage and maintenance of the screen.
Focused on quality design with the best materials and easy maintenance, Most Dependable Fountains, Inc. will supply a multiuse unit that provides a traditional drinking fountain combined with a water bottle filler and pet fountain.
Freenotes Harmony Park will provide aesthetics and music for the park with its dual-use musical/public art structures. An industry leader in outdoor musical instruments, Freenotes Harmony Park will donate two of its multi-instrument, whimsical, nature-inspired collections. "The installation in Orlando is going to have our botanical collection, which includes a lot of brightly colored nature-themed products and our new butterfly collection [that] goes hand in hand with the botanical pieces," says Kate Morrison, sales and business development manager for Freenotes Harmony Park. "It is fun to watch all ages interact and to let generations come together to play."
Stephanie Devine, vice president of marketing and brand strategy at UltraSite says "UltraSite worked with NRPA and Grand Avenue Park on the site amenities that would best fit their space and needs, including the size of the park and the frequency of use. The team landed on UltraSite's sleek Oxford Collection. UltraSite will donate eight 8-foot Oxford Tables, four of which will have umbrella holes. We will also be donating four umbrellas for the tables." UltraSite also will be providing nine of its 36-gallon Oxford Receptacle trashcans.
DuMor Site Furnishings will be providing additional site furnishings for the park. "DuMor is honored to have been invited to participate in another Parks Build Community project," says Anita Rudy, president of DuMor. "We are happy to donate 10 of our all-steel benches and three all-steel game tables toward the Grand Avenue Park renovation."
Recognizing the merit of the community and the people in it, Rudy believes that people are at the heart of every project, including the Grand Avenue Park revitalization. "We see the value public spaces bring to a community. We believe NRPA does a great job developing worthwhile projects, and we appreciate the opportunity to be a part of something so positive."
For more information about the 2020 Parks Build Community project and how you can be involved, contact Gina Mullins-Cohen, NRPA's vice president of communications and chief marketing officer.
The 2020 Parks Build Community Donors Include:
BCI Burke Company
GameTime/PlayCore
Greenfields Outdoor Fitness
Musco Lighting
Playground Grass by ForeverLawn
Epic Outdoor Cinema
DuMor Site Furnishings
Gared Sports
Most Dependable Fountains, Inc.
Freenotes Harmony Park
Shade Systems, Inc.
UltraSite
Paula Jacoby-Garrett is a Freelance Writer based in Las Vegas, Nevada.