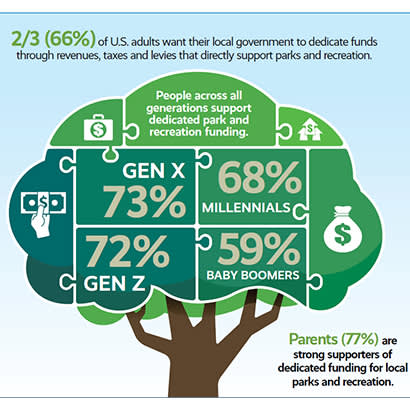 For an enhanced digital experience, read this story in the ezine.
Two-thirds (66 percent) of U.S. adults want their local government to dedicate funds through revenues, taxes and levies that directly support parks and recreation.
People across all generations support dedicated park and recreation funding.
Gen X – 73 percent
Mellennials – 68 percent
Gen Z – 72 percent
Baby Boomers – 59 percent
Parents (77 percent) are strong supporters of dedicated funding for local parks and recreation.
Each month, through a poll of 1,000 U.S. residents focused on park and recreation issues, NRPA Park Pulse helps tell the park and recreation story. Questions span from the serious to the more lighthearted. The survey was conducted by Wakefield Research.
Visit the NRPA Park Pulse webpage for more information.