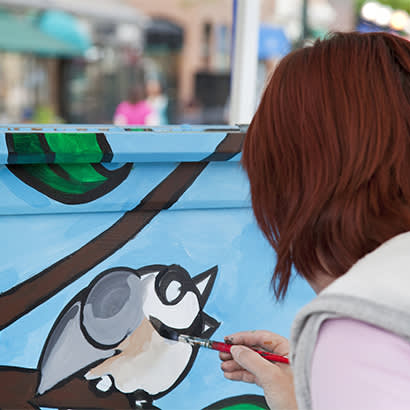 For an enhanced digital experience, read this story in the ezine.
With a growing population as an urban small city, Perris, California, has transformed its approach to public art by prioritizing equitable and sustainable opportunities that cultivate its rich history and celebrate its vibrant community. Public art has traditionally served as a beautification element for city streets, community parks and social gathering spaces. For the city of Perris, public art was one of the missing elements in developing equitable opportunities to support a built environment that boosts economic vitality and celebrates the diverse culture in the city.
Over the past year, Perris has introduced a Public Art Initiative that provides a blank canvas for the community to paint works of art that support the city's vision for creating an identity that reflects its diverse community. The city's leadership believes that public art can be used as a powerful tool of expression to raise public awareness on social issues, preserve a community's history, influence the lives of individuals, enhance the level of civic engagement, and transform the small hometown feel of the city into a vibrant cityscape.
In 2019, the city of Perris adopted an ordinance that implemented a public art fee on new industrial developments within the city that would fund the new Public Art Initiative. The initiative allows the creation of public art projects throughout the city that provide art enrichment activities for the community and celebrate Perris' past, present and future through an equitable lens and scope. Simultaneously, the city is working on the revitalization of the parks and recreation master plan, which will incorporate a sustainable approach to set the vision in motion for public art in open spaces through policy development and implementation of equitable programs.
Launching the Public Art Project
A kick-off mural project inaugurated the public art initiative and future artistic cityscape vision. A city priority was to ensure that the mural reflected multiple generations of citizenry to preserve the city's rich history, celebrate its diversity, and inspire the youth to thrive and express their generational characteristics. Perris hosted several workshops to engage various stakeholders in the community, including its historical society, local school districts, youth groups, local leaders and more. Through this series of workshops, the community provided input that represented their legacy, heritage, culture and future. The intergenerational interaction between youth and adults provided for a productive collaboration between two groups that shared a similar vision in incorporating the city's rich agricultural and railroad history, diverse culture, recreation and destination points. Healthy discussions and disagreements eventually led to a consensus on the shared pride of Perris' residents, resulting in a beautiful representation of a community that fosters inclusivity, cultural equity and hope for a bright future.
The mural project sparked a concatenation of public art projects in the city that provide new opportunities for our youth, local artists and residents to come together and "create." An Art Apprenticeship Program was introduced to give young aspiring artists the opportunity to learn and work alongside professional artists. On the musical spectrum, a Youth Mariachi Program was established to provide youth with the opportunity to learn how instruments and culture interweave to create music. In the future, the city plans to integrate permanent and temporary interactive art experiences, such as public art street overlays and art expositions, that contribute to a healthy built environment, as well as performing art activities, music festivals and art gallery fairs that preserve history and engage the community.
Perris' efforts to elevate equity through the parks and recreation master plan revealed that parks play an active role in supporting public art in open spaces. The latest public art project approved will be incorporated into a 22-acre park development in a disadvantaged community, known as Enchanted Hills. The first park in this community will commission local artists, residents and youth to create a mural on-site. This park also will feature an art rock element that originally began with an existing boulder painted by residents in the community. The existing boulder art piece will be preserved and will help set the tone for the theme of the park.
Historical preservation, cultural representation and providing spaces and opportunities that cultivate public art will paint the way to an equitable built environment. The parks and recreation master plan will incorporate policies that support art elements and sustainable enrichment programs. We'll let the community voices become the strokes on a vibrant canvas to celebrate our diverse community and bring identity to the place they call home.
Special thanks to the City of Perris Community Services Department staff for their contributions to this article.
Crystal Lopez, MPH, is Public Health Supervisor for City of Perris Community Services Department.