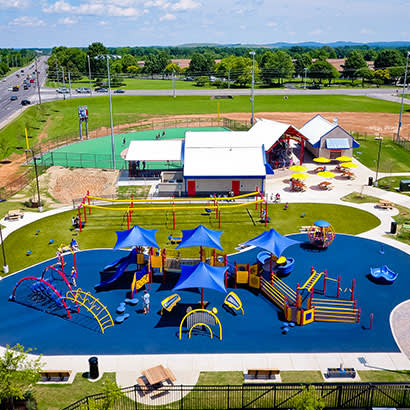 For an enhanced digital experience, read this story in the ezine.
Over the past 10 years, a new trend in surfacing has emerged as parks, schools and recreational facilities have chosen synthetic turf as a preferred play surface. Recreational facilities, ranging from elementary school playgrounds to professional sports fields, are providing longer playing times, more consistent safety and improved performance — with significantly less maintenance — thanks to synthetic turf.
These benefits have led to a growing demand for synthetic turf. Environmental concerns, such as water conservation and pesticide use, have further expanded the desire for this popular surfacing option. In the United States alone, there are approximately 13,000 synthetic turf sports fields with around 1,500 new installations each year. Add playgrounds and play areas to those figures, and it's easy to see why the use of synthetic turf is projected to nearly double by 2025.
Improved Technology
Consumers today can choose from hundreds of products engineered for virtually any need, from a lush lawn, to a clean neighborhood dog park, to a rugged sports field. In addition to the wider variety of products available, the yarn that makes up the individual blades of grass has undergone improvements. The characteristics of the blades are far more realistic and significantly reduce the probability of turf-related injuries in sports applications.
Always Ready for Play
Thanks to the effective drainage and durability of synthetic turf, it's no longer necessary to close facilities after it rains due to muddy, unsafe conditions. Synthetic turf does not get muddy or dirty, and athletes who play outdoor sports benefit from the predictable, consistent surface designed to provide benefits, such as shock absorption and favorable conditions year-round.
Accessibility
Play areas are among the public spaces covered by the Americans with Disabilities Act. Ensuring that inclusive recreational areas exist for people of all abilities at parks, schools, childcare facilities, shopping centers and public places is a growing priority. Synthetic turf surfaces are universally accessible, offering a consistent surface that allows wheelchairs to roll easily and other mobility devices, such as braces, to be used without sinking into the ground. Some synthetic turf even offers static reduction and antimicrobial agents for added protection and accessibility.
Low Maintenance
Since synthetic turf requires no water and less upkeep than natural grass, schools and businesses continue to switch from natural to synthetic to save money and resources. Synthetic turf maintenance can be as simple as removing debris with a leaf blower, compared to seeding, mowing, weeding and pest control for natural grass.
Promotes Safety and Good Health
Local park departments and schools strive to provide safe, accessible play facilities where people of all ages can lead active, healthy lifestyles. Synthetic turf is not prone to mildew and bacteria that can exist on surfaces, like wet mulch, nor does it contain allergens. Holes and uneven surfaces on fields are no longer a concern. With the current technology incorporated into the design of today's synthetic turf fields, surfaces are becoming safer and more predictable, maximizing the play experience.
Kevin Kinsley is Brand Leader, Playground Grass at ForeverLawn.