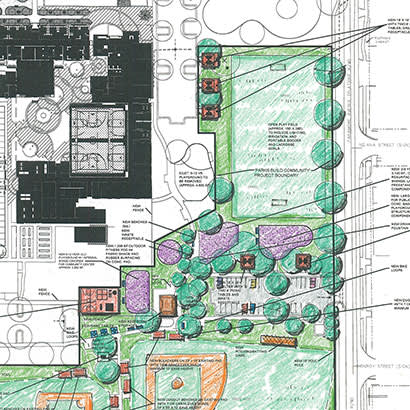 For an enhanced digital experience, read this story in the ezine.
Preparations for Orlando Grand Avenue Park renovation are well underway
Grand Avenue Park in Orlando, Florida, is the site of the 2020 Parks Build Community (PBC) project. NRPA and the City of Orlando Families, Parks and Recreation Department (OFPRD) are working with generous corporate donors on preparations for the project. The 12-acre park was selected because it is at the center of a neighborhood in need of a renovated public space to serve the community. The renovated park is NRPA's 10th Parks Build project and will be unveiled during the 2020 NRPA Annual Conference in Orlando, Florida, this October.
"The vision for Grand Avenue Neighborhood Center and Park imagines a welcoming, safe environment for residents and visitors of all ages. Many in the neighborhood have longtime, emotional connections with the school building, so we wanted to help people reconnect with it and, at the same time, take a feeling of ownership and belonging to the park," says Ken Pelham, landscape architect, RLA, LEED-AP, at OFPRD. "Through a series of public meetings, we've been able to get input into what the community loves most about the site and what they would like to see added to it. The PBC project allows us to give the park a facelift with a 21st century look and style while blending with the early 20th century style of the historic 1926 Grand Avenue School building."
Denise Riccio, planner and grants manager at OFPRD, adds, "We're so excited about the renovation and expansion of the Grand Avenue building and park! The community has been very involved in the planning of the project, which has helped us make sure we're providing the resources they want. We're saving and reusing a historic building that's important to the neighborhood, as well as expanding the facility. We have fantastic partners, including Orange County Public Schools and NRPA, who are helping bring the whole thing to life. We'll be able to offer amenities — such as brand new picnic facilities, play spaces and exercise equipment in the park, as well as programs for children and adults — in a beautiful new and renovated building. The Holden Heights community needs and wants this project very much and we are so happy that we're able to provide this resource, especially the much-needed children's programs that are planned for them."
Forging Corporate Partnerships
NRPA, along with OFPRD, is proud to work alongside a growing group of generous donors that are contributing to the project. And, PBC donors are excited to be a part of the project too.
"Being involved in Parks Build Community is a project close to us because it aligns so well with our mission. It's impactful to be part of something that creates a space for people to gather, develop and move and that will, in both the long and short term, help communities thrive," says Sarah Lisiecki, marketing communications specialist with BCI Burke. "Our 5–12 playground design encompasses a variety of play components that will help everyone get the most from their play experience. With a focus on connection, the Konnection® Swing creates intergenerational engagement when a caregiver and child swing together. The Taktiks® and Manitou™ climbers introduce climbing challenges that help children develop cognitive planning, problem solving and resiliency. Having play within a community keeps everyone happier, healthier and more engaged."
"Greenfields' mission is to promote wellness and fight obesity and inactivity. We do it by designing and building outdoor fitness gyms that are multigenerational, inclusive and social in nature, thereby creating open-air community centers and encouraging all park visitors to engage in physical activity," says Sam Mendelsohn, president and CEO of Greenfields Outdoor Fitness, Inc. "As part of our commitment to support NRPA's 2020 PBC initiative, Greenfields is donating six outdoor fitness units that can serve up to 16 people at once. Two of the exercise stations are designed for those in wheelchairs, as Greenfields places great importance on the inclusion of those with mobility impairments, and we take pride in our ability to do so.
By adding a Greenfields Outdoor Fitness area to Grand Park, we are giving community members the opportunity to engage in activities [that] they otherwise will not have access to. Some may have gym memberships, but the reality is that life has become extremely sedentary, and the excuses to avoid physical activity just continue to grow. Exercising outdoors is fun, social, the scenery is nicer (especially at Grand Park), and you can even bring your companion to join you. We look forward to providing this wellness-focused amenity for the Orlando community to enjoy for years to come."
"Epic Outdoor Cinema is proud to participate in the 2020 Parks Build project in Orlando. Our new versatile and portable screen will give Orlando Grand Avenue Park an innovative tool to create exciting activities in open spaces," says Nick Toutoungi, CEO of EPIC Outdoor Cinema. "Epic's continued involvement is inspired by the impactful results of enhancing underserved neighborhoods — one park at a time — as a true community centerpiece with an evening of laughter, suspense and EPIC experiences outdoors."
"Everyone at PlayCore, GameTime Ultra Site and Freenotes Harmony Park is excited about participating in Parks Build again and about how our contributions might help intergenerational communities unite across fitness-based play, music and simply relaxing," says Anne-Marie Spencer, corporate VP of marketing for PlayCore. "Intergenerational play and recreation have a multitude of benefits to foster inclusion and bring people together to improve life for people of all ages. It promotes contact between generations for the common good, strengthens social relations to reflect a commitment to one another, breaks down silos between generations, and encourages us to mobilize all people as valuable resources that can help build communities."
NRPA's Parks Build Community is a national initiative aimed at demonstrating the transformative value of parks on the health and vitality of communities across America. Living close to parks and other recreation facilities is consistently related to higher physical activity levels for both adults and youth.
Learn more about the NRPA Parks Build Community initiative and follow the hashtag #Parks
BuildCommunity. To learn more about participating in the 2020 Parks Build project, please contact Gina Mullins-Cohen, NRPA's VP of communications and chief marketing officer.
Suzanne Nathan is Public Relations Manager at NRPA.
2020 PBC Donors Include:
Greenfields Outdoor Fitness
BCI Burke Company
GameTime/PlayCore
Musco Lighting
DuMor Site Furnishings
ForeverLawn
Epic Outdoor Cinema
Most Dependable Fountains, Inc.
Ultra Site
Gared Sports
Shade Systems, Inc.
Freenotes Harmony Park
Dero