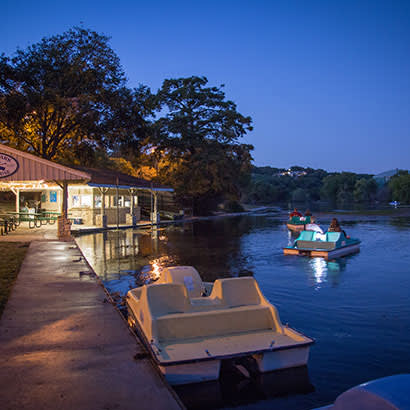 For an enhanced digital experience, read this story in the ezine.
City of New Braunfels Parks and Recreation serves a city with a population of about 85,000. The department has 84 full-time employees, 110 part-time employees and an additional 180 seasonal staff. The city has a little more than 700 acres of parkland, one 18-hole golf course, one 74,000-square-foot recreation center, three outdoor pools and two historic cemeteries. The civic/convention center is also a part of the department.
I began my journey with NRPA's Commission for Accreditation of Park and Recreation Agencies (CAPRA) in 2010 when I attended a CAPRA visitor training at the NRPA Annual Conference in Minneapolis. I left intrigued by the process and wondering if this would be something I would want to pursue back home.
My first visit to Grove City, Ohio, did not disappoint. The city's parks and recreation director, Kim Conrad, and her crew were gracious hosts and gave me an incredible first-time visitor experience. I worked with a team, led by parks and recreation director of St. Helena, California, Andre Pichly, that was patient, motivating and set me on the course for visitor success. I followed up that experience with visits for the next several years, even serving as a lead in Garner, North Carolina.
One of the things I loved best about serving on a visitation team was the amazing people I met. I have made not just professional contacts, but also lasting friendships. I loved taking a deep dive into some of the best agencies in the country, expanded my thought processes regarding agency makeup and protocols and brought home creative programs, ideas for innovative parks and facilities, and best practices for our profession.
I soon knew I wanted to pursue accreditation for my own department. I began by sharing my experiences with our staff when returning home from a visit. This insight of best practices began to pique curiosity within our staff. When our state association held a CAPRA training at our annual conference, I signed up all our staff to attend. This was a great way to have their questions answered and for them to talk with other agencies pursuing accreditation. It offered a chance to not only discuss the process, but also discover the reasons why these agencies were interested in CAPRA. It gave us a better understanding that the journey was not about checking another box or receiving acclamations, but rather about taking a department from good to great, and from doing our job well to defining and documenting our roles.
We started our journey by assessing each standard for compliance. This gave us a clear picture of the work ahead of us. We set an annual goal for each manager to complete a portion of the standards. This seemed like a comfortable way to allow staff to "dip their toes" in the waters of CAPRA. After two years of this practice, we initiated completion of all 151 standards. We organized a smartsheet to track our progress and gave regular updates on completion rates to the organization.
In April 2019, we were fortunate to bring a CAPRA training on-site and included all managers, supervisors and coordinators. We officially submitted our paperwork to NRPA in July 2019 and, at this writing, are scheduled for our site visit this upcoming June 2020. Due to a rapidly changing environment as a result of COVID-19, our visit will likely be different than we expected, but we are ready. We are proud of the work we have done, the improvements we have made and the course we have set for the future.
Stacey Dicke, CPRP, is Director of Parks and Recreation at City of New Braunfels, Texas.