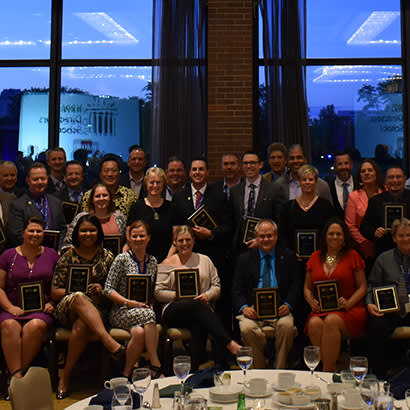 Are you grappling with whether you should spend your hard-earned money (or the limited training dollars in your budget) on attending NRPA's Directors School in beautiful Oak Brook, Illinois? As a 2019 NRPA Directors School graduate, my advice to you is: yes, you should go!
Situated in a suburb outside of Chicago, Oak Brook is home to the former McDonald's training facility, which is now where Directors School takes place. Affectionately known to former Directors School attendees as Hamburger University, the Hyatt Lodge is a beautiful place to learn all about the key subjects covered during your week stay. The subjects covered at Directors School include leadership development, strategy, budget and finance, directors' role in the political environment and response to changing communities. The best leaders and experts in the industry teach and guide students through varied classes, lectures and case studies. There are fun opportunities to work together and discuss current issues facing our industry during mealtime roundtables, and students are offered plenty of time to ask questions and challenge the instructors during sessions. Directors School gives you the space and time needed to embrace the next steps of your park and recreation journey and to contemplate how to implement your new knowledge in the most effective way for your agency.
Some of the best parts of Directors School are the connections you make and people you meet from all over the country. At the start of the program you are assigned to a team that stays together as a unit throughout the two years of the program, allowing you to build strong bonds throughout your time at Directors School. These friendships extend outside of the program and provide a network outside of Directors School that allow you to ask insightful questions, receive recommendations for problem-solving and gain general support through friends. Over the course of the week you are together at Directors School, you dive deep into real issues that you experienced and need help solving. You also are given ample time to share success stories and boast about the accomplishments of your work and agency that may help others. What's more, you are able to brainstorm with the best and brightest in our trade, and form friendships that are long-lasting. My group still communicates and reaches out to each other to seek support on varying issues. They are some of the first people I turn to when I get in a pickle and need help.
We came, we learned, we danced, we laughed, we conquered! Good luck to the next class of Directors School. Enjoy every minute of one of the most unique experiences of your life.
Learn more about Directors School.
Katie Groke, MPA, CPRP, is the Marketing and Communications Director for the Apex Park and Recreation District.