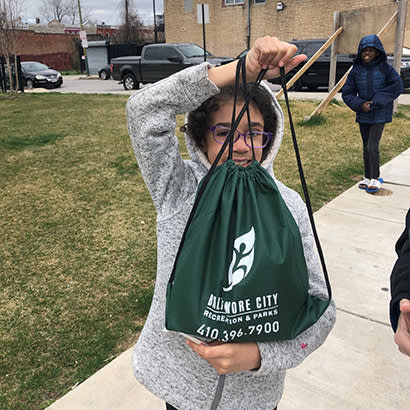 For an enhanced digital experience, read this story in the ezine.
As a critical provider of summer and afterschool meals through the Summer Food Service Program (SFSP) and the National School Lunch Program Seamless Summer Option (SSO), park and recreation agencies have stepped into a prominent role in their communities during the coronavirus (COVID-19) pandemic, working alongside local schools and food banks to distribute meals to children who depend on schools and out-of-school time programs for their daily meals.
The Baltimore City Department of Recreation and Parks (BCRP) in Maryland didn't hesitate to jump into action to serve the community. While the country was still in the early stages of understanding the impact of COVID-19, BCRP opened all 42 of its recreation centers to serve grab-and-go meals seven days a week to all kids under age 18 in the community. BCRP is core to a larger, cross-agency youth meal distribution effort to help close the gap created when Baltimore City Public Schools closed, suspending delivery of 90,000 daily meals to students. Four city agencies and community partners propped up 77 recreation center, mobile meal and community meal sites — in addition to the 18 being operated by the school district — providing more than a half-million meals to youth in the first month of the effort.
To share information about meal locations and times, the Mayor's Office of Children & Family Success developed a website with meal locations broken out by geographic sections of the city. The guide includes the address of the meal program, meals offered (breakfast, lunch, dinner), and the times and days of meal delivery.
"When we learned that schools would need to be closed, we knew that our youth and families would need help gaining access to meals that students usually get through school," says Mayor Bernard C. "Jack" Young. "Our teams jumped into action and are distributing thousands of meals every day. Without coordinated and immediate attention paid by our team, this would not have been possible."
The city also developed an interactive map of meal sites for community members to explore meal sites around the city. The mobile-friendly map allows users to zoom in to find the nearest food distribution location.
In addition to their daily meal service, BCRP launched a virtual recreation center. The online center houses free video tutorials, crafts, fitness challenges, games and activities to keep all Baltimore City neighbors active during physical distancing.
Baltimore City is just one of the many park and recreation agencies stepping in to serve their communities during COVID-19, highlighting the important way that parks save lives.
Maureen Neumann is Program Manager at NRPA.