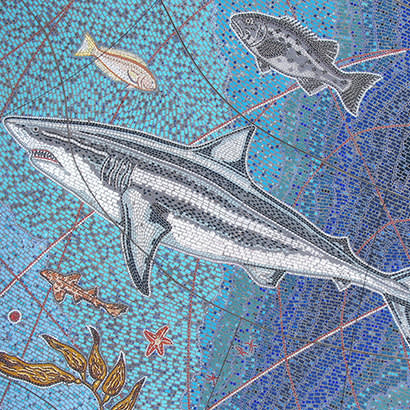 For an enhanced digital experience, read this story in the ezine.
A public art piece in Kellogg Park celebrates marine life
Art adds aesthetics and value to any public space, but some installations go beyond the conventional and astonish the viewer. The recently installed MAP of the Grand Canyons of La Jolla (California), located in Kellogg Park, does just that. Depicting a variety of life-sized marine creatures, from the great white shark to the spiny lobster, the highlight of the mosaic is the juvenile gray whale that spans the entire width of the artwork.
The mosaic highlights the best of what nature has to offer and was created as not only an art piece, but also as an educational tool for the public. This project would not have been possible without the artistic talents of lead artists Robin Brailsford and Wick Alexander, with additional assistance from artists Kelsy Hartley and Mariah Armstrong Conner. Their vision, attention to detail and knack for creating stunning portraits of each species produce unique and stunning undersea artwork. Using a patented method invented by Brailsford, the mosaic is fabricated in a studio space and then is set in concrete in a painstakingly detailed multiday process.
"Robin and I have completed many plaza monolithic mosaics (formally LithoMosaics) over the [past] 15 years," states Alexander about their work. "The medium is generally used as way-finding, artistic accents and plaza designs. With the Grand Canyons of La Jolla, we were able to finally achieve the maximum effect of what the process can do like no other medium. With more than 100 marine creatures, from a 30-foot gray whale to a 4-inch nudibranch — each rendered to life scale — one can experience the sensation of a one-on-one encounter with each sea creature, like a diving experience."
The project is funded by the Walter Munk Foundation and reflects his deep passion for the ocean. Munk passed away in February 2019, and although he did not see the mosaic installed, he was able to be a part of the planning process and see the piece almost entirely completed. A scientist at the Scripps Institute of Oceanography, Munk was a pioneer in ocean science who was nicknamed the 'Einstein of the Oceans' for his contributions to oceanography. His foundation focuses on ocean awareness, education and conservation. His wife, Mary, continues his hard work on protecting local ocean habitats.
Taking three years and a staggering half-million hand-cut tiles to create, the final mosaic is approximately 2,800 square feet in size. "It is no exaggeration to say that the public response to the mosaic has been overwhelmingly positive," says Alexander. "Everyone seeing it for the first time says, 'it is amazing' and 'it's so beautiful!' It is my belief that when someone is moved by beauty, they fall in love with beauty, and when someone loves something, they want to know more about it. And, they want to protect it. This is the ideal function of the Grand Canyons of La Jolla — to create an awareness of our place among all living things."
Paula M. Jacoby-Garrett is a Freelance Writer located in Las Vegas, Nevada.