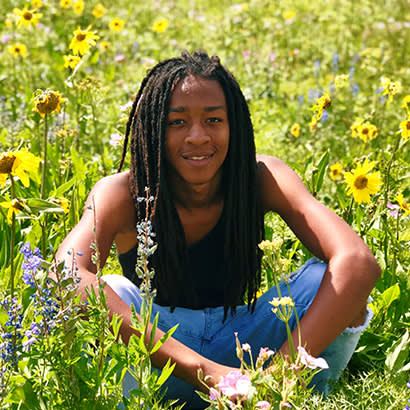 For an enhanced digital experience, read this story in the ezine.
On a springtime video call, Washington, D.C.-based City Kids Wilderness Project participants heard devastating news: summer programming at their beloved Broken Arrow Ranch in Jackson, Wyoming, was canceled due to the coronavirus (COVID-19) pandemic. Our students processed and reflected on their grief for weeks. They would miss many elements of their six-year progression through the program: horseback riding, camp cooking, whitewater rafting, solo backpacking, summiting The Grand, and other challenging and joyful rites of passage in the beautiful western wilds.
Like those young people — in the midst of a pandemic and national racial reckoning — we all crave the healing effects of time in nature. Breath, the unencumbered intake of renewing fresh air, has taken on distressing significance as disproportionate numbers of black individuals succumb to COVID-19 and continue to suffer from the crushing trauma of systemic violence. Now, more than ever, the benefits of breathing freely in nature must be accessible to all. As Black Lives Matter protests launched around the country, Autumn Saxton-Ross, an outdoor professional, colleague and mom-friend, shared:
"Got up this morning and had a (socially distanced) playdate with my #blackmommacrew. When I woke up, I was looking for excuses not to go...but still managed to fight my way out of the house. We went to Anacostia Park. The kids rode bikes, ate snacks, ran, ate more snacks, played with bubbles and threw sticks and rocks into the river. I am now realizing that time was everything I didn't know I needed. Green space, water, my babies and black people doing what we do — biking, walking, running, working out, hanging with their kids, eating crabs...outside, in community. Dear God, my heart needed that."
Promote Inclusiveness, Not Racism
As an Indian American woman and nature lover, I'm witness to #BlackJoy as well as the impacts of COVID-19 and continued police brutality on City Kids participants and their families. I'm part of an organization committed to creating and advocating for a brighter, more inclusive and just future for all youth. To achieve this, public lands must serve as a venue for black life and its celebration.
Violent and discriminatory actions — de jure and de facto — of slavery, Jim Crow segregation, redlining, blockbusting, property theft, intimidation and outright massacres not only robbed black people of their own homes and spaces, but also relegated their rich and varied relationships with nature to the invisible outskirts of U.S. parks, agriculture, gardening, outdoor recreation and environmentalism. What remains in those spaces are ignorance and racial bias.
A black comic book writer and biomedical editor birdwatching in America's most iconic urban park asks a white woman to please leash her dog, per park policy, in order to preserve fragile bird habitat. She responds by calling the police to report an "African American man threatening her life."
A white woman strolling along a lakeshore calls the police, twice over several hours, to report a black family barbequing, saying "I'm really scared! You gotta come quick!"
Youth residents in a public health and parks focus group share that "We don't go to that park because the white people call the cops on us."
One way that park leaders and public land managers can support black, indigenous and people of color (BIPOCs) is through authentic partnerships with and support of local black-led community organizations, affinity groups and chapters that already prioritize the experiences of BIPOCs. The experience of a black child or adult outdoors — and all of the wisdom that comes with it — naturally defies the dominant narrative.
City Kids Wilderness Project creates a space for black children and youth to be and breathe. We focus on participants' resiliency, experiences, skills and ability to thrive through relationships with each other and the outdoors. Our young leaders show their joy and ability in nature, and enliven and restore public spaces.
Parks and public spaces must remake themselves as sanctuaries for all and become places where black people and all people can celebrate, heal and breathe.
Priya Cook is Alumni Engagement and Success Partner for City Kids Wilderness Project.