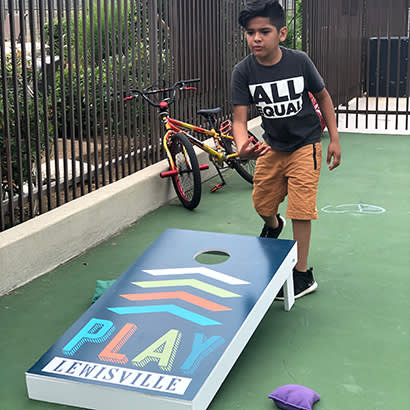 For an enhanced digital experience, read this story in the ezine.
Editor's Note: This article has been edited from the version that appears in the print edition of the July 2020 issue of Parks & Recreation magazine to include an additional case study from Los Angeles County, California and additional photos.

Urban planning professor Anastasia Loukaitou-Sideris was perhaps ahead of her time when she said in a 1995 article that "the ever-changing urban form and social ecology of neighborhoods calls for a flexible rather than rigid park design and for spatial layouts that can be easily changed in response to future needs.... One can even think of mobile parks — spaces whose equipment and furniture can be transported to other parts of the city if the need arises."
As a park planner, I know firsthand how expensive and time-consuming it can be to acquire land and build new parks. It typically takes years before new parks can be provided due to financial, bureaucratic and political issues, and other constraints. Mobile recreation may sound strange at first, but it may be an appropriate strategy to meet the urgent need for additional recreational opportunities in underserved areas.
Starting a mobile recreation program is not easy though. As demonstrated in the three examples below, this must be done thoughtfully and strategically, addressing such details as:
Securing funding for the program
Identifying and prioritizing communities that are most in need
Creating a robust offering of activities to serve a variety of age groups and needs
Purchasing supplies and equipment
Organizing a pilot project
Buying a new vehicle or repurposing an existing one
Hiring staff and recruiting volunteers
Los Angeles County, California
The Los Angeles County Department of Parks and Recreation (DPR) recently created a mobile recreation program with financial support from various sources, such as the Meet Me at the Park Play Spaces grant and the county's Productivity Investment Fund. To meet diverse community needs, DPR has purchased a range of recreational amenities, including portable basketball hoops, soccer goals and skate ramps, as well as materials for wellness classes, arts and crafts, and board games. DPR has also purchased a vehicle for the program, which will allow it to more easily deploy the mobile play equipment and offer programming at a variety of events and locations, such as parks, schools and libraries.
The program's pilot project was successfully launched at the grand opening of Woodcrest Play Park, which took place in late 2019. The park is co-located with Woodcrest Library in the unincorporated community of Westmont, which has a population of about 33,000 residents and a very high level of park need per the 2016 Los Angeles Countywide Parks and Recreation Needs Assessment. The park's opening was a grand celebration with more than 200 attendees, including kids who enjoyed playing basketball, scoring soccer goals and/or skating within the library's parking lot.
Teen volunteers were recruited to supervise and engage youth at the event, helping to ensure the mobile play equipment are properly set up and safely used. Given anticipated budget shortfalls associated with the coronavirus (COVID-19) pandemic, the recruitment of additional volunteers will be critical as DPR plans to fully launch its mobile recreation program later this year. What's more, this will extend its reach to other high park need communities.
El Cajon, California
Located in San Diego County, the city of El Cajon is home to more than 105,000 residents. In 2018, the city created Rec Squad, a mobile recreation program designed to bring outdoor recreation to local parks that do not have community centers. The program serves as one of the strategies detailed in the El Cajon 2030: Connecting People with Parks plan to address the needs of areas that are "underparked."
Rec Squad was initially formed to address the need for more staff presence and recreational opportunities at Wells Park, which generated a high volume of public safety calls. Prior to the COVID-19 crisis, Rec Squad staff worked at Wells Park several days a week, offering free after-school activities that ranged from sports and nature activities to arts and crafts, and board games to bubble blowing and special events. This resulted in a regular set of kids going to the park, helping to revitalize the park and create a more positive environment. A key component of the city's program is the Rec Mobile, an orange van that was repurposed and branded specifically for Rec Squad.
El Cajon is a leader in how it creatively engages communities through its mobile recreation program. Even in the midst of a pandemic, Rec Squad has conducted innovative events, including the "Hopscotch challenge," "JUMP!" and "HOOP!," which brought recreation to kids at hundreds of homes across the city. Specifically, staff delivered goodie bags filled with items like inflatable beach balls, jump ropes and coloring books, and then used colored chalk to illustrate sidewalk circuit courses. Also noteworthy is how the city effectively uses social media and partners with healthcare providers and sponsors to offer these fun activities to promote play and exercise.
Lewisville, Texas
The city of Lewisville is located near Dallas and has a population of about 106,000 residents. In 2019, the city launched Play Lewisville On Wheels as a means to take recreational programs and activities to areas without park resources. Developing a mobile recreation program is one of the recommendations from a team of experts who advised the city on ways to ensure park access and connectivity for residents of a study area that lacks parks and has a large number of multifamily housing complexes.
In the summer of 2019, city staff ran a pilot mobile recreation program at one of the apartment complexes in coordination with a local church that was offering free meals to youth who were off from school. One day a week, staff provided play equipment, such as balls, corn hole, card games and educational materials, and played with the kids, many of whom were left on their own during the day. The program turned out to be very well received, as staff members were able to become mentors and bond with kids through play. Its success inspired the city council to approve the purchase of a van and provide part-time staff to continue the program.
In October 2019, the city hosted a pop-up park event on Southwest Parkway to conduct further outreach with the community. This involved shutting down a street segment for four hours to create a park-like atmosphere and enable residents to safely gather for some fun. More than 400 people attended the event, where they enjoyed food, live music, games and activities hosted by the city and other partners. The incredible turnout helped to demonstrate the urgent need for a park in the area. The city is currently in the process of securing land to develop a new park. With COVID-19-related budget issues, the city is also considering realigning its resources and reassigning staff from closed recreation centers to Play Lewisville On Wheels to reach out to underserved areas.
Special thanks to Mika Yamamoto (L.A. County), Frank Carson (El Cajon), and Stacie Anaya and Erika Tang (Lewisville) for the information they provided for this article.
Clement Lau, AICP, DPPD, is a Departmental Facilities Planner with the Los Angeles County Department of Parks and Recreation.