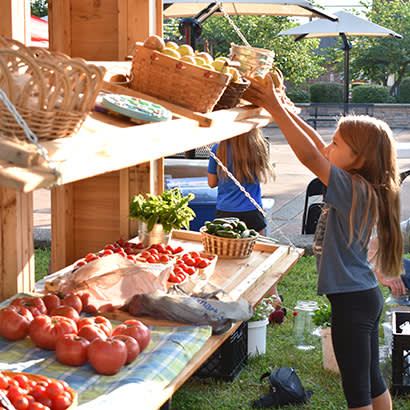 Across the country, park and recreation (P&R) agencies are becoming increasingly involved in farmers markets. It makes perfect sense — P&R has the space, the resources and the community trust to host these connections to local agriculture. But, how can agencies ensure that programming offered at markets supports the health and well-being of the whole community?
Planting the Seeds
Involving kids in the market process not only is a great way to teach them about local agriculture, but also builds interest and excitement about eating fresh, healthy foods. With support from the Walmart Foundation, 2019 Increasing Access to Healthy Foods grantee Grow Appalachia: Berea Kids Eat, located in Berea, Kentucky, began to plant the seeds, both figuratively and literally, to get kids excited about produce. Partnering with local organizations, like churches and schools, Berea Kids Eat designed out-of-school time programs focused on gardening and cooking. Using the Grow It, Try It, Like It model, kids in the summer program designed garden plots, planted veggies and herb seeds, learned about the growing cycle, and used their harvested goodies in on-site cooking classes. This model helped build the connection of garden to kitchen to table.
Seeing the excitement in kids around these activities, Berea Kids Eat decided to involve the kids in their community farmers markets. Kids were invited to take part in a monthly junior market, an element of the weekly Saturday farmers market located in a downtown park. As entrepreneurs, the junior market vendors were encouraged to bring the goodies they harvested from the community garden, along with arts and crafts they made, to the market to price and sell to community members. This instilled a sense of leadership and pride in these vendors.
Building on the momentum created through engaging kids, and the number of kids who came with their families on non-junior market weeks, Berea Kids Eat decided the Saturday market, as well as a Tuesday evening market, were the perfect locations to begin serving meals through the USDA Summer Food Service Program (SFSP). Examples of P&R sites implementing SFSP meals during farmers markets are popping up across the industry. According to USDA, these partnerships increase access to the local seasonal bounty during the summer months and help keep kids and their families nourished and active while school is out.
Berea Kids Eat Partnership
In Berea, the meals, along with additional activities during market hours, helped to grow the attendance at each market. During the summer of 2019, Tuesday markets averaged 40 to 70 customers — a dramatic increase of more than 300 percent from previous Tuesday markets, and attendance at the Saturday market jumped from 110 to 256 daily customers. Berea credits the programming, as well as the market location, with the success found this past summer. Berea Kids Eat partnered with parks and rec to move the Tuesday market to a park pavilion located near Berea College student housing, three local daycares, an intergenerational center and low-income apartment complexes. Additionally, Berea Kids Eat initiated and helped navigate the Saturday Farmers Market move to a city park plaza, after working with the city to install shade structures around existing benches.
To support the meals served at farmers markets, Berea Kids Eat worked to incorporate nutritional programming, using NRPA's Foods of the Month nutrition literacy curriculum by distributing recipe cards and hosting taste tests during the weekly markets. USDA suggests using this type of engagement to support meal sites at markets, creating full community buy in. Along with sharing recipes and hosting taste tests, some other engagement ideas include:
Menu alignment – Providing a meal that includes the same fresh produce available for purchase at the market.
Complimentary activities – In partnership with other local organizations, consider offering fun nutrition and wellness-focused activities. For example, a local library could host story time and give free books to children to encourage reading throughout the summer months.
Kick-off event – Make it a party! Celebrate the start of the season with a kick-off event, helping to raise awareness about the market and the summer meals program.
Engage with producers – Organize a scavenger hunt with the farmers market vendors, which can lead to some great conversations between kids and growers.
Community Wellness Hubs
The city of Berea has expanded these ideas and uses its weekly market spaces to serve as community wellness hubs. Partnering with informal educators, the space hosts environmental educational programming for youth joining for summer meals, as well as outdoor family yoga classes and a Sprouts program, which connects youth ages 18 and under to a small stipend to purchase fresh produce from vendors. The market, parks and a summer meal partnership also opened opportunities for families to increase purchasing by utilizing EBT/SNAP, Double Dollars, youth market tokens, the free produce store, weekend backpack meals and summer meals. One mother shared that since taking advantage of all these offerings, $20 spent at the market has equaled more than $80 worth of food, has provided space for her children to eat regularly and has helped get them to the park, as well as enabled her to get to know her neighbors. As a result of the free produce store reaching her neighborhood, she has been able to try some new foods from the provided recipe cards, and now her kids want to learn how to grow food.
Pairing fresh, local produce with healthy meals is the perfect connection to strengthen the bonds between the community and the local agriculture system. Check out USDA's Farm to Summer website, and the Farmers Market and Summer Meals Program fact sheet for an overview of the potential farmers markets and summer meals partnerships.
Maureen Acquino is a Program Manager at NRPA.