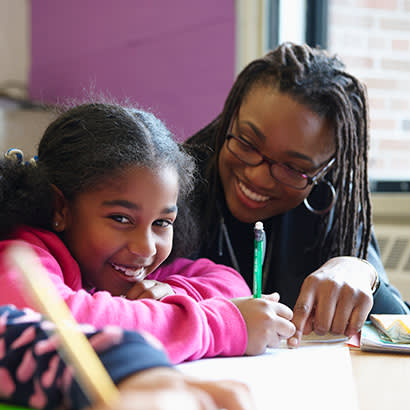 Shining a light on mentors and engaging elected officials
January is National Mentoring Month, a time to celebrate mentors and mentoring in equal measure. This campaign, launched in 2002, has strong support from the public and offers a chance for programs to recruit new volunteer mentors for the year ahead.
Campaigns like National Mentoring Month offer up a great opportunity to engage with elected officials at all levels. Every year in Congress, the House and Senate offer bipartisan resolutions honoring January as National Mentoring Month, and every United States President since the campaign's inception has issued yearly proclamations in celebration. But state- and local-elected leaders are as interested in engaging in these campaigns as their federal peers.
Mentoring at State and Local Levels
Throughout January, governors, mayors, and state and city officials will be eager to learn more about high-quality, effective mentoring services and to gain a better understanding of the challenges facing programs and service providers. These officials can celebrate National Mentoring Month by:
Proclaiming January as National Mentoring Month
Drafting an op-ed celebrating the progress of local mentoring programs
Hosting events that invite young people to reflect on the value of their mentor(s)
Spotlighting mentors in their own life
Visiting mentoring programs (hint: invite them to visit your program)
Inspiring their staff and constituents to volunteer as mentors
Mentoring provides youth with someone who cares, assures them that they are not alone in dealing with day-to-day challenges and makes them feel like they matter. Research confirms that quality-mentoring relationships have powerful, positive effects on young people in a variety of personal, academic and professional situations. Ultimately, mentoring provides personal growth and development, as well as social and economic opportunities.
According to MENTOR: The National Mentoring Partnership, 1 in 3 young people are growing up without a mentor today. We call this the "mentoring gap." These 9 million young people lack a powerful, caring adult relationship outside of their family.
This statistic especially is concerning when considering the compounding benefits of quality youth mentoring. Mentored youth are:
55 percent more likely to be enrolled in college
81 percent more likely to regularly participate in sports or extracurricular activities
46 percent less likely to start using illegal drugs
27 percent less likely to start drinking
78 percent more likely to volunteer regularly in their communities
Recruitment
Research conducted by MENTOR reveals that 44 percent of adults are not mentoring but are interested in the possibility. This represents potentially millions of adults in the United States.
Many young people are waiting to be paired with a caring adult through programs. Nearly half of all mentoring programs report mentor recruitment among their toughest challenges. But, elected officials can help.
Leaders can grant city, state and federal employees paid leave to become mentors. MENTOR suggests granting 4 to 8 hours of paid volunteer leave per month to eligible employees.
Elected leaders can help mentoring programs of all shapes and sizes by bringing potential funders and nonprofit programs together to discuss their shared values and potential partnerships. Engaging elected officials allows agencies to tout their exciting mentoring efforts and to begin or deepen valuable relationships with leaders. Use National Mentoring Month to start this work.
Learn about National Mentoring Month and find free resources at the National Mentoring Month website.
NRPA's New Initiative
In January, NRPA is launching a new initiative, Mentoring in Parks and Rec. Through this initiative, NRPA will work to help agencies connect youth with caring and compassionate mentors. Learn more about these efforts at the NRPA initiatives webpage.
Abbie Evans is Senior Director, Government Relations for MENTOR: The National Mentoring Partnerships.