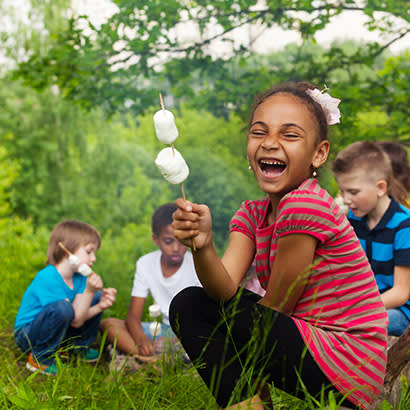 Lawmakers across the United States are increasingly aware that playing and learning outdoors are critical for children's health, well-being and academic success. They also recognize that nurturing the next generation's connection to the natural world is tied to the future of their states' outdoor economies and natural resources. Indeed, the research is clear: regular access to outdoor education and recreation makes kids happier, healthier and smarter. But for far too many, these critical experiences and opportunities are rarely, if at all, available. Increasing systemic and equitable access to outdoor engagement and education will require new or shifting investments and strengthened partnerships. The good news is that promising policies are popping up across the country, which may offer a roadmap for success.
The recently launched Youth Outdoor Policy Playbook shares bipartisan policy initiatives and resources to support statewide efforts to increase youth engagement in the outdoors. Sharing the knowledge and experience of outdoor engagement and education champions drives replication and scaling-up of existing state initiatives, as well as fosters new and innovative ideas.
"The Youth Outdoor Policy Playbook is an invaluable resource for legislators who want to support youth outdoor engagement," says Maryland State Delegate Dana Stein. "Engaging youth in all kinds of outdoor experiences — be they parks, playgrounds or other green spaces — is critical to improving the health, happiness and education of youth."
The Youth Outdoor Policy Playbook was designed by a national coalition that includes the Children & Nature Network, National Caucus of Environmental Legislators, North American Association for Environmental Education, Outdoors Alliance for Kids and Meridian International Institute. Together, these organizations are working across sectors to advance policy ideas that ensure all children have access to high-quality outdoor experiences and environmental education.
A Framework for Successful Youth Engagement
At the heart of the Youth Outdoor Policy Playbook is a framework, informed by a shared understanding that a high-quality state policy should be child-centered, family-focused and multigenerational; prioritize equitable access for all; leverage multiple approaches for systemic change; be locally supported and culturally relevant; and reflect the latest research on what works.
The framework is organized around three areas of opportunity to strengthen youth engagement in outdoor education and recreation — outdoor learning opportunities and environments, outdoor access and connectivity, and systemic environmental literacy and education.
Case Studies for Model State Policy Initiatives
Legislators and advocates will find case studies that summarize a variety of recent state policies that support the objectives of the Youth Outdoor Policy Framework, as well as access to an interactive policy library, maintained by the National Caucus of Environmental Legislators.
For example, Washington State Parks' No Child Left Inside program has supported outdoor access for the past 10 years through grants to support outdoor education and recreation for youth who normally don't have access to such programs. In 2019, the Washington State Recreation and Parks Commission allocated $1.5 million for the program. Schools, nonprofit program providers, Native American tribes and others are eligible for funds to engage youth in a wide range of activities and experiences. The No Child Left Inside initiative aims to address inequities in access to these programs by prioritizing grants for programs that serve youth who are academically at risk, typically under-represented, and/or facing social, economic, behavior or health barriers. Similar measures have been or are being considered by numerous additional states.
The Maryland Green Schools Act is another approach to increased access to outdoor learning while improving environmental literacy. This bill, which was approved in May 2019, provides funds supporting schools' certification as Maryland Green Schools, which increased from 27 percent to 50 percent over six years. Grants to help schools achieve green school status can be used for environmental education, including transportation for field-based educational experiences, outdoor classrooms and schoolyard habitats.
A Comprehensive Approach for Greater Impact
The Youth Outdoor Policy Playbook offers a comprehensive approach to outdoor engagement that has the potential for true transformation, in which many policy initiatives reinforce and build on one another to connect young people in the near and long term to the outdoors everywhere they live, learn, work and play.
Sarah Bodor is Director of Policy and Affiliate Relations at the North American Association for Environmental Education.