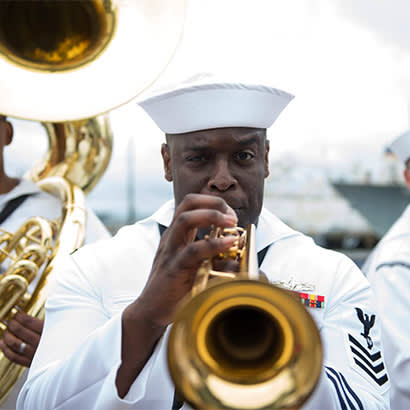 For an enhanced digital experience, read this story in the ezine.
Imagine an outdoor concert on a perfect, balmy summer evening. You sit with your family on a picnic blanket in a picturesque park. Young, old and every age in between are gathered together as a welcoming community. A stage is filled with sailors in crisp, white Navy uniforms. A thunderous timpani roll captures the attention of all, and slowly ebbs away to a steady, rhythmic pulse. Heroic music follows with trumpet fanfares that melt into lush harmonies from the woodwinds. The Master Chief steps forward and delivers an inspiring narration. As you listen, you learn the story of our United States (U.S.) Navy. This uplifting music is the perfect prelude to our national anthem. Everyone is brought together in song to share a moment of pride in America. What follows is an exciting, eclectic evening of music, entertainment and patriotism.
During a U.S. Navy band concert, you will hear music in a myriad of styles performed superbly: circus marches, traditional concert band music, musical theater, instrumental solos, concert marches, movie soundtracks, patriotic music, big band jazz, New Orleans brass band music, blues, rock and songs from "Top 40." The emotional high point of each concert arrives with "The Armed Forces Medley." Veterans stand with pride and salute as their service song is played. After the concert, sailors walk amongst the audience, talking with veterans and showing children their musical instruments. To Navy Band members, a concert is not simply entertainment — it's a way to meaningfully engage with the public and tell the Navy's story.
Today's Navy Music Program offers a wide variety of entertainment options for your event, ranging from large ceremonial bands to smaller ensembles. Navy Bands may perform for public and civic events if the event is of general interest or benefit to a local, state or national community. However, bands may not participate in events that are commercially sponsored; are designed to increase business traffic or raise charitable donations; or are associated with a religious or ideological movement. All concerts must be free and open to the public, and requestors may be required to fund a band's travel, lodging and per diem expenses for performances outside of their geographical area of responsibility.
To request a performance from a U.S. Navy Band, simply visit outreach.navy.mil/Bands-and-Color-Guard. This link will bring you to the band/color guard page of the Navy Office of Community Outreach website. At the bottom of that page, click on the diagram of the continental United States to choose where your concert will be held. When you click on one of the six zones, you will be redirected to the website of the band for that geographical area. Within the band's webpage, simply click "Request the Band." After you fill out the "DD 2536" request form, e-mail it to the address provided. The band will confirm receipt of your request and advise you on the process going forward. The Navy Music Program has much to offer the field of parks and recreation.