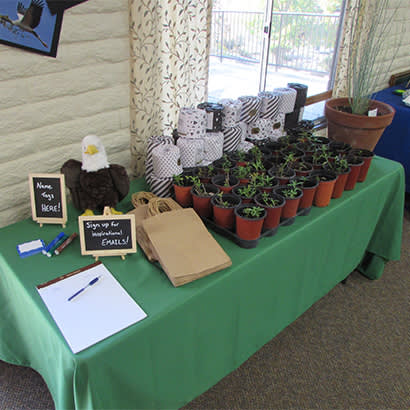 For an enhanced digital experience, read this story in the ezine.
"I try not to use plastic water bottles and [I] bring cloth bags to the grocery store, but I really want to know what more I can do — I worry about my grandkids." This sentiment was shared by an older adult who had come to attend the pilot of a 90-minute class designed to encourage older adults — those older than 55 — to engage in personal conservation action to save threatened species. Now, the class continues to be held at senior centers in San Diego County, California, with a goal of educating older adults about threatened species and the need for conservation, as well as providing inspiration regarding personal conservation action.
Populations of animals are declining rapidly due to the fragmentation of habitat and climate change. The number of species estimated to be threatened with extinction is staggering, with the International Union for Conservation of Nature identifying more than 27,000 species as threatened. Small actions of all individuals are needed to reverse the decline. Examples of these small steps of personal conservation action include recycling glass and plastic, using cloth napkins, reducing single-use plastics, installing energy-efficient light bulbs and sipping iced tea with paper straws. While change relies on the effort of all individuals, most opportunities to learn about ways to save species are geared only toward youth and not older adults.
How Older Adults View Conservation
Older adults are living more active lives and, in turn, are participating in community service projects and educational events. Both older adults and youth have an equal role in caring for the environment with varying degrees of knowledge and experience. Some older adults believe that nature, over time, will simply take care of itself. However, other older adults are concerned about the environment and, over time, develop an interest in conservation. It was noted that older adults are especially concerned about the environment when government agencies seem to not adequately meet the community's needs. Small groups of older adults are likely to engage in personal action if they believe others in the group would do what is needed to protect the environment.
Learning strategies, as well as motivations to change behavior, are different for older adults. New behavior needs to be as easy as possible; it should be easily remembered and replicated. By participating in a classroom setting with opportunities to come together to share behaviors and learn new ones, older adults are more motivated to change. Research shows older adults prefer less hands-on learning and more time for self-reflection and sharing their personal stories. Older adults learn best as a collective group, learning from each other as well as from facilitators. Building rapport between teacher and participants is key and drawing from personal experience in the room enhances that rapport.
Class participants at first seemed appropriately appalled at the statistics regarding threatened species and were eager to learn ways to help. An introductory activity engaged participants and promoted lots of sharing. It led pairs of older adults to discover the diet and feeding location and method of some marine animals and what types of plastics in our oceans these animals are likely to think is a meal. Individuals commented that they had never thought about the type of plastic being consumed by certain animals, depending on where they forage for food. Examples of environmentally friendly products were showcased, and a discussion ensued about other ways to conserve at home. One item that proved popular was bamboo toilet paper, especially when participants were able to feel the softness. The class was lively, positive and could have gone on much longer. The pre- and post-class data collected showed older adults do have a genuine interest in helping to save threatened species and recognized the importance of a behavior change. All participants committed to take at least one personal conservation action step after attending the class.
Analyzing the Data
After piloting the class, the curriculum is now available for senior center staff to use for hosting their own classes. To locate the curriculum as well as other opportunities for older adults to engage in volunteerism, activism, and citizen science, visit conservationforseniors.com. I hope that the curriculum will be used at senior centers throughout San Diego County and beyond, inspiring older adults to engage in personal conservation action. Even seemingly small changes can add up to big results. Confucius once said, "The man who moves a mountain begins by carrying away small stones." All it takes is one small stone — one change by an older adult — to move that mountain!
Kärin J. Kupka, LCSW, is a licensed Clinical Social Worker with more than 20 years of experience working with older adults at the VA San Diego Healthcare System, and is also a Master of Arts in Biology Student through Miami University in conjunction with San Diego Zoo Global (kupkakj@miamioh.edu).