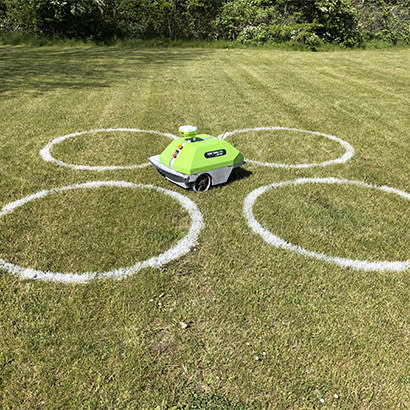 For an enhanced digital experience, read this story in the ezine.
The United States is undoubtedly facing incredible challenges with the coronavirus (COVID-19) pandemic. Given the pandemic, park and recreation agencies are assessing how to keep employees and the general public safe in parks and recreation facilities. We have been forced to learn how to adapt our personal lifestyles and organizational policies in order to protect ourselves and the health of those around us. One tactic for slowing the spread that has been widely promoted is physical distancing.
Together, we must do all that we can to reduce the spread of this deadly disease. This includes maintaining a safe distance from one another whenever possible. A great solution that has been developed in public parks and recreation spaces is physical distancing zones that are painted in the grass that delimit the space between people.
Unfortunately, turf managers and facility directors know that painting these physical distancing zones manually is a very labor-intensive task, similar to painting the lines of a sports field. Since fields are mowed frequently, especially during the summer months, if a municipality has large areas of public green space in addition to its sports fields, it would be very inconvenient to measure the field and repaint all these lines manually every week or two.
Thankfully, technology companies have developed a solution to answer these challenges through the development of an autonomous line-marking paint robot. Municipalities and sports organizations throughout the United States and abroad are utilizing this technology to paint "safe zones," as well as their sports fields, with the help of autonomous GPS technology. Operated via an intuitive app, the robot will go straight to the precise location identified by staff and start painting. Users can choose how many zones or sports fields they want to paint, including their shape and size, customizing everything to fit individual needs.
In addition, using the robot only requires one operator to take on the task of supervising the painting of fields, eliminating the need for staff to work in close proximity of others. This results in physical distancing for staff in the work environment as well.
A few examples of municipalities already utilizing this technology this summer include the city of Rocklin, California, which uses the robot to paint its local soccer-club fields as well as provide zones for parents and fans to watch the games, and New York City Parks and Recreation, which is using physical distancing zones for parks and sports fields. Using technology to advance physical distancing practices can help to keep both park and recreation staff and patrons safe as we continue to navigate the challenges of the COVID-19 pandemic.
Jason Aldridge is Founder and President of Turf Tank.