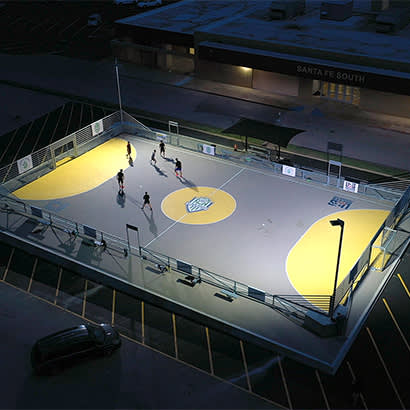 For an enhanced digital experience, read this story in the ezine.
At sports and recreation facilities across the country, space is at a premium. Meanwhile, it's becoming more and more clear that parks and recreational spaces play an increasingly important role in the physical, emotional and environmental health of communities everywhere.
According to a recent annual report published by The Trust for Public Land, "The COVID-19 pandemic has underscored that close-to-home parks are crucial to a community's quality of life. During this crisis, people have turned to their parks like never before — for fresh air, exercise, meditation, solace and a much-needed break from the stresses of a quickly changing world."
Clearly, it's essential that park and recreation agencies find creative ways to make the most use of the outdoor space they have to work with. Utilizing your space more efficiently can help increase recreation programming initiatives and expand opportunities for your local community.
However, coming up with innovative ways to transform unused and underutilized areas at your facility into high-quality play spaces isn't easy. As you begin to think about and ultimately create a plan to move ahead with such an endeavor, here are some helpful questions to ask at the beginning of the process:
How much unused or underused space do you have to work with?
What kinds of activities do you believe would best meet your community's needs?
Is the space you have to work with a good fit for those activities?
How close are neighboring homes to the unused space you are looking to transform?
Do you envision lighting being included as a way to expand opportunities for play?
Once you've determined the space you have to work with at your facility, the types of activities that you envision accommodating by transforming that area, and other needs and specifics with regard to your project, you'll be in a better position to explore options.
Another key consideration is finding a solution that's capable of serving a multitude of recreation and programming activities. And, when you have zeroed in on potential solutions for transforming unused space, you will need to consider additional factors, including:
How complicated is the installation process and how long will it take?
Is the equipment durable and capable of withstanding continual usage and harsh weather?
How inclusive is it and do you need it to meet certain requirements, such as accessibility standards set forth by the Americans with Disabilities Act (ADA)?
Is it customizable and capable of meeting the specific available dimensions at your facility?
One such solution to consider is an all-in-one, modular solution that includes LED lights, fencing, goals, benches, lockable storage and ADA-compliant access, such as Musco's Mini-Pitch System™. With multipurpose products and some ingenuity, park agencies nationwide are transforming their unused and underutilized areas, such as old tennis and basketball courts, and transforming them into high-quality spaces that also meet the needs for any number of other activities.
Remember, finding creative ways to make the most of your facility's space is as important now as it's ever been. With a little imagination and planning, you can do amazing things for the members of your community.
Eduardo Tamez Zamarripa is Market Development Specialist at Musco Sports Lighting.