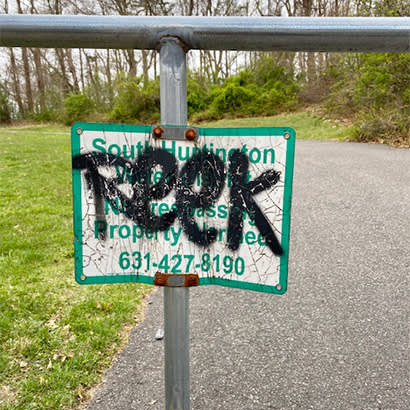 For an enhanced digital experience, read this story in the ezine.
For the past six months, park and recreation agencies throughout the United States have been grappling with the ripple effects caused by the coronavirus (COVID-19) pandemic. While some states have lifted shelter-in-place orders and are shifting toward plans for safe reopening, the recent surge in new virus cases has other states reversing course. That means some park agencies are remaining closed, delaying reopening plans or considering reclosing their recreation facilities. What's more, such closures have led to concerns about potential vandalism.
We have all seen the problems that vandals create, including spray-painted bleachers, missing signage, damaged athletic fields, torn-up synthetic playground surfacing and deliberately dismantled playground equipment.
Vandalism is not just a nuisance; it is also costly and dangerous. Neighborhoods with higher rates of vandalism suffer from decreased property values and uneasy residents. It may also result in higher insurance costs, a loss of recreational opportunities and the need for additional police patrols, as well as costly emergency repairs and staff working overtime.
When recreational facilities, such as parks, are dark and unoccupied at night, vandals may strike. Destructive behavior tends to increase on weekends and school holidays. Problems often arise when the weather is nice, especially in the final few weeks of the school year — and don't forget about Halloween.
Problematic areas that attract vandals tend to be unsupervised, dark, concealed or isolated places. Vandals prefer neither to be seen nor heard, striking when locations are the quietest. Frequent areas targeted by vandals include inside bathrooms or locker rooms and behind dugouts or other structures.
When reported, incidents of vandalism are frequently below an organization's property insurance deductible. But at other times, there may be a large insurance claim, especially if the act ruins an expensive item, such as paint spattered inside an empty swimming pool or a vehicle driving across a grass football field and knocking down a field goal.
When vandalism involves hatred and prejudice, such as cross-burning, the painting of swastikas or any other attack on a religion, gender or ethnicity, contact law enforcement immediately. Be sure to take photographs for documentation because what may look like scribbles to you could be relevant information to law enforcement.
Attempts should not be made to approach or apprehend suspected vandals. Instead, your park agency staff must be diligent in collecting a description of any suspects and vehicles to submit a report.
Following are some helpful ways to prevent vandalism:
Report incidents often so patterns emerge quickly and targeted patrols can be scheduled.
Update any security staff about problem areas on a regular basis.
Review the positioning of security cameras frequently and post signs about the presence of cameras in areas that are under surveillance.
Consider a dedicated website or hotline where incidents can be reported anonymously. Be sure to post signs informing the public about the website or hotline at each location.
If on a tight budget, consider partnering with organizations nearby to plan more security patrols, improve lighting or install additional security cameras.
Publicize information about the consequences of vandalism on calendars, schedules, the website, newsletters and handbooks.
By being proactive and using these suggestions, your organization can reduce costs by eliminating pointless property damage and destruction at your recreational facilities.
Joann M. Robertson, CPSI, CPCU, ARM, CSP, is a Certified Playground Safety Inspector and Certified Safety Professional at Playground Medic in Hawthorne, New York.