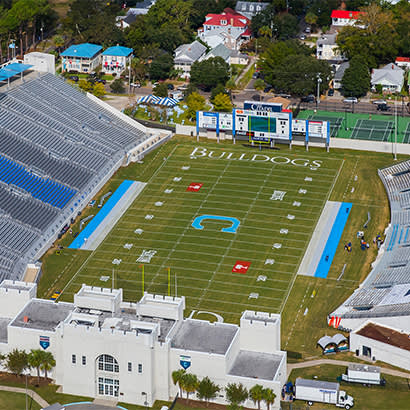 For an enhanced digital experience, read this story in the ezine.
New technology battles extreme heat on synthetic turf fields
In communities nationwide, finding field time remains a challenge as multiple sports organizations at the recreation and competitive levels compete for limited availability. The need to maximize sports field usage has led to more than 1,000 new synthetic turf field installations each year at schools, parks and municipal complexes across the country.
Synthetic turf offers a breadth of performance benefits, including cushioning, enhanced durability, fiber support and turnkey maintenance. Most importantly, as youth sports continue to grow, it serves as an all-weather, anytime alternative solution to natural grass surfaces.
For decades, one overlooked fact was that synthetic turf has the potential to get very hot, consistently reaching temperatures of 140 degrees and often registering above 160 degrees in some climates, which can be dangerous for athletes, coaches, officials and fans.
According to Penn State University's Center for Sports Surface Research and Brigham Young University's "Synthetic Surface Heat Studies," playing on fields reaching temperatures higher than 122 degrees is considered unsafe. In following those safety guidelines, unless treated by a cooling agent, the synthetic turf field would be unavailable for activity on many days during peak season.
To make fields cooler, safer and more playable, new technological innovations are being introduced. One of the most prominent breakthroughs is the integration of cooling solutions as part of a synthetic turf system installation.
Through a natural process, called evaporative cooling, the synthetic turf infill is treated with a cooling agent that simply requires hydration in the form of irrigation, rainfall or humidity to continuously activate to reduce surface temperatures on synthetic turf fields. Evaporative cooling technology works on the same principle as human perspiration — stored moisture is slowly released from treated infill, removing heat and allowing a surface to cool.
The infill coating captures water from rainfall, dew or irrigation and stores it for later use. As the sun's radiation heats up turf, the coating releases moisture that enables the synthetic turf cooling infill to cool the entire synthetic turf system for sustained periods of time.
While the use of black crumb rubber makes up nearly 80 percent of the synthetic turf field market in the United States, there are alternative infill options, such as sand, cork and walnuts, among others. Technologies like TºCool® treated Sports Sand can be added to these systems to enhance and extend their cooling benefits.
Municipalities, recreation facilities, high schools and colleges are now recognizing the heat issue and the vast benefits of installing a synthetic turf cooling solution. What's more, it increases safety for participants, maximizes field usage and extends the overall facility investment for many years. It's truly a win-win for synthetic turf.
Chris Tetrault is Design and Built Expert at TºCool®.