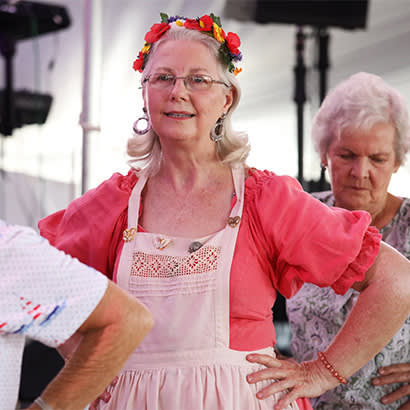 For an enhanced digital experience, read this story in the ezine.
A park is never just a park — it's a place to relax, to get active, and to celebrate birthdays and family reunions. Memories are made at parks. Communities come together at parks.
The team at Cullman Parks, Recreation, and Sports Tourism (CPRST) recognized the important role their parks served in their Alabama community, so three years ago they set forth on the journey to become CAPRA accredited. This year they succeeded, becoming the first park and recreation agency in the state of Alabama to reach accreditation.
"CPRST has always aspired to be a leader and a trendsetter, not only for the state but for the industry as a whole," says Nathan Anderson, prior director of the department, who led the Cullman team through the entire process of accreditation. "Even though we already felt that we excelled in so many ways as an organization, we knew there were many ways to improve."
There were many challenges on the journey to accreditation, and organization and teamwork were key. "Dr. Johnny McMoy, college dean at Wallace State Community College, started us off by helping develop our strategic plan and goals," says Beth Bownes-Johnson, CPRST board member, who helped guide the Cullman team through the process. "Because there was not another accredited agency in the state, our recreational development director, Christy Turner, worked with Nathan to reach out to agencies throughout the nation for advice and examples." She adds that they were fortunate that there were a few experienced agencies with other types of accreditation that could help guide the process.
The National Recreation and Park Association (NRPA) provided valuable guidance to the team. "We attended multiple training sessions at the NRPA Annual Conference and received great support from NRPA's CAPRA Team," says Anderson.
Cullman Mayor Woody Jacobs lent his full support as well. "We recognized this undertaking would not happen overnight and supported the team financially in the budgeting process to allow them to have the resources to achieve accreditation," he says.
The process took a little more than two years of hard work to complete. During that time, the team addressed 144 standards in a two-part process, off-site and with a visiting team. "I would gladly do it again; it was my privilege to participate with such a fantastic group who cares deeply for our programs, employees, community members and the city of Cullman," says Bownes-Johnson.
"Being the first to achieve accreditation in the state of Alabama is a significant and historical achievement for Cullman," says Anderson. "Others will look to CPRST and the city of Cullman as a model for their agencies. After completing the process, the organization has a roadmap, both strategically and systematically, to advance the quality of life for all within the community for decades to come."
Achieving accreditation proves just how dedicated the CPRST team is to their community. With CAPRA accreditation, the diligent team put Cullman on the map. "Cullman is blessed to be a community that is forward thinking and willing to try new things to encourage people to live, work and visit here," says Mayor Jacobs.
Ashley Locke is a Freelance Writer for Cullman Parks, Recreation, and Sports Tourism.