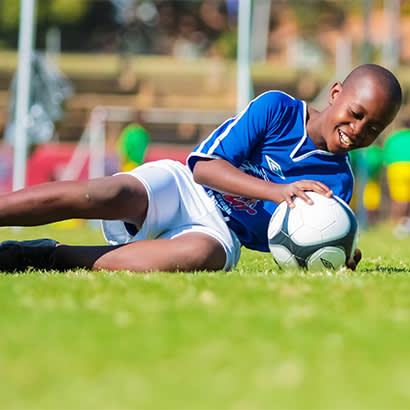 For an enhanced digital experience, read this story in the ezine.
Physical activity is one of the most important predictors and protectors of overall health and well-being. Prior to the coronavirus (COVID-19) pandemic, only 24 percent of youth ages 6 to 17 across the nation were meeting the daily physical activity recommendations from the Centers for Disease Control and Prevention (CDC). In King County, Washington, this number drops to 19 percent — meaning many youth are not able to access the mental, emotional, academic and health benefits of physical activity.
Unfortunately, inequity is profoundly present in organized sports. The 2019 State of Play: Seattle-King County report found that youth who do not speak English at home are nearly three times more likely to have never participated in organized sports or recreation than children who speak English at home. Youth of color are significantly less likely than white youth to have participated in an organized sport. Black youth do not participate in physical activity — free play, organized sports or outdoor recreation — as often as their white peers. When they do, sports can be a vehicle to promote equity and integration, but it has also perpetuated stereotypes, racism, tokenism, inequity and further harm. Racial, economic and geographic disparities in access to sports and recreation had already created wide opportunity gaps and health inequities for many youth. This global health crisis is exacerbating those disparities.
The Play Equity Coalition
Launched in response to the 2019 State of Play: Seattle-King County report, the King County Play Equity Coalition is a 75-member organization focused on regional inequities in youth access to physical activity through sports and outdoor recreation. Together, we are collaborating to advocate, fundraise and partner to amplify impact.
Amid this pandemic, it is especially important that our reopening solutions center on youth of color, immigrant and refugee youth and the organizations that serve them. To assist stakeholders across the region, the Play Equity Coalition created a Return to Play resource with guiding questions to support equitable access to physical activity through sports and outdoor recreation. These questions include:
With limited space and resources, how do we determine who participates and who is left out?
How are we communicating reopening fields and facilities?
Are we reaching communities that have had the most limited access to physical activity during the pandemic due to proximity to parks and playfields or disproportionate impact on their community?
As we navigate this pandemic, how can we use this as an opportunity to challenge and reshape systems and processes that created inequitable access to physical activity?
Are there partners and collaborations that can help broaden our scope and serve youth furthest from access?
As phased reopenings of facilities and youth-serving programs take shape, we are concerned about the need for an equity-focused approach to service provision and the ability of stressed and under-resourced nonprofits and program providers to navigate the demands of restarting. Recognizing the pre-existing inequities in youth access to physical activity, we encourage park agencies to consider the following recommendations to address these challenges:
Ensure local, affordable, quality sports options are available to all kids. Partner with local organizations and school districts to innovate to meet the needs of families in your area. Municipal park and recreation departments can play a critical role in supporting families by offering a trusted space for information and access. Families need childcare and children need safe places to play now more than ever. We encourage coordination with local school districts so providers can easily and affordably use fields and indoor facilities to provide physical activity programming to youth. According to the Aspen Institute's Tom Farrey, park and recreation departments also "hold the power of the permit to set the conditions under which outside organizations access fields, gyms, pools and other venues. Often, cities just ask for proof of insurance. They can expand the checklist to include coach training and safety protections. They also can add filters prioritizing programs that are inclusive or abide by best practices in athletics and child development."
Prioritize youth sports organizations that focus on the whole child. With physical distancing guidelines and stay-at-home orders, programs that intentionally support developmentally appropriate social-emotional learning practices through sports and recreation can help young people thrive. When coaches focus on the social, emotional, cognitive and physical needs of the whole child, they help youth athletes feel safe and supported, foster important traits such as responsibility and perseverance, guide them in building an emotional foundation for success, and teach teammates to respect and listen to one another. COVID-19 has impacted not only our families, but also the organizations that serve them. Prioritizing local, high-quality, youth-serving organizations helps ensure these programs survive and contribute to rebuilding a stronger community.
Prioritize input from communities most vulnerable and most impacted by COVID-19. Incorporate community voices into planning procedures and making decisions related to reopening through routine engagement with nonprofit organizations and school districts in your service area. Commit to examining pre-COVID policies around use of space, field reservations and permits to ensure equitable access for underrepresented communities. Events in 2020 have highlighted and exacerbated the gross inequities in our society — intentional shifts in our policies and procedures can help pave the way for systemic change. If you are unsure how to get started, the Center for Community Health and Development and the University of Kansas have partnered to provide The Community Tool Box, a robust resource for taking action.
The King County Play Equity Coalition envisions a space where all youth are active to a healthy level, and where access to sports and outdoor recreation are not determined by zip code, language or race. We view youth physical activity as a regional policy priority and seek to elevate our work as a national model for inclusive, healthy, youth sports and recreation. We are energized and hopeful to continue to work together to move this vision forward.
Ka'ohe Wong is Program Quality Division Director, Schools Out Washington. Bookie Gates is Founder and Director, Baseball Beyond Borders. Sarah Margeson is Program Manager, Youth Sports Grants, King County Parks.