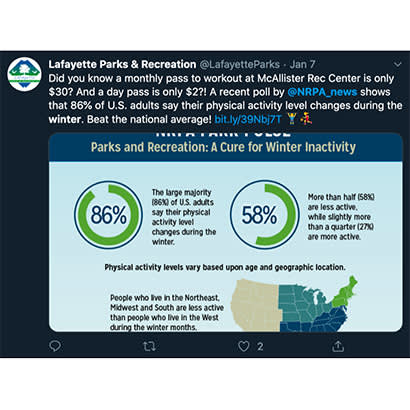 The NRPA research team works to help park and recreation professionals on two primary goals: making optimal decisions on operations, programming and spending, and making the case for greater funding. We share our findings through detailed reports and easy-to-understand graphics that touch on the main research findings. These findings also provide you the opportunity to market your offerings to the public and to highlight your agency's contributions to the community.
One example is NRPA Park Pulse, our monthly poll that gauges the U.S. public's opinion on park and recreation-related topics. The goal of each poll is to champion the work of every park and recreation professional by broadening the public's view of the many ways you impact our communities. The polls have covered fun topics (e.g., dog parks, outdoor holiday celebrations, parks as staycation destinations) and touched on some of the most pressing issues facing our communities (e.g., healthy food options for the most vulnerable populations, support provision during and after a natural disaster and tobacco bans in public areas).
We present the NRPA Park Pulse poll results in an infographic that we publish in every issue of Parks & Recreation magazine, share through NRPA's social media channels and post on our website.
NRPA Park Pulse poll results and infographics are ready to share, whether it is to market your agency's amenities and services or to make a case to public officials or other key stakeholders. Consider an example from January, when the poll found that nearly 3 in 5 U.S. adults acknowledge that they are less physically active during the winter months. In highlighting this result, the infographic noted that "local park and recreation agencies provide a variety of indoor and outdoor options to beat winter inactivity," including indoor gyms and pools, yoga and skating.
On January 2, we shared the poll results and infographic on all of NRPA's social media channels. Thousands of park and recreation professionals and enthusiasts viewed the infographic on these platforms, with many liking and sharing the posts with their networks. Some agencies used the shareable findings to highlight how they are an easy-to-access, low-cost/no-cost solution to the winter doldrums. A few examples include:
Chicago Park District shared the poll's key findings on Twitter and stated, "We have you covered with a variety of indoor/outdoor options to beat the winter blues, including fitness centers & classes, swimming, ice rinks & trails." The tweet, which also featured a graphic of the agency's outdoor ice skating offerings, ended with a link to the agency's website.
Lafayette (Indiana) Parks and Recreation tweeted out the infographic with the question: "Did you know a monthly pass to workout at McAllister Rec Center is only $30? And a day pass is only $2?!" and linked to the agency's website.
The Minneapolis Star-Tribune featured the January poll results in an interview with Colleen Tusa of St. Paul (Minnesota) Adaptive Recreation on recreation opportunities the city offers to people of all abilities.
Keep an eye out for NRPA Park Pulse each month. Even better, we welcome your feedback and ideas for future poll questions. Please email me your poll question ideas. I look forward to seeing your suggestions.
Kevin Roth is Vice President of Research, Evaluation and Technology at NRPA.