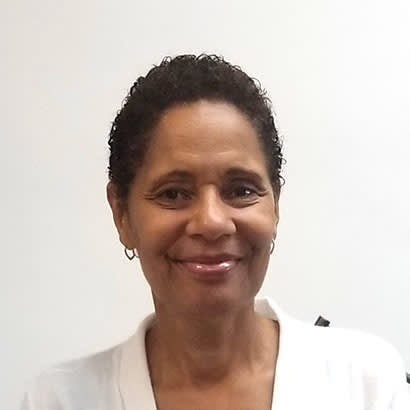 With a degree in public recreation/education from Ohio State University, Denise Johnson-Caldwell began her park and recreation career working with the City of Columbus (Ohio) Park and Recreation summer and indoor programs before becoming a center director. Inspired by a curiosity about park design, she returned to Ohio State University and earned a graduate degree in landscape architecture before joining Baltimore City (Maryland) Recreation and Parks. As a design planner, she works on many projects — from playgrounds, sport courts and fields, and aquatic sites, to stormwater management, among others. This year, Johnson-Caldwell is also assisting with the NRPA Parks Build Community (PBC) project — the new Catherine Street Park in Baltimore — which will be unveiled at the NRPA Annual Conference.
Parks & Recreation recently spoke with Johnson-Caldwell to learn more about her role at Baltimore City Recreation and Parks and how her work is contributing to the community.
Parks & Recreation: You have played a critical role in the development of an inclusive community playground in Mount Washington's Northwest Park. Tell us a bit more about the process, the importance of this park and its impact on the community.
Denise Johnson-Caldwell: The new playground design was accessible but didn't have special adaptive equipment for inclusive play. After construction of the latest renovation, I designed a plan for a future play space to include more adaptive swings, but this next phase hasn't yet been implemented. The park is still undergoing renovations — near the playground, we are putting in an extension of Jones Fall Trail and updating the garden. Parking improvements and the park entrance area renovation will soon follow. So far, it has made an immediate and positive impact, as the playground is used heavily since being completed. The community implemented a playground design survey throughout the neighborhood and collaborated with Recreation and Parks about what to include in the playground design. The entire experience of working with a well-informed group was enjoyable.
We work to make sure all our playgrounds are accessible and to provide equipment for different ages and abilities. However, Farring-Baybrook Recreation Center in Baltimore is specifically geared toward inclusivity. The playground was designed to have a greater degree of inclusive play equipment and the facility provides programing aimed toward those with special needs.
P&R: This year, you are taking part in NRPA's 2019 Parks Build Community. What does PBC mean to you? What do you think it means to the community?
Johnson-Caldwell: With the park build, we are making accommodations to include many of the donations that are being offered, which allows us to provide more amenities to the neighborhood and the community than what we could have provided initially. It's a fantastic opportunity. We had a capital playground renovation planned, but, now, a much larger playground is being built. We can provide fitness equipment, an upgraded basketball court, along with other amenities we weren't able to provide before. The playground has become a higher-quality site.
NRPA has offered us many opportunities through PBC. We certainly are doing our work on our end with site design and construction, but I really see where NRPA is doing the work on their end. It's also impressive how NRPA is engaging with the community on different levels. [The organization] had a "movie in the park" event, where [NRPA staffers] came out and showed they cared to do something with Baltimore City Recreation and Parks to have a positive impact. Also, the research effort with Johns Hopkins plans to look at the PBC's effect on the community a few years down the road. Stakeholders with other park projects have approached us wanting to do something similar, and I'm excited to explain what we are doing at Catherine Street Park. In addition to providing product donations, NRPA is providing a financial gift from a Target Corporation grant.
P&R: How do you imagine the future of parks and rec in Baltimore? Do you have any future projects or ideas in mind?
Johnson-Caldwell: I think parks and rec in Baltimore is on an excellent path with very enthusiastic and supportive leadership. The director is engaged with department staff and the Baltimore community, and I feel a high level of commitment from him. He wants to be here for a long time to make things better, which motivates me to do the best I can in my work. We are making positive strides by adding key personnel in each division within the department and producing good recreational opportunities for Baltimore. We are also starting to talk more about equity across the city and being intentional about meeting community needs.
We have some great capital master plans occurring, like CC Jackson/Park Heights, Bocek Park and Solo Gibbs Park and projects in construction, which include Cahill Recreation Center, Clifton Tennis renovation, Little Italy bocce courts and McKim park renovation, to name a few. We're also excited about unique, up-and-coming projects, like Druid Park Lake and Middle Branch Fitness and Wellness Center at Cherry Hill, Druid Hill Park aquatic center and Dypski playground.
With these projects and more, we're trying to serve the community the best we can through collaboration with them.
P&R: What's your favorite way to unwind?
Johnson-Caldwell: Two things: the first is enjoying the company of family and friends. I value relationships with others and spending quality time with them is special and relaxing. Second, I also enjoy unwinding with various fitness activities. I like to be active every day!
Lindsay Collins is the Associate Editor for Parks & Recreation magazine.