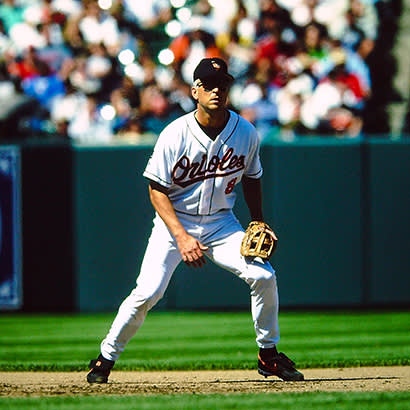 Cal Ripken Jr. to kick off this year's gathering of thousands of park and recreation professionals at the 2019 NRPA Annual Conference in Baltimore.
As a baseball player growing up, I always had those pregame butterflies before taking the field — but they always went away the moment I began running out to that sacred ground called shortstop between second and third base. That's where the action was. That's where my favorite player stood. That's where I could pretend I was Cal Ripken Jr.
Baseball taught me a lot of things — both as a fan and former player. I learned patience waiting on a slow curveball. I learned the importance of teamwork when practicing how to turn a double play and how to be a team player when a teammate would take that dreaded walk back to the dugout with their head hung in disappointment after striking out. I learned how to win humbly, lose graciously and that until the final out is called and the lights have been shut off, there is always an opportunity to come out on top.
Players like Cal Ripken Jr. taught me and other budding baseball players these things without ever being aware they were doing so. Ripken — also known as baseball's "Iron Man" — is a Major League Baseball (MLB) Hall of Famer who played his entire career with the Baltimore Orioles. Among his many professional achievements, he is most notable for breaking Lou Gehrig's record of 2,130 consecutive games played on September 6, 1995. He retired in 2001 after 21 seasons with the Baltimore Orioles, where he made an impact on fans, teammates, opponents and the game itself.
Since retiring, Ripken continues to make a positive impact on people's lives through the game he loves by hosting youth tournaments, camps and clinics at The Ripken Experience in Aberdeen, Maryland, and Myrtle Beach, South Carolina. Ripen also works as the special advisor to MLB Commissioner Rob Manfred on finding ways to provide access to quality opportunities for children in underserved communities to play baseball and softball.
Along with his brother, Billy, he formed the Cal Ripken Sr. Foundation in 2001, in honor of their father. The foundation provides opportunities for underserved kids to develop valuable life skills, build character and connect positively with law enforcement. In addition, the Ripken Foundation's Youth Development Park Initiative creates clean, safe places for kids to play on multipurpose, synthetic surface fields that promote healthy living in an outdoor recreational facility. The Ripken Foundation has created 83 completed parks across the country in 22 states, 17 of which are Adaptive Fields for children with special needs. In 2018, the Ripken Foundation impacted more than 1.5 million kids nationwide through its Youth Development Park and mentoring programs.
NRPA is thrilled that Cal Ripken Jr. will be sharing his story with thousands of park and recreation professionals this September at the 2019 NRPA Annual Conference in Baltimore, Maryland. Parks & Recreation magazine recently caught up with him to talk about the Cal Ripken Sr. Foundation, why he believes it's critical to provide opportunities and safe spaces for at-risk youth, the importance of letting kids be kids and why he's excited about the NRPA Annual Conference.
Parks & Recreation: Let's talk first about your childhood. With your father being a professional baseball player, how was physical fitness and a healthy, active lifestyle viewed in your family?
Cal Ripken Jr.: Being physical and outdoors a great deal was stressed by my mom and dad. We all played sports as kids, but we were never pushed into baseball as some might think. We just loved it. Once our parents saw that we loved it, they helped and encouraged us — but never drove us — and that helped us discover our love for the game that much more.
P&R: The Cal Ripken Sr. Foundation was founded to honor your father, and its mission is to prepare at-risk youth for life's challenges by teaching them critical life skills, such as teamwork. Why do you believe there's such a need to connect with these kids and provide opportunities for them?
Ripken Jr.: When we started the foundation, we had no idea that it would grow to the size that it has and help so many kids across the country. When you travel around, you realize quickly that many kids don't have the advantage of a solid family structure the way we did. Through programs like Badges for Baseball and others, we try to show kids that they do have support systems and there are organizations out there to help them. As we were conducting programs in cities across the country, we also noticed a lack of good places for kids to play and be kids — safe places. That's when we started building Youth Development Parks, which are multipurpose turf fields that provide kids with safe places to play and learn and just be kids. We are now closing in on 100 of these parks, and they are really making an impact.
P&R: With the foundation's Youth Development Parks, you all are working with communities to build safe places, like sports fields, for at-risk youth. How important is it for at-risk youth to have a safe place to go?
Ripken Jr.: It's vitally important, and we didn't fully understand that when we started the foundation. We initially focused on programming, but it is hard for programs, no matter how good, to take root when you are playing on uncut grass and broken glass. We were lucky as kids to always have a nice park to play in, but so many kids across the country don't have that. We are providing that space, and it is making an enormous difference to both the kids and the surrounding community.
P&R: In your opinion, how can parks and recreation play a role in preparing today's youth with the skills they need for the future?
Ripken Jr.: Kids need to be kids. My brother, Bill, always says it this way: When a kid in a city is on the street, and he or she looks one way and there is a gang trying to lure him or her, and then they look the other way and there is a beautiful park with programs and people who care, they will choose [the latter] every time. We are seeing it have an effect, and parks and safe, open spaces are such an important part of our society.
P&R: What kinds of things do you believe park and recreation departments can do to engage these youth and show the importance of getting involved not only in team sports, but also many of the other offerings?
Ripken Jr.: What we try to do, and what we believe is important, is to make the parks and fields general in nature. Not just for baseball, soccer or football, but to allow the kids to do anything they want: encourage myriad activities and choices. In our technology-heavy world, we must work a bit harder to show kids how great it is to move and discover the outdoors. When I walk through a park, I am so encouraged by the number of kids and families enjoying it and taking advantage of it. In the end, it is all about exposing kids to new things.
P&R: What kinds of routines do you follow to stay active these days? I know there's a lot of superstition and rituals when it comes to baseball. How has that translated into your life now that you're retired?
Ripken Jr.: I was never a superstitious player during my career, but so many guys were. Today, I enjoy bike riding and playing golf. The older you get, the more important it is to stay active. I love that more and more cities are incorporating bike trails into their plans.
P&R: Now that we're on the topic, what was one of the most outrageous superstitions you knew of when you were playing?
Ripken Jr.: Do you remember Wade Boggs? Great third baseman for the Red Sox, Yankees and Rays, and a Hall of Famer. Wade had to eat chicken before every game. Every game! His nickname was the Chicken Man. I would get so sick of that, but it was his thing. I guess it worked.
P&R: We can't have an interview with Cal Ripken Jr. without asking about September 6, 1995. Many fans might recall watching you wave your cap to the crowd at Camden Yards as you played your 2,131st consecutive game, breaking Lou Gehrig's record. You went on to set that new record at 2,632 consecutive games played. What kept you going?
Ripken Jr.: Can you believe next year will mark 25 years since the record was set? Time sure does fly. That was such a special night. What kept me going was a very simple and, I believe, honest approach. I was taught that as a ballplayer, it was my job to show up at the park each day ready to play. And, if the manager believed I was one of the nine guys who could help the team win that day, he knew he could count on me to be there.
Over the years, there were a few critics calling me selfish for playing every day. I always found that curious. To me, I was just there for my team and facing the challenges of the day. If I was really selfish, I would skip days when guys, like Randy Johnson, Roger Clemens or Pedro Martinez, were pitching and pad my stats a bit, but that was never my outlook and approach.
I also had pretty good genes that kept me relatively healthy all those years.
P&R: What are you most looking forward to about getting to speak to and meet thousands of park and recreation professionals in September?
Ripken Jr.: I was lucky to have some unique experiences throughout my life, and I enjoy sharing those with other people. I also enjoy hearing from those people and learning about what they do and their ideas for improvement. This particular group is of great interest to me, especially because of the work of our foundation and the world in which we all work.
To hear Ripken's inspirational keynote, join us Tuesday, September 24, at 9 a.m. at the Opening General Session. To learn more, visit our Conference page.

Cort Jones is NRPA's Communications Manager.