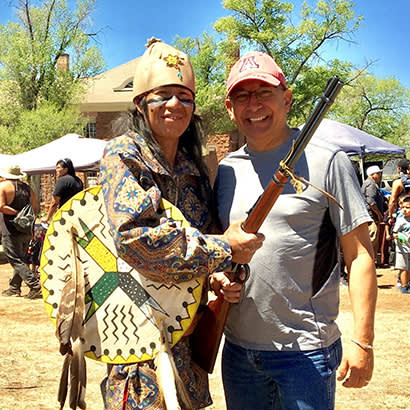 Rafael Payan, Ph.D., is general manager of Monterey Peninsula Regional Park District. Under his leadership, the park district recently acquired the Rancho Cañada golf course, one of the premier courses on the planet. "With the purchase, our goal is not to keep the golf course in operation, the reason being is that there's some water issues in California and on top of that, golf is starting to have less of a usership," says Dr. Payan. "We're going to be restoring the 36-hole golf course back into native habitat. We've retired the use of about 185-acre-feet of water that we're putting back into the Carmel River. And, since we're so close to the ocean, we also have less of a chance of fertilizers and other chemicals transferred by runoff into the ocean."
This is only one of the many conservation- and social equity-focused projects that Dr. Payan has spearheaded throughout his career. Parks & Recreation spoke with Dr. Payan to learn how he developed his passions and how those, along with his life experiences, have contributed to his work.
Parks & Recreation: Before moving to Monterey, you were in Arizona, where you were heavily involved with education and advocacy on Native American reservations in the area. Can you tell us a bit about this experience and how it has informed your current work?
Dr. Rafael Payan: My father is San Carlos Apache. Ever since I was a child, I was exposed to Apache culture. When I was in Arizona, I started volunteering for a whole bunch of projects. This is part of my background in landscape architecture. I master planned every state park in the Arizona state park system. I also noticed that on a lot of reservations, the kids were suffering for several different reasons. Part of it is that Native Americans are almost invisible in our culture. Native American kids see a lot of other folks of other races and ethnicities on television, movies, etc., but they don't see themselves represented, or they don't see themselves represented positively when they are. I wanted to help reverse that, so I started volunteering by designing parks for various tribes.
Presently, I'm working with the White Mountain Apache tribe on a historic site — it's where the U.S. Army was stationed in the mid-1800s to the early 1900s. Eventually, it was what opened up the West for settlement by American settlers, because Arizona, New Mexico and West Texas were very difficult to cross for the settlers who wanted to move to California. The U.S. Army occupied this area and constructed numerous buildings, really beautiful buildings, for housing their officers and staff, as well as for the function of the military base that's now part of the reservation. We're adaptively reusing that property to create a park for what will be the Theodore Roosevelt School, the last Indian boarding school operated by the Bureau of Indian Affairs in the United States. Since these kids are away from their families, we want to keep them occupied, so we're taking part of the parade grounds from the historic military fort and creating soccer fields, baseball fields, a splash park, etc. In partnership with Johns Hopkins University, and through its business school, we've established a café. Visitors come down to the café, and we employ native kids so they can develop marketable skills.
P&R: Do you feel that conservation and social equity intersect? If yes, how so?
Dr. Payan: Sure, they absolutely do. I look at it this way: Access to conservation and Access to knowledge is incredibly important because…if we don't teach our kids how to love this land, when they're adults, they're not going to support our organizations — whether they're urban or natural areas. We want to create a knowledgeable voter, somebody who is environmentally literate.
P&R: You have also spearheaded several large environmental initiatives, such as developing the Kartchner Caverns State Park in Benson, Arizona and establishing condor-feeding stations along the West Coast. How did you develop your passion for the environment and what does conservation mean to you?
Dr. Payan: I was very fortunate as a kid. I would either spend my summers on the reservation in Arizona with my dad's family, or I would be shipped off to my mom's family's homes, which were in Mexico in the state of Chihuahua — they were a farming community. I got exposed to these different cultures that had close ties to the lands. My mom's family were farmers, and because of that, they had a love for the land and preservation of the land. We also guarded the areas, especially watersheds, around these farm areas, because, again, they realized that the natural habitat was really the basis of them succeeding as farmers.
On the Apache side, I would spend a lot of time on the ranches across the Apache reservation and other areas around Arizona that were ranching communities. I would work the ranches. Those places in Arizona were surrounded by some incredibly beautiful natural areas. Our families, both on the Mexican and on the Native side, would harvest acorns, which we ate. We would also go camping quite a bit. We would go fishing. Almost every weekend — whether I was in the States or Mexico — we were spending time in natural areas, whether it was mountains or parks or other natural features.
As a child, I fell in love with nature, so I was very blessed because as I got older, I had a chance to work on the Kartchner Caverns park development. In fact, I was the lead designer and planner for the project. [That] was such a great community cooperative with that part of Arizona. We were actually featured in the 100th anniversary of National Geographic.
After that, I had a good opportunity to work on the Sonoran Desert conservation plan in the Tucson area. We purchased several ranches surrounding the city of Tucson, because we didn't want Tucson to suffer from urban blight. The Tucson area is the quintessential desert. It has magnificent wild areas. There are a lot of animals — in fact, there were [more than] 50 endangered species, including jaguars, in that area of Arizona. One of the things the conservation plan allowed us to do was buy properties, mainly ranches and farm areas, as the descendants of farmers and ranchers were pulling away from those industries. The kids just don't want to farm anymore. So, we purchased these properties and in doing that, were able to expand mountain parks, wildlife corridors and cultural sites. Because of that project, in coordination with the city and developers, we won the American Planning Association's top award in the United States for environmental planning.
We've also partnered with Ventana Wildlife Society to create some feeding stations for condors. The condors are doing very well, and our desire to bring them in by creating feeding stations in wilderness areas on our parks was so that the condors would start coming in closer to the ocean and they would feed on carrion — mainly whales and porpoises — that wash up, rather than going inland and eating the rabbits and coyotes that have been shot, because, sometimes, the way in which those animals were shot would be ingested by the condors and they would die. We've been successful. Thankfully, we've been able to track quite a few condors, and now the habitat is spreading within the central coastal part of California.
P&R: Outside of work, what are some of your favorite ways to engage with your community?
Dr. Payan: I like to volunteer with different groups. Right now, I volunteer with different tribes in California and Arizona. I also like to work with the art communities in California. As a volunteer, I've been engaging with some of the artists to develop some of our exhibits. So, when you step inside one of our visitor's centers, you not only see scientific information, like an interpretive plaque, but you also see fine art created by regional artists.
Lindsay Collins is Associate Editor for Parks & Recreation magazine.