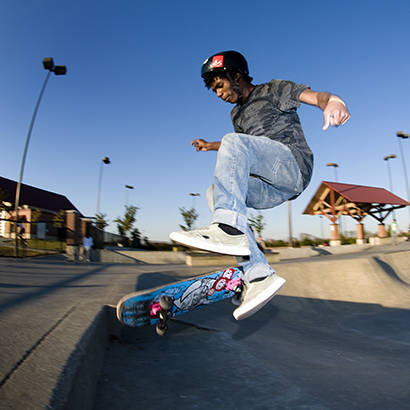 Tim Dentler, director of Allen Parks and Recreation, took a deep breath when he received the department's self-assessment results in June from NRPA's Commission of Accreditation of Park and Recreation Agencies (CAPRA). After more than two years, the department would find out how its accreditation submission had been scored: It had met 150 of the 151 standards, including every mandatory standard!
Achieving CAPRA accreditation has been a longstanding goal for Allen Parks and Recreation. Located in North Texas, the city of Allen, with a population of more than 105,000, has 1,196 acres of parkland, more than 68 miles of hike-and-bike trails, 60 parks and seven recreation facilities, including a municipal golf course, natatorium and one of the state's largest outdoor skate parks.
"Our mission is to serve, and by achieving CAPRA accreditation, Allen Parks and Recreation is proving that the department is operating at a benchmark level of efficiency and making the best use of resources, while maintaining the highest degree of professionalism," says Dentler.
In May 2016, the department began the CAPRA accreditation process with a kickoff meeting where staff members were placed in teams based on their professional expertise. Each team was assigned a CAPRA self-assessment chapter aligned with its expertise and tasked with collecting information and evidence to satisfy the standards in that chapter.
"Taking several years to complete, the CAPRA accreditation process had its challenges, including staff changes and needing to modify the project timeline in order to meet the submission deadline," explains Jennifer Robinson, the department's support specialist, who organized the CAPRA accreditation process.
There were numerous hurdles that had to be overcome, from compiling evidence to documenting policies and finding information cross-divisionally, to satisfy all the standards. However, by establishing challenging yet achievable expectations, maintaining strong communication among everyone involved in the process and supporting each other, Allen Parks and Recreation was able to grow as a team to complete the self-assessment.
Toward the end of 2018, Allen Parks and Recreation began finalizing the accreditation documentation, and the final self-assessment was edited, compiled and submitted in early 2019.
"The CAPRA accreditation process has helped Allen Parks and Recreation become a better agency by making day-to-day operations more effective through increased staff communication and documentation of processes, policies and procedures," Dentler says. He adds: "Becoming a CAPRA-accredited department validates the public's trust in Allen Parks and Recreation. Without a doubt, going through this process has strengthened Allen Parks and Recreation as a team, while setting the department up for even greater success in the years to come."
Learn more about CAPRA accreditation.
Matthew Cobb is the Marketing Manager for the city of Allen, Texas.