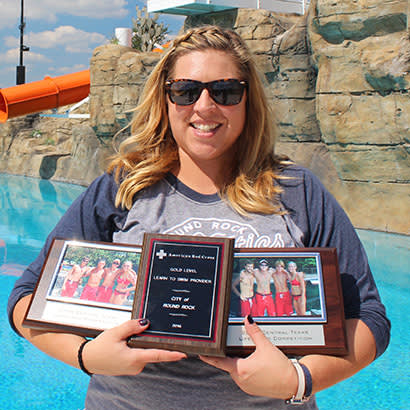 This summer, Nichole Bohner will mark her fourth year as the Aquatics Division manager for the city of Round Rock, Texas. However, the initial road to a career in parks and recreation took a few minor twists and turns along the way. But, from the sound of it, this graphic design major wouldn't have had it any other way.
Parks & Recreation magazine recently talked to Bohner to learn more about the journey that led her to parks and recreation, her agency's expanding aquatics program, as well as her favorite success story about learning to swim. A portion of that conversation follows:
Parks & Recreation: What was it about parks and recreation that prompted you to pursue it as a career?
Nichole Bohner: It came about by accident. I started as a lifeguard for my hometown park and recreation agency when I was 15. For a long time, I wasn't looking at the park and rec field necessarily as a career opportunity. I went to college studying graphic design in my home state of Ohio and worked at pools during the summer. During college, I worked at our Campus Recreation Center for all four years. And when I graduated, I ended up having more experience in the park and recreation field than in anything else, and it kind of became real to me that what I had been doing could be my career.
I was applying for any sort of job I had qualifications for, all over the country. I wasn't getting callbacks for the graphic design jobs, but the jobs in aquatics were replying to my inquiries. I applied for a job in California, and they offered to fly me out for the interview. So, it kind of became quite real there. I didn't get that first job in California, but what it did do was prompt me to start pursuing other positions in the aquatics field, and, eventually, I was lucky enough to get selected for a position in Lake Tahoe.
I hadn't really realized that the multiple summers working in my hometown at that pool in Ohio could really translate to a career with a salary; [that] was all brand new and amazing to me. And as an added bonus, I was really able to utilize my skills as a graphic designer to help promote programs within our department. That skill set now has helped me sort of shine above other folks with similar backgrounds in aquatics, because every program needs to be promoted, and I'm able to do that on my own. And, it's sort of led, in a roundabout way, to a conglomerate of two things I love: being in aquatics and graphic design. I've been able to meld them into what I'd call my 'dream job.' It might not have been what I had envisioned initially, but it's turned into this thing that I love, and it's amazing!
P&R: Can you tell us about the aquatics program at your agency?
Bohner: I came to the city of Round Rock at a really exciting time. They had taken a successful, smaller waterpark and tripled it in size. They were doing this big expansion project and we were, in turn, growing the Aquatics Division. So, it went from a program that included two lifeguard classes per year, to the point where we're now running about 20 classes per year in-house. We really had to grow our team and pull together a stable of instructors from our ranks.
We also have really focused on growing our swim lesson program. We're exploring classes that fill the needs in the community. For example, we've seen a lot of kids come to the pool with mermaid tails. A lot of aquatics professionals say, 'No mermaid tails whatsoever!' But, we wanted to find a way to allow them safely. So, we began teaching a class about safe use of a mermaid tail and the steps to learn to swim with it. And, we really pushed that because we believe we were filling a need, whereby these kids who were showing excitement about swimming wouldn't get turned away anymore and would have a controlled environment to learn in.
We've also found there is a large gap in our community of adults who don't know how to swim. So, we've been working to expand our class offerings to times that would fit into adults' busy schedules. What's more, some people have a fear of water, are uncomfortable in the water and don't like getting their face wet. And some of these people tend to benefit from the alternative methods we've been exploring, like starting swim lessons using a life jacket, which seems counterintuitive to learning to swim. But, if you can get them comfortable in the water in a life jacket and then slowly progress them out of it, they're learning motion and how to kick with that life jacket on, and this allows them to take those smaller progressions that some students need.
We're giving them the skills to be able to eventually take that life jacket off and then teach them how to float in the water. Previously, we really focused on going by more traditional methods when it came to swim lessons. Now, we're trying to look at the bigger picture by acknowledging that every person learns differently, and we are trying to account for that with more flexibility in our lesson plans.
We are always asking ourselves how we can grow a program that makes sense, fills needs and gives instructors the flexibility to teach differently for different students. I think our adult program is a good example of that. Sometimes, it's about being more open-minded and willing to explore possibilities.
P&R: Do you have one success story about a student learning to swim that you can share?
Bohner: I had a cashier who worked for me for two years, and he could have, theoretically, worked anywhere, but he chose to work at a pool. And for those first two years, I had no idea he didn't know how to swim. One day, we were talking about how the city gave free swim lessons and how we did certain things to help people learn. That's when he confessed, 'Well, I don't know how to swim.' I was very surprised at his revelation! He then said that he took the job at the pool, because he wanted to learn how to swim.
I said, 'Why in the world haven't you said anything until now? I've known you for two years.' He said it was the stigma of being college age and not knowing how to swim. We actually set aside time so I could teach him, but we didn't do it at the pool he worked at. He didn't want to learn to swim and feel embarrassed in front of his co-workers. So, we went to another pool that the city owned, and I worked with him for probably two months. And, I'm happy to say that he now knows how to swim. He's no longer afraid to be in deep water over his head. I actually saw him recently, and he said he went out on a boat with some friends and had the best time swimming. That's probably the success story that's closest to my heart.
Vitisia Paynich is a Freelance Writer for Parks & Recreation magazine.