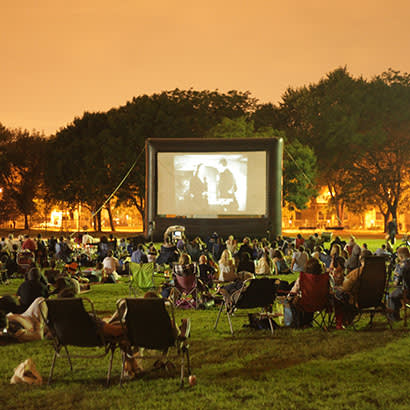 Every day, park and recreation agencies across the country come up with innovative ways to help improve the physical, as well as mental well-being of their communities. In 2018, NRPA launched the Innovation Awards program to recognize and honor that ingenuity in the areas of health, conservation, social equity and park design, and you can read about each of the award-winning programs in the 2018 Imagination Guide. Parks & Recreation reached out to Daniel J. Olson, chair of NRPA's Awards and Scholarships Committee, to provide some insights about these awards: the value in the application process, tips on what to include and the question applicants find most challenging.
Parks & Recreation: As chair of this awards committee, why do you see it as an important one for members to participate in? What's the value in earning one of these awards for the agency/community?
Daniel J. Olson: From the outset, the process of nominating a person or program for an award is a great evaluation tool. When you are building the application, you are capturing every successful outcome, as well as points that need improvement. The result is a very comprehensive overview of the program that should be reflected upon. Once written, sharing the nomination internally with your board and staff sets a new level to which other programs can strive.
We often speak about NRPA's Gold Medal Award or our state agencies' accreditation process being great standards by which to assess your agency against others. The Innovation Awards are similar in many respects. A win is an endorsement of your agency's excellence in national standards. Further, acquiring one of NRPA's awards is a morale booster to your partners, boards, staff and volunteers.
There is incredible value in national recognition and your accomplishments should go beyond the one-time press release from your agency. It's an opportunity to tell your story, build a brand and even show off a little bit. Consider integrating the award into employee and volunteer recruitment. Or, imagine bringing all your partners and donors together specifically to discuss how they made it possible to win the award. Making it known you are one of the best of the best will help retain and build on those partners and financial supporters.
P&R: What are the key elements judges are looking for in the submissions?
Olson: This past year, the awards system was updated and innovation became a key component for all awards. Focusing answers on how your project, person or program was innovative and creative in addressing a community need or improving lives will help bring other aspects of your application together.
The foremost submissions we receive are well-written, comprehensive overviews of the project, person or program. The best applications typically include how the agency defined the need, how they set goals and, ultimately, conclude with measured results or participant outcomes. Include statistics, combined with first-hand testimonials to make a strong application.
P&R: Is there any other advice/tips you'd offer to applicants?
Olson: Always double check your entire nomination before you click submit no matter how many times you may have looked it over. On occasion, a section or attachment will be missing from the submission and applicants will miss out on points that could have been awarded for that section. Often, numerical scores are tied or within a point of one another.
If your agency is not a recipient of the award, always consider re-application the following year if it is still within the timeline allotted for the award. In many nominations, the project or program has recently come to fruition and your community is celebrating the results of your hard work. But, that does not mean your work is complete. Your nomination will most likely be scored against others that include measured outcomes and results. It may be that you need the following year to track outcomes to incorporate into the nomination. Timing is everything, so we suggest looking at the submission timeline and considering a re-application. With that said, it is never too early to submit.
Studying the award criteria and reaching out to past recipients well ahead of the nomination deadline will give you a sense of how to prepare and what to include in your nomination. Past recipients may be willing to share their application with you or at least discuss the benchmarks of their projects.
P&R: Was there any feedback from last year's participants that informed this year's process?
Olson: The feedback we received on the new nomination process and awards has been very positive. Agencies found the process easier, but it still allowed them to highlight what they felt was important to them. We have further streamlined this year's application process, making it easier for agencies of all sizes — to submit nominations.
P&R: Is there anything else about the award that you'd like to share?
Olson: Apply and nominate. The size of your agency, program, facility or budget should not limit you from applying. Notable innovation is found at all agencies and municipalities. The amount of money spent to get your results are not considered in the judging process.
Don't hesitate to include items that didn't work out or need substantial improvements. And certainly, if you made changes along the process, include those results as well. Including information such as this lets the judges know that you did due diligence in the evaluation process.
In the application process, we continue to see agencies struggle with the questions pertaining to explaining partnerships during the planning and implementation process. Although the early public meetings and community discussions may be a distant memory for your team, including those outreach efforts shows that key people were involved in the process. Numbers and statistics associated with early partnership efforts, as well as the unique innovation each partner brought to the table should be included.
Quite possibly the toughest question to answer on the application centers on the measures you have in place to sustain the program, park or facility. This question warrants having a conversation with your stakeholders and administrators prior to putting pen to paper. Be firm but honest in your response that there is a plan and evaluation process in place for the future of the project.
Celebrate your success and don't take rejection personally. Nationally, our agencies are full of impactful and innovative projects, programs and people. Our awards are a healthy competition and your time to shine may be now.