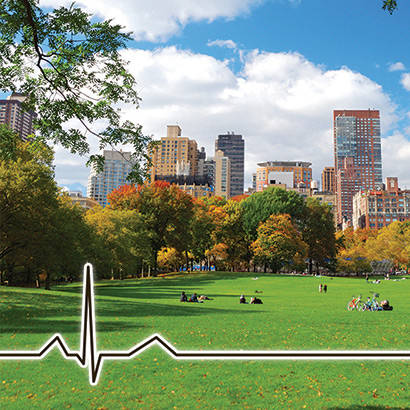 Each month, through a poll of Americans that is focused on park and recreation issues, NRPA Park Pulse helps tell the park and recreation story. Questions span from the serious to the more lighthearted. In this month's poll we asked the public, which of the following places, if any, do you visit to experience the health benefits of nature?
local parks or picnic areas are among the favorite outdoor places Americans visit to experience the health benefits of nature — such as reduced stress and increased energy levels. Other popular outdoor areas include:
Lakes, riverfronts or beaches (56 percent)
Local parks or picnic areas (55 percent)
Trails or campsites (36 percent)
Botanical gardens, arboretums, conservancies or observatories (24 percent)
Community playgrounds (21 percent)
Outdoor sporting venues such as baseball or soccer fields (20 percent)
Dog parks (17 percent)
People of all ages, particularly millennials (89 percent), enjoy the outdoors to experience the health benefits of nature. In addition, the clear majority of Gen Xers (82 percent) and baby boomers (77 percent) are likely to visit outdoor locations for health benefits. Furthermore, parents are more likely to visit lakes, riverfronts, beaches (64 percent) and trails or campsites (44 percent) compared to non-parents (53 percent and 32 percent, respectively) and the overall public (56 percent and 36 percent, respectively).
Visit NRPA Park Pulse for more information.
The National Recreation and Park Association survey was conducted by Wakefield Research (www.wakefieldresearch.com) among 1,004 U.S. adults ages 18+, January 14-18, 2019, using an email invitation and an online survey. Quotas have been set to ensure reliable and accurate representation of the U.S. adult population 18 and older.