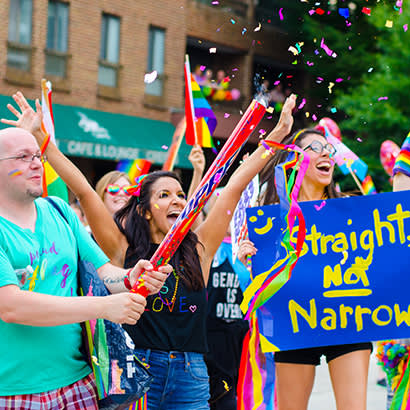 When I first started working in the City of Manassas Park Department of Parks and Recreation in January of 2012, I was a baking instructor. At the time, I was publicly out as a queer person, but I still strategically chose when to disclose that information in person to anyone. I had never worked for a government agency before, and being an instructor was a dream job for me, so I decided that I didn't want to take any risks and chose to keep my identity to myself.
Today, I am the marketing manager for the department and am open about my identity. As a queer person on staff and an active LGBTQ advocate, I am fortunate to be able to bring ideas to the department's leadership, which is supportive and affirming, on how we can ensure we are being inclusive of the LGBTQ community. With June being Pride Month for many localities around the country, I would like to challenge you to make changes to make your department more affirming as well.
Don't assume that LGBTQ people aren't already coming to your facilities.
When I advise colleagues on LGBTQ affirming changes, I often hear that some of the changes might be too burdensome for a small demographic. According to a 2017 Gallup poll, 5.3 percent of Americans identify as LGBTQ, which is approximately 17 million people. Gallup also suggests that as society becomes more affirming, people will be more likely to openly identify as LGBTQ (both in person and on a survey). Queer people are already coming to your facilities and even more want to, so making affirming changes will help them feel they belong to the community — a role all park and recreation departments should be working toward.
Make real and visible partnerships with LGBTQ organizations in your community.
You could offer free space for LGBTQ organizations to host their meetings or partner with them to offer LGBTQ-specific programming. I'm a youth facilitator for the Prince William County community group of PFLAG (Parents, Families and Friends of the LGBTQ community), so when I was looking for creative ways to engage our youth, our recreation services team stepped up and helped me put together a self-defense class and a yoga class just for LGBTQ folks. It was really rewarding to see the instructors asking for and using the correct pronouns, but also seeing queer folks feeling comfortable enough to be their authentic selves.
Consider hosting LGBTQ socials with your partner organizations. Within the community, a repeated frustration is the lack of alcohol-free places to meet other LGBTQ people. With our focus on health and wellness, park and recreation agencies are perfect for providing those safe spaces without the pressure of alcohol, while also offering creative opportunities to engage beyond meet and greets.
When you establish these partnerships, be sure to advertise them on your website and social media but be aware that you might not be able to share photos from these programs, as not all of the participants may be publicly open with their identity.
Lead the way for inspiring change in your community by providing space for organizations to present to local agencies in your area.
I attended a panel discussion on how to make outdoor spaces more LGBTQ affirming, and as a queer person, it was an uplifting and eye-opening experience. REI hosted five LGBTQ sports clubs, teams and organizations in the D.C. metro area, from cycling to hiking, rock climbing and more. Each organization shared its successes, challenges and goals for the future and how agencies in the area could help it reach its goals. As a result of the event, we are now partnering with TeamDC to encourage LGBTQ sports clubs that need field space to visit our parks.
Update the language throughout your department to be more affirming.
If you haven't already, now is the time to add sexual orientation, gender expression and gender identity to your nondiscrimination policy. You should also review your policies and membership handbook and try to remove all gendered language, as well as anything that may appear heteronormative or cisnormative. For example, if you have dress codes for staff or patrons, list out acceptable attire as one list rather than dividing by gender. Instead of having binary options on registration forms for gender, simply use a blank space for participants to write it in, or reconsider asking for that information at all. Make sure your registration forms ask for parent contact information instead of mother's and father's. Consider changing the signage for your single-stall restroom to say, "all gender restroom." These may seem like small and, perhaps, inconvenient changes, but if your department is advertising it is LGBTQ affirming and is still using non-inclusive language, it's going to send mixed signals and LGBTQ people will notice.
Be prepared to accept small changes, but continue to advocate for more.
For government agencies, change comes slowly. With the LGBTQ community still being treated as controversial, you may need to make incremental changes that slowly become more and more visible over time. We've seen a great deal of positive energy for our community — and especially for our staff — as we've implemented more and more changes here in Manassas Park. In November 2018, during statewide elections, our city elected Danica Roem, the first openly transgender state delegate, and, without any controversy, passed LGBTQ protections for students and faculty at the schools.
Destigmatizing the LGBTQ community can be very difficult in certain areas. However, bear in mind that as difficult as it is to implement affirming changes, it's much harder to exist as a queer person in those areas. Lack of community and lack of access to resources can be an isolating experience for LGBTQ people.
Will you join us in being that resource for your community — for your whole community?
Note: Check out this Open Space Radio podcast with Jason Shriner about why he thinks inclusion is so critical in parks and recreation.
Jason Shriner is the Marketing Manager for the City of Manassas Park Department of Parks and Recreation (@theMPCC).
Some Gender Terms Explained
Heteronormative: The attitude that heterosexuality is the norm, that all or nearly all people are heterosexual, and that there are clearly defined gender roles. Examples: Assuming a man with a wedding ring is married to a woman, having a rigid definition of family (married man, woman and kids) and roles: women cook/men work, forms that say mother/father instead of parent/parent and gender-specific fragrances (this is a man's cologne/a woman's perfume).
Cisgender: When one identifies with the gender they were assigned at birth. (I am cisgender because I was assigned male at birth, and I still identify as male.)
Cisnormative: The attitude that cisgender is the norm, that all or nearly all people are cisgender, that there are only two genders, and that there is a limited scope on how each of those two genders can be acceptable expressed. Examples: Assuming pronouns, "all women need pap smears" (people who have a medical need for pap smears need to get pap smears), dating sites (are you a man seeking a woman, without any or very few options to change that setting), gendered bathrooms (focus on contents rather than people), men/women look a specific way and if you don't look that way, then you aren't a man/woman (e.g., women don't have beards).
There is some overlap between heteronormativity and cisnormativity since gender plays a strong role in both.