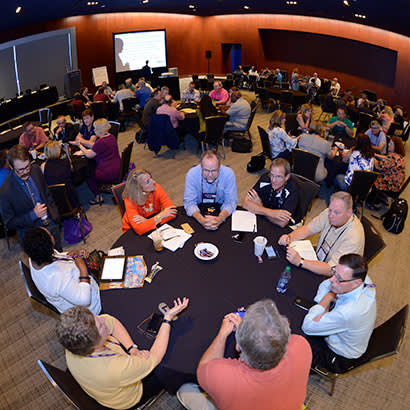 A great way to kick-start your conference information download
Dive into this year's educational opportunities in Baltimore, Maryland, by attending a Pre-Conference Workshop on Monday, September 23. There are several to choose from covering topics, such as leadership, accreditation, certification and marketing, and you can earn valuable CEUs. These hands-on, in-depth workshops are as follows:

Agency Accreditation and CAPRA Visitor Training: A Mark of Excellence! (0.4 CEUs)
8 a.m. – 12:15 p.m.
Prepare your agency to achieve CAPRA accreditation or get qualified to become a CAPRA visitor.
Health Planning for Park and Recreation Agencies (0.3 CEUs)
8:30 a.m. – 11:45 a.m.
This workshop will use local health data from the attendee's community, allowing them to identify how a park and recreation agency can adapt and integrate its plans, programs and services to create collaborative public health enhancing programs.
Your Data and You: What You DON'T Know About Local Parks and Playgrounds (0.3 CEUs)
8:30 a.m. – 11:45 a.m.
Using information gathered from more than 5,000 smart playgrounds, this workshop will examine how to accommodate for future demographic trends, what factors influence a park's popularity, which equipment is most appropriate for a location and inclusive playground designs.
Marketing Certificate Program: Engage Your Community, Get More People in Your Parks (0.6 CEUs)
8:30 a.m. – 3:45 p.m.
Gain the knowledge, skills and strategies needed to build and execute effective park and recreation marketing and communication campaigns that will help you better connect with your community.
Leadership Certificate Program: Leading to Create Organizational Excellence (0.6 CEUs)
8:30 a.m. – 3:45 p.m.
Gain an overview of four key areas of leadership: strategic thinking, human capital management, operational leadership, and diversity and cultural awareness.

NRPA's Playground Maintenance Course (0.6 CEUs)
8:30 a.m. – 4 p.m.
Get an overview of playground safety standards and guidelines, playground owner responsibilities and maintenance discussions on playground equipment, surfacing and site items.
Choose the Path to Certification – CPRP (0.8 CEUs total, 0.3 on-site)
12:30 p.m. – 4:45 p.m.
Prepare to become a Certified Park and Recreation Professional (CPRP) — the national standard for all park and recreation professionals who want to be at the forefront of their profession.
Academic Accreditation and COAPRT Program Visitor Training: A Symbol of Academic Excellence (0.4 CEUs)
12:30 p.m. – 4:45 p.m.
Learn how to achieve the COAPRT Academic Accreditation or how to become a COAPRT visitor.
Unraveling the Grant Writing Puzzle: Connecting Dreams with Resources (0.3 CEUs)
1 p.m. - 4:15 p.m.
Learn the keys to effective grant writing and the importance of collaboration; unravel the mystery of where and how to locate future funding.
Note: All Pre-Conference Workshops occur on Monday, September 23, in the Convention Center and separate registration is required.
To sign up for the pre-conference workshops or for more information about the 2019 NRPA Annual Conference in Baltimore, Maryland, scheduled for September 24–26, visit www.nrpa.org/conference/.