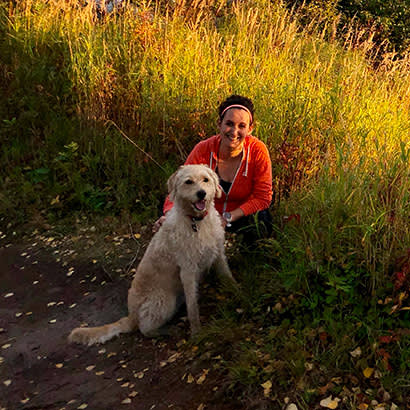 Growing up in Colorado, Molly Lanphier spent many winters outdoors skiing. But, it wasn't until a sixth-grade field trip to Moab, Utah, that she first experienced the enjoyment of camping and hiking. It was in high school, however, that she gained a better understanding of parks and trails by volunteering for Volunteers Through Outdoor Colorado.
"That was kind of my first exposure to that world by learning what it takes to actually build trails and maintain parks," notes Lanphier. She adds that those two informative experiences in elementary school and high school made her fall in love with the outdoors and appreciate what parks and recreation does for people. However, Lanphier didn't follow a straight career path toward parks and rec. Instead, she pursued the public health profession, working for several member organizations in Washington, D.C.
In April 2017, Lanphier joined the Anchorage Park Foundation in Alaska, as its community outreach director. Parks & Recreation magazine recently talked to her to learn how her background has influenced her parks and rec career and the biggest challenges to getting people to think about their own health.
Parks & Recreation: As someone formally trained in public health, how has it informed your approach to working in parks and recreation?
Molly Lanphier: When I lived in Washington, D.C., I worked for the American Academy of Family Physicians and then the American Nurses Association for most of the time I lived there. What I liked about coming to Alaska and getting this job as community outreach director for the Anchorage Park Foundation is that our executive director is really forward thinking in terms of the programs that we do. These are public health programs — even though we may not typically think that they are.
Public health is all about getting people healthy by whatever means necessary, so, it wasn't that big of a leap going from the public health sector to the park and recreation field. Parks and trails are really good tools for getting people more active and helping them to take control of their health in a very accessible way. Here in Alaska, we have great trails in our backyard. And, it's so easy and affordable to just put on some walking shoes and go on a walk in your local park and trail. We have a vast system of trails that's really cool and unique to Anchorage.
P&R: What are some challenges to getting people thinking about their own health?
Lanphier: While many park professionals may not think in terms of public health, what they're doing is health-related. Our biggest challenge in public health and parks and rec is trying to get people active, whether it's outside or inside. It's about overcoming the perceived barriers people think they have.
I believe it's a misconception a lot of times, to think a certain trail or park is unsafe due to homeless people or that 'stranger-danger' type of thing. While there are some incidents that happen, of course, I think the perception that parks are unsafe is misconstrued and often exaggerated. Through the work we've done with NRPA, we are targeting people who may not feel as comfortable on the trails, aren't as healthy and who tend to be middle to lower income. They may have two jobs and a family, and time is a real barrier for them. We're still wrestling with that to see how we can make events and programs family friendly and exciting so people really make the time to participate. So, I'd say safety and time are two big challenges for us.
P&R: What do you see as the biggest opportunity for park professionals to improve health outcomes?
Lanphier: What excites me and what's an easy sale, so to speak, is that anyone can go outside and into their parks and trails for free. Parks and trails are literally the most accessible thing for anyone. You don't have to pay for a gym membership. In Anchorage, we're really lucky to have the outdoors, literally, in our backyard. Not too many places can claim that 74 percent of their city is within a 10-minute walk to a park. So, I'd say that our greatest strength is that we have the assets. The most accessible means to good health is through your local parks and trails.
Vitisia Paynich is a Freelance Writer for Parks & Recreation magazine.