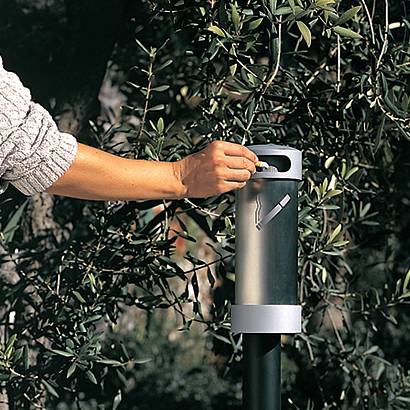 Take a closer look at the public spaces surrounding your community's park and recreation areas. If you look carefully, you'll probably notice hundreds, if not thousands, of pieces of cellulose acetate plastic — better known as cigarette butts — littering the sidewalks and parking lots.
Keep America Beautiful®, the nation's leading community improvement nonprofit organization, has taken aim at aggressively reducing cigarette litter and beautifying communities through its Cigarette Litter Prevention Program® (CLPP), which launched in 2002.
According to "Litter in America," the Keep America Beautiful landmark national study of litter costs and littering behavior, 38 percent of cigarette litter is associated with the physical environment, including the number of ash receptacles. The presence of ash receptacles correlates with lower rates of cigarette butt littering. In fact, the study shows that just one additional ash receptacle can decrease the amount of cigarette litter by 9 percent in its respective area. With that in mind, Keep America Beautiful is working with its more than 600 community-based affiliates and partnering organizations to install 10,000 ash and cigarette butt receptacles, or litter stands, across the nation in high-traffic areas, such as park and recreation settings.
As of May 2019, nearly half of the installation goal has been met. However, park and recreation directors can still request up to 100 free durable-quality litter stands for their community simply by contacting Keep America Beautiful. We do ask that you do the following:
Install the litter stands in an accessible place (e.g., at transition points, such as entrances to restaurants or office buildings, bus stops, parking lots and other places where adult smokers commonly dispose of cigarette butts).
Maintain the litter stands.
Share the GPS coordinates for each litter stand's location with us so we can track where they're placed. The hardware is included to mount each receptacle.
Changing Littering Behaviors
Cigarette butts may be small, but they are still the No. 1 form of litter in the United States, according to the "Litter in America" study. Cigarette litter is more than just a blight on our landscape. Litter of all types costs taxpayers a hefty price to clean up, impacts our quality of life, deters economic development and, eventually, pollutes our waterways and oceans. Moreover, a misplaced lit cigarette butt in a park setting can be the unintended source of a fire, especially with highly flammable infrastructure like rubberized playground surfaces.
"Litter is both the smallest and largest problem at the same time," says Keep America Beautiful President & CEO Helen Lowman. "Keep America Beautiful is dedicated to educating consumers on the hazards of littering in public spaces and park settings and providing the tools to reduce litter. Access to ash receptacles are crucial to changing littering behaviors.
"Litter reduction has a profound effect on communities, improving quality of life for residents and creating an appealing place for businesses and their families to live," adds Lowman. "Park and recreation settings are remarkably well-suited for the placement of our litter stands, making a real difference in the communities where the receptacles are placed."
In addition to encouraging the placement of ash receptacles at transition points, such as entrances to public buildings, Keep America Beautiful advocates the following proven approaches to change littering behaviors and further address cigarette litter:
Encourage enforcement of litter laws, including cigarette litter.
Raise awareness about the issue using public service messages.
Distribute pocket or portable ashtrays to adult smokers.
Success Stories
Since its inception, the CLPP program has been successfully implemented in more than 1,800 urban, suburban and rural communities nationwide through a competitive grant program. Over the past decade, participating communities have consistently cut cigarette litter by 50 percent based on local measurements taken in the first four to six months after program implementation.
Communities implementing the CLPP reported an average 62 percent reduction of cigarette litter in 2018, even greater than the previous year's average reduction of 52 percent. Fifty grants, totaling $300,000, were distributed during the 2019 grant cycle to empower communities to mitigate the economic, environmental and quality-of-life impact of cigarette litter. Following are a few examples of the wide-ranging local benefits participants are recording since using the free litter stands:
Keep Golden Isles Beautiful, Brunswick, Georgia
Lea King-Badyna, Executive Director
With the recent national dialogue about single-use plastics, such as straws, the time is right for a national dialogue about cigarette litter. The CLPP begins this dialogue on local levels, patchworking its way across the country and enabling a national platform for this discussion.
Georgia is home to roughly one-third of all remaining salt marshes on the eastern seaboard and is the nursery of the ocean. Cigarette butts in the ocean and in these important estuarine areas negatively impact both the natural resources and their inhabitants. It is our responsibility to make sure these resources remain healthy. Preventing cigarette butts from entering these spaces is a great step toward enduring resource health.

Littered cigarette butts subliminally signal that it is acceptable to litter with any item; that nobody is the steward of this space. Cigarette butts are gateway litter, encouraging the tossing of additional items. Removing cigarette litter from our outdoor spaces makes the "outside" better for all to enjoy.
Keep New Hanover Beautiful, Wilmington, North Carolina
Dick Brightman, Executive Director
New Hanover County is a sliver of land sandwiched between the Atlantic Ocean and the Cape Fear River. If we don't control cigarette litter, then its toxic residue ends up in the water.
We started in April 2017 with no cigarette butt canisters. Today, we have more than 100 receptacles installed and being maintained by our volunteers and board members. Further, we have collected and recycled more than 600 pounds of discarded butts.
What we've accomplished in a little more than two years — in an area with a population of about 250,000 and the second-smallest county in North Carolina — is remarkable. I can only imagine what can be accomplished by expanding this to other larger areas.
Keep Blackstone Valley Beautiful, Pawtucket, Rhode Island
Donna Kaehler, Coordinator
Keep Blackstone Valley Beautiful works with nine Rhode Island communities in the Blackstone River Valley. I contacted each community to identify cigarette littered areas and made agreements with either the municipality or businesses to maintain any containers that were installed.
It feels great to educate our communities and see the support our municipalities and businesses are willing to do to help solve this issue. Knowing others are also concerned and will act on these issues, gives me the feeling we can make a lasting difference.
We have 90 litter stands, and we know how each stand is helping. The thought of multiplying this by 10,000 stands will make a big difference that needs to be shared throughout the United States.
Keep Tennessee Beautiful
Edmond McDavis III, Affiliate
Services & Training Coordinator
Keep Tennessee Beautiful (KTNB) has been directly involved with the implementation of the CLPP in Tennessee since 2015. During this time, we have partnered with Bristol Motor Speedways, County Music Awards, Downtown Memphis Commission, TDOT, the Tennessee Department of Tourism Welcome Centers, 15 of Tennessee's Keep America Beautiful affiliates and Tennessee State Parks to place cigarette receptacles in parking lots, green areas, tourist spots, etc., to combat cigarette litter.
Most importantly, KTNB attempts to educate smokers and non-smokers about the dangers of cigarette litter by engaging them at strategically planned awareness events and passing out on-the-go pocket ashtrays and automobile cupholders. These items offer an alternative to flicking cigarette butts on the ground.
Over the past five years, our participants reduced cigarette litter consistent with or above the average national reduction rate of 50 percent. Our programs have been recognized statewide and nationwide with the 2017 Non-Profit Recycler of the Year Award from the Tennessee Recycling Coalition and nominated by the Tennessee Governor's Office for our efforts. It's really encouraging to see momentum grow in reducing cigarette litter. The more we participate in this effort, the more our environment and our local property values will benefit.
Note: Through the Keep America Beautiful Cigarette Litter Prevention Program® (CLPP) and the nonprofit's other public space recycling programs, Keep America Beautiful educates and engages consumers about the importance of proper disposal of all on-the-go items (see "Design Is Key to Making Recycling Work," in Parks & Recreation, July 2016, pg. 32).
Jerred Jones is the Program Director for Keep America Beautiful (@kabtweet).
Keep the Tennessee River Beautiful
Keep the Tennessee River Beautiful (KTNRB), the first Keep America Beautiful affiliate to focus solely on a river, has worked with marinas in five states along the 652-mile river's watershed to install the durable, metal cigarette litter stands with educational art wraps. The art wraps were funded primarily through a Tennessee Department of Transportation (TDOT) Special Litter grant, and 90 of the 150 litter stands will be installed at marinas located in Tennessee. Now, marina users all along the Tennessee River in the states of Tennessee, Alabama, Georgia, Mississippi, and Kentucky will know such repercussions of a littered cigarette.
Keep America Beautiful (KAB) donated 150 cigarette litter stands to KTNRB, and the Tennessee Valley Authority (TVA), which manages a Clean Marina Program on the Tennessee River, helped KTNRB connect with the 250+ marinas on the river. "The Tennessee River is a booming driver of the Southeast region's economy, and much of its value — its beauty and appeal — depends on a delicate natural ecosystem," says Kathleen Gibi, executive director for KTNRB. "In most cases, fish can move away from a toxic underwater cloud brought on by a littered cigarette, but the ecosystem's foundational species such as plant life and mussels, aren't so lucky."
TVA and KAB were instrumental in the formation of KTNRB. It was crucial to work with a network, such as the river's marinas, because of high visibility, and it guaranteed emptying of the boxes. The energetic responses from marina owners came pouring in. After only two introductory mass emails to the Tennessee River Valley's 250+ marinas, the orders for the first batch of 150 cigarette litter stands with art wraps were filled.
Marina owners pay nothing, and all of the installation equipment is included with the delivered box. "This is something we can all get behind — cigarette butts on the ground are unattractive, and in the water they're detrimental to aquatic life," says Gibi. "We're just grateful to Keep America Beautiful for making these litter stands available, to our partners at TVA and TDOT for making the art wraps possible and to the marinas for so eagerly committing to protecting our waterways."
KAB recently awarded KTNRB a $5,000 grant to produce the second batch of 150 art wraps, which will also be made available to property owners with public boat ramps. "These boxes were intended to add a beautification component and to educate, while also serving the important function of offering safe disposal of cigarettes," Gibi explains.
To order a free cigarette litter stand, contact Keep America Beautiful. To learn more about Keep the Tennessee River Beautiful, visit www.KeepTNRiverBeautiful.org.