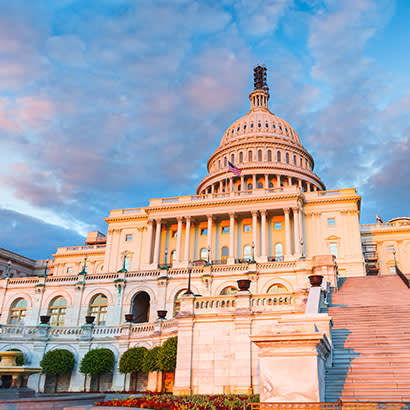 I recently spoke on a panel for a workshop by the Public Affairs Council titled, "Beyond the Fly-in: Creative Ways to Have Impactful Federal and State Legislative Meetings." From United Airlines, to the Boys and Girls Club, to the American College of Cardiology, the rooms were full of heavy hitters in the advocacy arena. I suppose I should have been nervous, being shoulder-to-shoulder with some seriously amazing advocacy professionals. But thanks to the incredible work of the NRPA members who have stepped up to advocate through the Park Champion initiative, I think I fit right in.
Since the 2015 launch of Park Champions, park and recreation agencies across the country have been making an impact by inviting their members of Congress to see firsthand the importance of investing in local parks and rec. From hosting elected officials at groundbreakings, to summer meal program tours, to special events, our Park Champions have given members of Congress powerful in-person experiences at home. In turn, every Park Champion event helps the NRPA Public Policy team in Washington, D.C., gain influence for the field.
The Time Is Now
It's not too late to join the ranks of Park Champion agencies that are making the field of parks and recreation stand out among some of the nation's top organizations. In fact, the best time to invite your members of Congress for a visit is when Congress is not in session. Luckily, during the entire month of August, Congress is in recess and members of Congress will be in their home states and districts.
Members of Congress use the August recess not only to take a break from D.C., but also to connect with their constituents. Studies from the Congressional Management Foundation show that site visits are the most effective method of influencing members of Congress. This means that inviting your members to visit your community for a tour or to attend an event can not only help draw attention to your great work, but also to secure federal funding for local parks and recreation.
Getting Started
The NRPA Park Champion initiative makes it easy — I promise! — to turn your summer events into Park Champion events by simply inviting your members of Congress. Our step-by-step Park Champion Advocacy Toolkit comes complete with draft invitations, contact information for all members of Congress' offices and helpful tips on how to plan a successful site visit.
The (Extra) Perks
Who doesn't love to bring home a trophy? If you host your members of Congress by August 31, you'll be eligible for the 2019 Park Champion of the Year Award! The winner, selected by the NRPA Public Policy Committee, will be presented with a personalized WWE-style wrestling belt at the 2019 Best of the Best ceremony during NRPA's Annual Conference, September 25 in Baltimore, Maryland. They'll also receive a feature in Parks and Recreation magazine and a trip for two agency members to visit Washington, D.C., to advocate for parks and recreation on Capitol Hill in spring of 2020!
This summer, do yourself, your community and NRPA proud! Don't miss out on the opportunity to invite your members of Congress out for a visit to show them what parks and recreation means to your community. Let them see for themselves how your agency is making their home district a happier, healthier and more economically vibrant place to live and play.
Jayni Rasmussen is NRPA's Advocacy and Outreach Manager.
Congressional Recess Dates
Congress will be out of session and visiting their districts this summer during the following dates:
House of Representatives, July 27 – September 8
Senate, August 3 – September 8