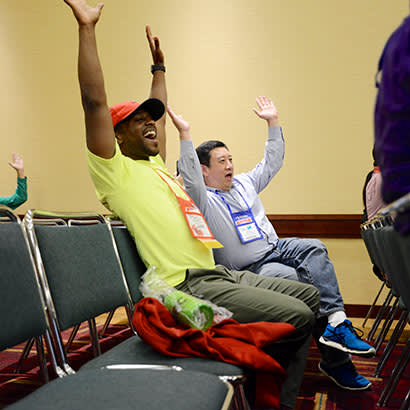 Have you ever had a great idea, only to find out later that someone else had the same idea and has already implemented it? Ever think to yourself, "That's a great idea, but I would have done it differently"? Come to the 2019 NRPA Annual Conference in Baltimore, Maryland, and you're sure to not only be inspired by the more than 40 education sessions within the Recreation and Sports Programming track, but also come away with your next great programming idea. It's a two-step process.
Step one: select a session that features an idea you like. Here are just a few options:
Train the Trainer: Incorporating Floorball into Your Existing Sports Programming
Looking for a sport that engages a broader population than traditional sports? Come, learn about Floorball. It's similar to floor hockey but differs in key areas, such as the equipment needed and the rules of the game — both of which are focused around safety and inclusion. Attendees will learn the history of the sport, get a crash course on all aspects of the game, learn how to effectively market the program to the community and get hands-on training playing the game. If you're looking for the next big thing to bring to your programming and get hands-on learning at the same time, this program will certainly do that. Come ready to engage, move and have fun!
Speaker: David Crawford, Floorball Guru, LLC
E-Sports: Get in the Game
E-sports is an explosive, billion-dollar industry. Are you and your department ready for its impact on community recreation? This session will explore the hard data and take an honest look at the issues involved in bringing e-sports to your community centers. From space planning in an existing facility and design of a new facility, to the legal implications, we will discuss all angles of the issues involved in incorporating e-sports into your programming. The e-sports wave is coming, and it's time to get in the game!
Speakers: Craig Bouck, Barker Rinker Seacat Architecture; Mick Massey, Barker Rinker Seacat Architecture
Not Another Ball Game: Diverse Programs for Diverse Populations
Diversity surrounds us, but do we program for it? Or, do we continue with traditional programming, leaving some residents behind, denying them the physical and psychological benefits of recreation programming? Traditional programs, such as sports leagues, camps or afterschool programs are of great worth, but diverse interests require diverse programs! This session will discuss dimensions of diversity, behavior and life stages as it relates to programming. We'll share four specific programs that Idaho Falls Parks and Rec offered to reach new people in new ways. NRPA advocates that park and rec agencies embrace social equity. Social equity means embracing the philosophy that "it is a right, not a privilege" for our residents to expect agencies to think beyond the traditional programs that flood our agencies and to provide diverse programming for diverse interests.
Speakers: Roberto Abreo, City of Idaho Falls Parks and Recreation; Chris Horsley, City of Idaho Falls Parks and Recreation
Drum One, Drum All: How to Build Community Using Interactive Music Making
Learn the benefits of community music making and the concrete steps of how to start a community drum circle in your facility. Tips for marketing, setup, equipment and/or finding a facilitator in your area to partner with will be discussed. This will be an experiential speed round, so get ready to get your groove on!
Speaker: John Yost, Rhythm Revolution
Step two: attend the education session to learn how to implement the idea.
What worked? What were some unforeseen barriers? How would the idea be received by your community? Who is the person at your agency that you'll need to talk to first to get the ball rolling? It's the magic of modification of the inspirational ideas that will ultimately be the spark to action, but you'll need to be in the audience to be inspired! Browse the complete education schedule and register for NRPA Annual Conference.