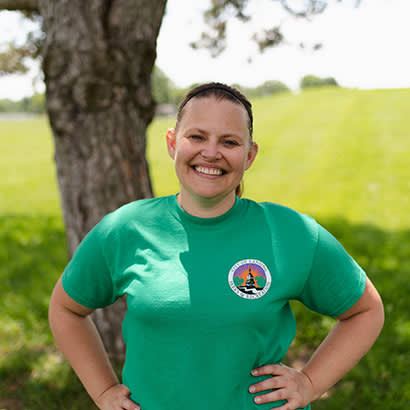 Jodi Ackerman is a community center programmer for Lansing, Michigan Parks and Recreation. The community center serves several roles, including food pantry, tutoring lab and library. It also provides programming, such as activities and daily lunches for seniors and classes from jiu jitsu to dance. Ackerman's focus is on out-of-school time programs for kids of elementary age. She also oversees summer and spring break camps. The community center also partners with the Lansing School District to offer a late-start Wednesday program, for which teaching staff come to offer enrichment programming with the support of the park and rec staff. While Ackerman is only stationed at one center, she oversees programs for all four of Lansing's community centers. During the summer weekdays, each site hosts 10½ hours per days of camp for about 60 kids.
Parks & Recreation magazine spoke with Ackerman to learn about the summer camps and what the job means to her.
Parks & Recreation: We learned you take your summer campers on trips, including a big trip to the Michigan State Capitol. Tell us a bit about that?
Jodi Ackerman: We have eight weeks of summer camp, and we take kids on a trip every week, which is included in the cost of the camp. One of the trips is to the Michigan State Capitol as part of our Michigan Recreation and Parks Association kickoff to Park and Recreation Month. Because we tend to bring the most kids, we are there in the morning and other camps come in the afternoon. There's a bunch of different activity stations to participate in — some are run by organizations such as the Boy Scouts, Girl Scouts and Blue Cross Blue Shield. Lansing Park and Recreation actually runs an activity station. It's anyone who wants to promote outdoor recreation, education, and health and wellness and just want to get kids active. It's hosted by the No Child Left Inside Coalition, and this is the eighth annual Come Outside and Play at the Capitol event.
P&R: You mentioned that the trip serves as your kickoff for Park and Rec Month. What are some of the other ways your agency celebrates?
Ackerman: We have a family scavenger hunt. It's a digital hunt that takes place all through the month of July and gets people outside in our parks doing different family activities, visiting different sponsors, and just getting outside and familiar with different parks and activities that are available. A lot of things throughout the hunt are provided free or are low cost.
P&R: What is the most rewarding part of your job?
Ackerman: I think seeing the growth in the campers and our staff. Many of the staff are college-aged students. It's amazing to see them grow from year to year — or even from the start of summer to the end of summer — in their skills and their abilities. We have an awesome opportunity to give kids experiences and help them develop skills and relationships that they don't get from other places. Things that aren't going to happen in school and may or may not happen if they join a sports team. It's a really cool way for kids with a variety of backgrounds, skills and interests to be able to come together and build community. Seeing them develop as individuals and as a group is amazing.
P&R: Do you have any stories that come to mind you can share with us?
Ackerman: I was a camp counselor back about 20 years ago, and one of my first campers who walked up the first day — I was nervous, she was nervous — is now one of my staff members who's worked for me for several years. Actually, she and her brother both work for me, and he has kids of his own who come to camp. There are other kids who were campers with us who have become staff. It's really gratifying to know that it has made a difference in their life and that they want to give back in that same way.
Lindsay Collins is the Associate Editor for Parks & Recreation magazine.