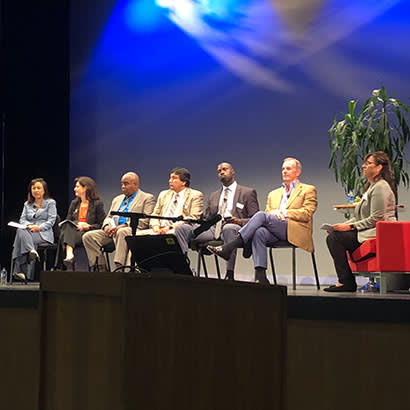 Los Angeles County residents need more parks and recreational facilities in which to play and exercise. This is clear based on data from the 2016 Countywide Parks and Recreation Needs Assessment, which revealed that nearly 53 percent of L.A. County's 10 million residents live in areas with high to very high park need. The report also points out that due to a lack of vacant land, local agencies must pursue innovative solutions and creative partnerships, such as joint use and reuse of schools and other public facilities, to expand park opportunities and meet the needs of communities, especially those that are underserved.
Converting School Assets into Shared-Use Facilities
Increasing access to recreational amenities that already exist at schools is one of the most effective ways to provide more opportunities for physical activity and play. After all, even the most under-resourced neighborhoods have schools. With budget and other constraints, maximizing access to existing facilities — rather than constructing new ones — is the most efficient and economical use of public resources. Mercy Santoro, deputy director of the Los Angeles County Department of Parks and Recreation (DPR), says, "As cities and counties become more built out and with resources stretched thin or even being eliminated, shared use of our collective resources becomes even more imperative."
Schools already offer recreational amenities that may be made available to the public during after-school hours. In addition, asphalt lots on school grounds may be converted to new, attractive playgrounds and grass fields open to the community. However, many schools in L.A. County are often inaccessible to residents on weekday evenings and weekends since school districts typically keep their facilities locked due to liability concerns and/or limited resources to address maintenance needs that might arise from the use of school property beyond regular school hours. School superintendents may also lack the data necessary to better understand and make informed decisions regarding how their facilities may meet community health and recreation needs.
The JUMPP Coalition
The Los Angeles County Joint/Shared-Use Moving People to Play (JUMPP) Coalition seeks to promote and expand shared use as a means to improve public health. JUMPP is a collaborative of school, park, health, faith, for-profit and community-based organizations working together to foster access to safe physical activity spaces for all L.A. County residents. Its goals are:
Facilitate the development, implementation and monitoring of policies and practices to increase community access to spaces and facilities for physical activity and recreation.
Convene partners to foster collaboration, share successes and challenges and advance shared use.
Communicate and disseminate shared-use successes and challenges.
DPR and the Department of Public Health (DPH) are partners in leading the JUMPP effort. When asked why their department is involved in shared use, Eloisa Gonzalez, M.D., and Ruth Bell of DPH's cardiovascular and school health program, explain, "DPH's mission is to promote health and well-being, ensuring everyone has opportunities and resources for optimal health. Shared use is a solution that offers multiple benefits for health by linking people to resources, like recreational spaces and access to outdoor green areas."
JUMPP Initiatives and Partnerships
In the fall of 2018, JUMPP conducted the School Superintendents Shared Use Symposium to discuss how shared use can be a way to address health equity. The convening provided an opportunity for participants to gain insights from leaders in the fields of parks, public health and education. According to Santoro, "JUMPP identified a need to further engage school districts as part of its 2018 strategic directions. This engagement was designed to be a fluid and ongoing discussion that integrates school and community health data to create new knowledge and approaches to shared use among school districts, government and community leaders."
The symposium was well-received, with most participants providing positive feedback in a post-event survey. As Santoro summarizes, "School superintendents and key leaders in the community, who have been at the forefront of some truly innovative programs around shared use, offered valuable insights and lessons learned. Some of the points focused on developing the whole child through alignment of services and support, providing expected outcomes and mechanisms to measure the impact and to create multi-agency collective impact initiatives to address school and community health needs."
JUMPP initiatives like the symposium tie in well with park planning efforts at DPR. Kathline King, chief of planning, says, "Being part of JUMPP has informed the planning work that we do and helped us to develop and strengthen relationships with our partners in public health and education fields. It has also facilitated the sharing of information, including data from the Parks Needs Assessment as well as health and wellness data from various sources."
Another key member of JUMPP is People for Parks (PFP), a nonprofit organization created to transform school playgrounds into Community School Parks (CSP) that are available for use during non-school hours, giving children and families the outdoor space they need to lead healthy lives. Opening school grounds and creating a CSP not only makes kids and parents happy, but also helps to expand a community's relationship with its school in ways that improve educational and health outcomes. In other words, CSPs enable schools to better serve the whole child and truly become the heart of neighborhoods. PFP does not do this alone; it collaborates with various partners and has received generous support from numerous donors.
"We work closely with parents and neighbors to ensure that these spaces are vibrant and reflective of each community's interests," says Anna Gruben, executive director of PFP. "The need for enriching neighborhood hubs like these is far too great for any one organization or agency to manage alone. We invite others to join us in expanding shared use throughout L.A."
Clement Lau, AICP, DPPD, is a Departmental Facilities Planner with the Los Angeles County Department of Parks and Recreation, and a member of NRPA's Health and Wellness Advisory Panel.