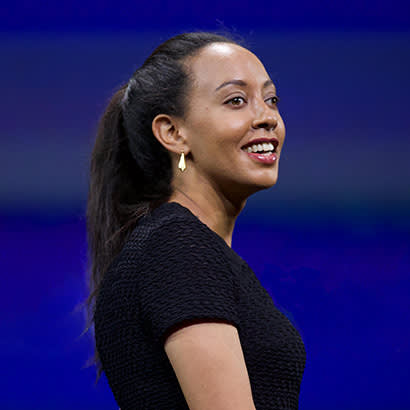 Haben Girma is many things, including an American disability rights activist, lawyer, author, speaker and the first Deafblind graduate of Harvard Law School. Girma, who travels the world teaching the benefits of choosing inclusion and advocating for equal opportunities for people with disabilities, believes disability is an opportunity for innovation.
In 2013, for her advocacy on behalf of deafblind individuals and her efforts in promoting educational excellence for African- Americans, Girma was named a "White House Champion of Change" by President Barack Obama. Three years later, she made the Forbes 30 Under 30 list, and in 2018, was one of three individuals selected by the American Foundation for the Blind to receive the Helen Keller Achievement Award. Germa's work has also garnered her international recognition from Canada's Prime Minister Justin Trudeau and German Chancellor Angela Merkel, and she's been honored by President Bill Clinton.
Parks & Recreation magazine spoke with Germa, who'll share more about her passions and thoughts on an inclusive world during the Closing General Session of the 2019 NRPA Annual Conference on September 26 in Baltimore.
Parks & Recreation: What has been your biggest success so far?
Haben Girma: I recently finished writing my first book, and I'm excited to share it with the world. Haben The Deafblind Woman Who Conquered Harvard Law comes out on August 6. Through engaging stories, the book teaches people to identify barriers to access and advocate for their removal.
P&R: Since becoming a lawyer to advocate for those with disabilities, have you seen progress?
Girma: Overall, people with disabilities have greater access now than in the past. We've witnessed both progress and setbacks. We continue to educate organizations and advocate for greater inclusion.
P&R: What do you think an inclusive world would look like?
Girma: An inclusive world is one where people with disabilities have all the same choices available as the non-disabled.
P&R: What is one thing individuals could do to learn/educate themselves to create more inclusive communities?
Girma: When you don't know something about disability, respectfully ask a question rather than making assumptions. Take the time to learn how to make your organization more accessible.
P&R: What can/should park and rec agencies do/be doing to make parks and recreation more inclusive? What are some of the biggest barriers?
Girma: Park and recreation agencies should conduct an accessibility survey of their programs and services to identify barriers. Accessibility consultants can help with this. Once you've identified the barriers, work to remove them. Some barriers include paths that are not wheelchair accessible and the absence of maps and program information in accessible formats.
P&R: You have accomplished and experienced more than many people have in a lifetime. What keeps you motivated?
Girma: My strong sense of curiosity keeps me motivated. I want to experience as much as I can in this ever-surprising world.
P&R: Teenagers today, whether from affluent or low-income families, are facing a variety of challenges and stress. What advice would you offer them as they try to write their own adventures?
Girma: As I was growing up, I discovered kayaking, rock climbing, skiing, ice skating, river rafting and surfing. Through the process of learning to participate in these sports, I discovered new things about myself. Embrace your curiosity and allow it to help you discover new aspects of yourself and your world. Seek out others who share your interest and build communities around those interests.
Learn more of Girma's story during the Closing General Session, Thursday, September 26, 2019, from 4 p.m. to 5 p.m. at the Baltimore Convention Center Ballroom.
A1 Chops: Livin' Their Dream in Baltimore
There is a down-to-earth vibe and exuberance that exude from the drumming duo Timothy Fletcher and Malik Perry, who make up A1 Chops. Fletcher and Perry, who look like they could be twins, met during band practice at Edmondson-Westside High School in Baltimore, Maryland, their hometown. They founded A1 Chops in 2014, playing on snare drums around the city. "Our favorite place to play," says Perry, "was downtown at the Inner Harbor." Four years later, these pretty much self-taught musicians would be invited to showcase their talent on "The Ellen DeGeneres Show" after a video of them performing singer Ciara's "Level Up" went viral and caught DeGeneres' attention.
When not performing on the streets of Baltimore, the two rising stars visit local schools to not only encourage, but also to inspire the youth of Baltimore to follow their dreams and make them a reality! When asked how they got their start, Fletcher explains: "We wanted to take drumming serious and always thought it looked cool and wanted to take it to the big stages, so we came up with ideas to become known, like street performing. We both had the same vision. We hope our act makes the community believe that no matter what you do, if you follow your dreams, they can come true."
A1 Chops has performed on "The Ellen Show" several times, where Fletcher and Perry were able to show music legend Pharrell Williams their amazing drumming skills. They've also received mention on Ciara's Instagram for their "Level Up Challenge," as well as performed with rapper Young Dolph and opened for rapper Tory Lanez.
In early January 2019, Fletcher and Perry, who are dedicated to giving back to the community they credit with their success, learned A1 Chops would be featured on DeGeneres' new web-based series, "The Build Up." Over the course of six episodes, the show will follow them as they work to rebuild parts of Baltimore. They've already put up a community mural, helped renovate the music room at their old high school and performed at a Baltimore Ravens game at M&T Bank Stadium.
With their increasing fame, Perry credits putting God first with helping them manage the demands on their time and energy. Perry adds: "We communicate and do not let other people change our personality or persuade us to be something we are not."
Don't miss A1 Chops' energizing performance during the Closing General Session, Thursday, September 26, 2019, 4 p.m. - 5 p.m.