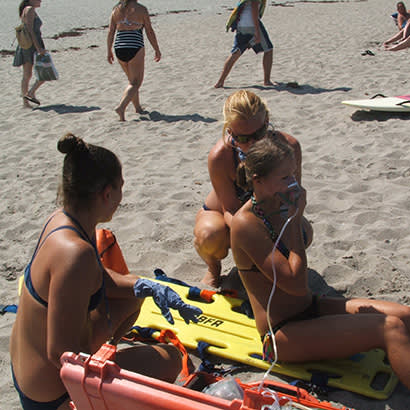 It's no easy task to narrow down hundreds of photos of people enjoying their local parks or recreation centers to a group of just 10 finalists. Each photo tells the story of a community providing opportunities for the people who live there to have healthier, happier, more fulfilling lives. Local park and recreation agencies make their communities better, and the 2019 Park and Recreation Month Cover Contest — as it does every single year — perfectly captured that in the hundreds of photos that were submitted from across the country.
It was a fierce competition when the 10 finalist photos were selected and put to a public vote on Facebook in late May. But on May 24, a photo taken by Bob Gibson was crowned the winner — and cover photo for the July issue of Parks & Recreation magazine — with a total of 1,136 Facebook "likes." Gibson, who lives in Palm Beach County, Florida, takes photos while visiting the various parks in the Palm Beach County Parks and Recreation Department's system and sends them to the department to use and, hopefully, to help raise awareness about its offerings.
The beloved Juno Beach Pier and Juno Beach Park — part of Palm Beach County Parks and Recreation Department — that graces the cover of this issue is home to a variety of recreation activities, amenities, conservation initiatives and volunteer opportunities, and is a favorite spot among locals and visitors alike.
Parks & Recreation magazine recently sat down with Chris Korbelak, CPRP, manager of the office of public engagement for Palm Beach County Parks and Recreation Department, to talk about the Responsible Pier Initiative at Juno Beach Pier and learn more about some of the events at Juno Beach Park and how the community rallied around the photo that Korbelak submitted to get it on this year's cover.
Parks & Recreation: The Juno Beach Pier at Juno Beach Park is home to the Responsible Pier Initiative, what can you tell me about that?
Chris Korbelak: Florida's east coast is home to some of the most heavily used sea turtle nesting beaches in the United States. Each year, thousands of sea turtles are accidentally hooked or become entangled because of recreational fishing. Anglers often cut their line instead of attempting to assist with rescue efforts out of fear of prosecution or negative attention. The Responsible Pier Initiative is a first-of-its-kind program, designed by Loggerhead Marinelife Center as a collaborative tool to work directly with people who fish and fishing piers.
The purpose of these efforts is to provide responders on fishing piers with the necessary resources to effectively rescue sea turtles that are injured or stranded on or around fishing piers. The program, which has spread to 65 piers worldwide, has recorded 629 reported interactions, 547 sea turtle rescues and more than 18,000 pounds of debris removal. If your agency is interested in bringing the Responsible Pier Initiative to a pier near you, contact Katie O'Hara, Loggerhead Marinelife Center conservation coordinator.
P&R: What other kinds of conservation or environmental initiatives are going on at Juno Beach Park?
Korbelak: Juno Beach Park is part of a 9.5-mile stretch of prime sea turtle nesting beach that Loggerhead Marinelife Center monitors. During the first half of this year, the Marinelife Center recorded 8,293 nests from various species, including Loggerhead, Leatherback and Green sea turtles. In addition to regular beach and underwater cleanups, balloons are prohibited at the park to promote the safety and protection of sea turtles. Hospital staff at the Marinelife Center regularly treat turtles with complications due to marine debris ingestion. Balloons are often released — purposefully or by accident — and end up littering the ocean. Deflated balloons resemble jellies, a common prey for sea turtle species.
P&R: What kinds of recreation opportunities are available at Juno Beach Park, and how many people can you find enjoying the beach on a typical day?
Korbelak: Juno Beach Park is popular for a fun, relaxing day in the sun along the shore. It offers 300 feet of guarded beach along the Atlantic Ocean. Surfing, paddle boarding (as seen in the photo) and fishing are permitted outside the guarded swimming areas. The Juno Beach Pier extends 990 feet and includes a bait shop with a snack bar. The park also includes single-table picnic shelters, restrooms and outdoor showers. There are also no parking or entrance fees.
In the summer, between 800 and 1,000 people visit this popular beach daily. In fiscal year 2018, the beach had 482,115 visitors. The pier averages 110,000 visitors per year.
P&R: The photo that is on the cover of this issue had 1,136 likes on Facebook at the voting deadline for the 2019 Park and Recreation Month Cover Contest. Can you tell me a little bit about how the community rallied to make this happen?
Korbelak: Juno Beach Park, the Juno Beach Pier and Loggerhead Marinelife Center are some of the most treasured destinations among locals and visitors in northern Palm Beach County. Both of our organizations have a huge social media following that strongly supports our conservation efforts.
Once the photo album went up, the contest image was shared with local municipalities, partner agencies, park patrons, employees and even the media. They embraced the opportunity to share their love of the park by participating in the contest and sharing with their friends. The photo not only received an overwhelming number of likes and hearts, but it also quickly became an online community where participants reminisced and shared stories about their park and the impact it has had in their lives.
P&R: Why did you choose to submit this photo?
Korbelak: One of the main reasons visitors come to Palm Beach County is to enjoy the beach, and Juno Beach Park is one of the local favorites. Enjoying the water and fishing are two of the most popular leisure activities in South Florida, and this photo captured the moment. Although not visible in the photo, Palm Beach County's United States Lifesaving Association (USLA)-certified Ocean Rescue staff works to reduce the incidence of death and injury at all beaches through public education, adhering to national lifeguard standards, ongoing training programs and promotion of high levels of lifeguard readiness.
At Juno Beach Park, the staff is challenged with safely balancing beach, pier and ocean usage among swimmers, surfers, people fishing and families wishing to enjoy the beach. This balance ensures that all these groups have some time to enjoy the park and the wonderful natural resources it encompasses.
P&R: How does it feel to know your beloved park is featured on the cover? What does that mean for Palm Beach County Parks and Recreation Department and the entire community?
Korbelak: We are thrilled the Juno Beach Park and Juno Beach Pier are featured on the cover of Parks & Recreation magazine. This park is an awesome example of a free opportunity for public access to enjoy the Florida coastline, dune ecology and water recreation. Our team takes great pride in maintaining this park and providing public safety ocean rescue services to visitors. With more than 5.4 million visits to all our beach parks last year, it's clear the public loves our parks as much as we do. The opportunity to share, through this image, the important balance of public access, environmental stewardship and outdoor recreation is invaluable.
P&R: And, since it's July, what kinds of things does the Palm Beach County Parks and Recreation Department have lined up for Park and Recreation Month?
Korbelak: In addition to winning the cover contest, the Palm Beach County Parks and Recreation Department is also very excited to introduce our new mascot during Park and Recreation Month! The mascot, a friendly squirrel, named Oakly, will be making appearances at summer camps and a variety of events for the first time throughout the month to help participants get their Game On!
As for Gibson, we'd say he's been successful in his goal of raising awareness about Palm Beach County Parks and Recreation Department's offerings through photos.
To learn more about how you can get involved with Park and Recreation Month and promote the widespread benefits of local parks and recreation to your community, visit www.nrpa.org/july.
Cort Jones is NRPA's Communications Manager.