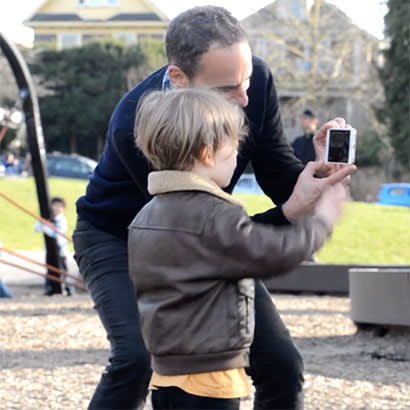 With the average American child spending upwards of 6 hours each day in front of a digital screen playing video games or using online apps, increased access to technology is changing the way children play. Growth in screen time has raised concerns about the potential effects on children's physical and emotional development. For example, a recent study found associations between greater screen time and lower scores on developmental screening tests assessing children's communication, motor, social and problem-solving skills. Further, as screen time among children increases, time spent outdoors decreases. The strong correlation between time spent in nature with health and well-being suggests that the growth in digital technology may result in a decrease in children's physical activity and overall health.
Given concerns about the decline in outdoor play, a recent NRPA Park Pulse noted that nearly 70 percent of Americans feel that merging technology with nature will increase children's desire to go to parks. But can screen technologies successfully be used to increase outdoor activities among children? A number of augmented reality (AR) app-development companies believe this can be done.
What Is Augmented Reality?
Augmented reality refers to an interactive experience in which the real-world environment is enhanced by computer-generated perceptual information, often using the senses of sight, hearing and touch. AR apps can superimpose images onto a real-world setting, which can be enhanced through a dramatic story for users to engage with while completing a set of tasks and interacting with the screen.
About the Apps
The most famous AR app to date, Pokémon Go, uses geo-location to direct users to places where virtual Pokémon characters can be collected. Although Pokémon Go was not designed explicitly to increase physical activity, an evaluation of the game showed that it increased user physical activity by an average of 1,473 steps a day. However, being immersed in the game has also resulted in negative consequences worthy of making headlines, including the injuries and deaths of several players and bystanders. In addition, concerns have been raised about Pokémon's commercial partners — particularly the selection of McDonald's restaurants as the location of virtual "gyms" that hold Pokémon characters, since drawing app users into fast food restaurants can potentially promote an unhealthy diet.
AR apps tend to employ fantasy, and the most popular include creatures, like dinosaurs, zombies or ghosts. Zombie Run is a simple app explicitly intended to increase outdoor physical activity that only requires users to wear headphones as a narrator warns the runner to go faster when zombies are approaching.
Another recent app has a more religious than commercial goal; "Follow JC Go" supplies geo-coordinates for users to collect Biblical characters, Saints and Blesseds. This may be the only AR app that has been officially approved by the Pope!
AR for Youth
While there is early research to suggest that location-based mobile apps can be beneficial to outdoor fitness, very few AR apps are specifically geared toward children under age 9. One app created by GEO AR, Sharks in the Park (not yet available in the U.S.), is intended for use in parks or fields and shows virtual fish and sharks, which the child tries, respectively, to catch or avoid. Since the app requires children to hold the tablet or smartphone in front of them, it uses GPS to sense where there are roads to alert users to turn around when they get too close. The game manufacturers claim this feature prevents children from walking into streets. Some GEO AR games are restricted to pre-designated open spaces, which are typically large and allow for free roaming.
Biba, a relatively new AR company, has partnered with playground equipment manufacturers to create playground-based AR games for children ages 3 to 9. As a safety measure for both device and child, Biba's games are designed so that an adult takes charge of the smartphone. The adult activates the game and scans augmented reality markers on playground structures to direct the child's game activities, which can range from searching for treasure to driving an imaginary race car. Adults holding the phone serve as "home base," while the children spend most of their time on the playground moving according to the game directives. This keeps the device out of the children's hands so they can focus on physical activity away from the screen. Biba games also foster experiences that invite parent attention and encouragement — something research has demonstrated can have positive influence on children's moderate-to-vigorous physical activity (MVPA).
Effects of AR
Like Pokémon Go, games created by GEO AR, Biba and other branded titles, like Harry Potter: Wizards Unite (scheduled for release in June 2019), have the potential to positively impact physical activity. Recently published work demonstrated that mobile AR playground experiences can lead to positive outcomes with regard to heart rate and MVPA, but more field work is needed to verify whether and how these play apps are making a difference in the type of activity and the amount of time children spend outdoors.
While some experts may be skeptical about the benefit of bringing technology to the outdoors, technology is not going away, so it is useful to consider how it might be used to help children enthusiastically engage in more vigorous outdoor activity. Trends in playground design are moving to incorporate more features, challenging climbing elements, movable equipment and structures that provide sensory experiences with sound, touch and texture. As park and recreation departments decide whether to provide alternative hybrid experiences of the outdoors and augmented reality for children, we need to continue to evaluate the impact, so we can learn more about the influence it has on children's and caregivers' relationships, happiness, health and well-being.
Deborah A. Cohen, M.D., M.P.H., is a Senior Physician Scientist at the RAND Corporation.