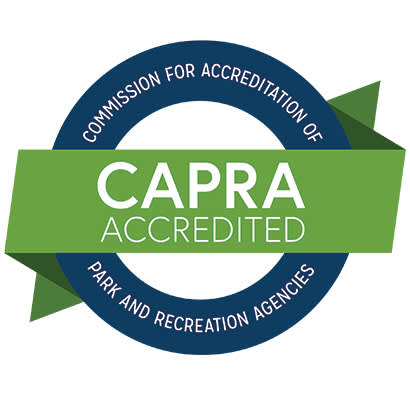 The City of New London (Connecticut) Recreation Department's journey to achieving accreditation by NRPA's Commission for Accreditation of Park and Recreation Agencies (CAPRA) began with one employee attending NRPA's Directors School. That employee was me, and in August 2010, after completing my first year of the school, I returned to the office and pitched the idea of our agency becoming nationally accredited to our director of recreation, who immediately said "Yyes. It was the beginning of a huge learning process for us, a small community from a state with no other accredited park and recreation agencies.
The first, very important step was to have everyone involved buy-in to the process. In the winter of 2010, we hosted a CAPRA training at our office for all staff members and Parks and Recreation Commission members to attend. With everyone invested in the path forward, we applied to CAPRA shortly thereafter.
While the application forms might seem minor, for us, it involved getting the city manager and parks and recreation commission to sign their approval of us committing to the process, which would require resources, time and money from a city that had little of those to offer. New London is a small, highly diverse, low-income city where all school children receive free breakfast and lunch. Despite the challenges, we gained the approval needed to continue our quest for accreditation.
Once applied, we began having department-wide accreditation team meetings led by those of us responsible for each section. We identified an accreditation leader who was responsible for the overall process and schedule, and outlined a two-year time frame with an expected completion range in spring 2013. As a department of five full-time staff (three in the recreation division, one in youth affairs and one in the senior center), we assigned people to sections according to their strengths. We started at February 2013 and backtracked to create a timeline of deliverables. I would later learn how crucial this was to the process and to our success.
In the fall of 2012, we set up a mock visit with one of the few accredited agencies in New England. I had written up the self-assessment as I believed it was supposed to be written at the time. While the visitor made a few suggestions as to organization, he gave us a thumbs up and told us that overall, we were ready. I had also set up to become a visitor through CAPRA and was scheduled to attend a visit in spring 2013.
Following the mock visit, we submitted our CAPRA self-assessment and received a message from the CAPRA commissioner requesting a conference call. He informed us we needed to adjust our self-assessment further if we intended to have CAPRA come out and visit, and he gave us improved guidelines and more information about what the self-assessment should look like. I spent the next week rewriting the self-assessment to their specifications, re-submitted it and was approved for a CAPRA visit.
The visit was an amazing experience, and the entire city came together to support us in the journey. When our visitors left, we had at least 10 standards we hadn't fulfilled. Three of them were required, and one was as big as the comprehensive plan.
The Monday after our visit, I headed out of state to another city where I was now the visitor assessing another agency. The experience was invaluable, and I can't say enough about how important it was in our process. I quickly learned our comprehensive plan was in fact correct, but because of the way it is named by the state of Connecticut — The Plan of Conservation and Development — we hadn't presented it properly. When I return, we were able to quickly redo our three required standards and resubmit them for approval. They all passed, and in fall 2013, we became the first park and recreation agency in Connecticut to achieve NRPA's CAPRA Accreditation.
During the next four years, I went on multiple visits to other agencies and improved my knowledge on accreditation. We also researched, set up and deployed a new accreditation software that made the process immensely easier, as our documents were now all in one place.
In February 2018, we submitted an email to CAPRA with a link to our accreditation software. I, again, received communication from the CAPRA commissioner asking to speak to me. This time, he was asking about the software and wanted permission to use our self-assessment as an example. Subsequently, when the visitors did come, we received a passing score of 100 percent compliance and were reaccredited in fall 2018.
Accreditation has changed many things in our department, all of them for the better. The support we have received from the mayor, Parks and Recreation Commission, other departments and city residents has been overwhelming. It has taught us things about our community we never knew and has taught other departments in the city things about us to ultimately bring us together as a team. The process was invaluable and it has benefited our agency by changing the perceptions of the administration and public about what we do and how well we do it.
Sharon J. Bousquet, CPRE, is the Recreation Program Coordinator for the City of New London, Connecticut, Recreation Department.