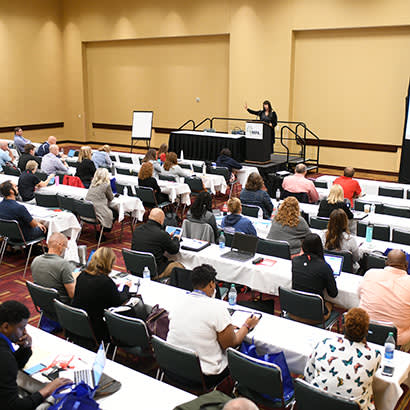 Some 550 thought leaders in conservation, health, community development, programming and more will share their expertise with attendees at this year's NRPA Annual Conference in Baltimore, Maryland, September 24–26. From these subject matter experts, attendees will learn innovative and time-tested ways to make their communities great places to live. So, who are these the standout speakers? Following is some background information about a few of them:
Neelay Bhatt
Vice President, PROS Consulting INC.
Neelay Bhatt has presented multiple TEDx talks and coached TEDx presenters. He has been a keynote speaker around the world, from the United States to China, Europe and New Zealand. As the vice president at PROS Consulting INC., he has led more than 125 strategic/master planning, sports facility development projects globally.
Deborah A. Cohen, M.D., M.P.H.
Senior Scientist, RAND Corporation
As a senior scientist for the RAND Corporation and Pardee RAND Graduate School faculty, Dr. Cohen focuses on how structural environmental factors — social and physical — influence health. She has studied how neighborhood parks influence physical activity and how community characteristics affect health disparities and health.
Joel H. Fish, Ph.D.
Director, The Center for Sport Psychology
Dr. Fish is a nationally recognized expert in sport psychology, who has worked in the field for more than 25 years. He has spoken at the NRPA Annual Conference 16 times and at more than 300 universities nationwide. He is also the author of the book, 101 Ways to Be a Terrific Sports Parent.
Rafael Payan, Ph.D.
General Manager, Monterey Peninsula Regional Park District
Dr. Payan served as an instructor for the past five years at the NRPA Directors School. He has worked in parks, recreation and resource conservation for more than 35 years, developing the internationally recognized Kartchner Caverns State Park, along with numerous award-winning cultural, environmental and recreation projects.
Steven Waller, Ph.D.
Professor, recreation and sport management, and director, Center for the Study of Sport and Religion at University of Tennessee-Knoxville
Dr. Waller worked in parks and recreation for 25 years and taught the same practices for 22 years, focusing on management, administration, organizational behavior and religion, leisure and sport. He has more than 60 peer-reviewed publications and 100 peer-reviewed national/international conference presentations.
Lakita Watson
Executive Director, Richland County Recreation Commission
Lakita Watson began her career in parks and recreation more than 20 years ago. She has served as director of Suffolk (Virginia) Parks & Recreation and executive director of the Richland County (South Carolina) Recreation Commission. She has presented on the local, state and national level many times, and is currently the chair for NRPA's Leadership Development Network and the Ethnic Minority Society.
To learn more about all the experts speaking at the conference this September, visit www.nrpa.org/conference.