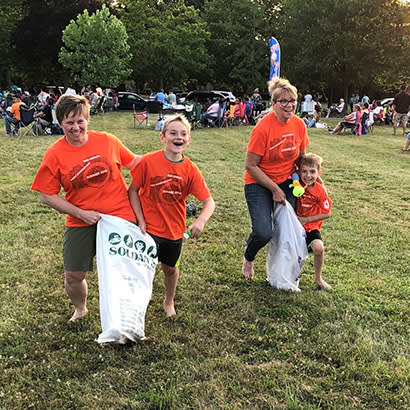 For the third year in a row, the city of Lansing (Michigan) Parks and Recreation kicked off Park and Rec Month by hosting its very own month-long citywide scavenger hunt.
"We begin the hunt with a kickoff party at the end of June," says Marcus Wells, community center programmer for Lansing Parks and Recreation. "This is when most families register and when the game begins." They receive their packet of clues, which direct them to 20 of Lansing's more than 110 local parks and participating local businesses where they can take interactive photos. Players then upload their pictures to a photo-sharing app, where they are compiled and scored by scavenger hunt coordinators.
Photo are scored based on content, with park photos being worth six points and business photos worth slightly more. Families are encouraged to collect as many photos as possible in hopes of becoming the scavenger hunt champions. They also have opportunities to earn additional points, such as by referring other local families to participate.
Other scavenger hunt activities include geocaching, a GPS-guided expedition where smartphone users enter coordinates into their map to navigate to a location that contains hidden items. While geocaching provides opportunities for any participants to collect prizes throughout the hunt, top scorers receive larger rewards, such as tickets for the family to visit Michigan's Adventure amusement park. Many of the items and prizes offered are funded by donations from local business sponsors.
In its first year, 12 families (a total of 60 individuals) participated in the scavenger hunt. Last year, that number grew to 17 (more than 100 individuals) and will likely continue to increase as awareness of the game continues to grow.
"The hunt gets people to visit new places they might not have been to," says Wells, "and brings more traffic to local parks and businesses." Not only does the game get individuals and businesses involved with their parks and community, but it also gets families outside and engaged with each other.
To learn more about Lansing's park and rec scavenger hunt, visit its Facebook page.
Lindsay Collins is the Associate Editor of Parks & Recreation magazine.