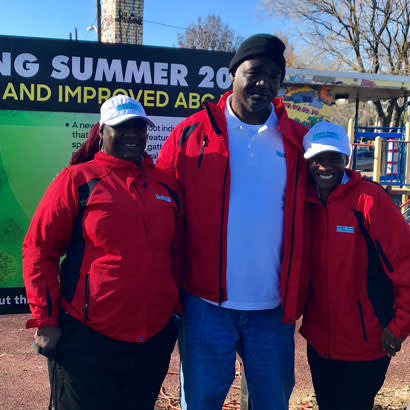 On December 11, 2018, ground was broken at ABC Park in Baltimore, Maryland, for the 2019 Parks Build Community (PBC) project. Speakers at the grand event included Baltimore Mayor Catherine E. Pugh, Director of Baltimore City Recreation and Parks Reginald Moore, City Councilman John T. Bullock, NRPA Executive Editor of Parks & Recreation Sonia Myrick and President of Friends of ABC Park Derwin Hannah.
Hannah is a community leader and volunteer who has been directing the programming for and care of ABC Park for more than 17 years, along with his wife, Denetria, and sister, Drucilla Williams, a BCRP employee. He drives a truck at night for a living and visits ABC Park every day to provide the constant care and leadership it needs. At a time when creating safe places for children to play and providing opportunities for physical activity is a nationwide challenge, this type of dedication is critical to the local community. It provides health and wellness opportunities, as well as a welcoming environment of inclusion. Parks & Recreation magazine talked with Hannah to find out what motivated him to get involved with ABC Park years ago, and how the park makes a difference in the community.
Parks & Recreation: I understand you grew up in South Carolina, did you spend a lot of time outside, in parks, playing sports as a child?
Derwin Hannah: I grew up in a large family of 10. We played outside every day. I also enjoyed playing sports, like football, baseball and some basketball.
P&R: When did you move to Baltimore?
Hannah: I decided to move to Baltimore about 20 years ago, as I had family in the area.
P&R: What was your first experience at ABC Park?
Hannah: We have a big family, so my wife and I decided to have our son's first birthday party at the park — he's 17 now. We've probably had seven of his birthday parties at the park over the years.
P&R: Why did you feel compelled to get involved at ABC Park?
Hannah: I noticed things seemed to be backward in the neighborhood: Kids were playing in the street while other things went on in the park, like drug use and police bookings. It wasn't right. The kids needed a place to play, a place to learn how to play, they needed their childhood protected and to experience a feeling of belonging.
P&R: What kind of challenges have you faced over the years at ABC Park?
Hannah: Changing the culture of what should be done in the park has been the biggest challenge. We asked people who were doing inappropriate things in the park, like drugs, to leave, and, at first, some people didn't like it, but consistency was key. I come to the park every day, and once they saw I was serious, most came around. I've even had people apologize for their previous actions. We have had to call police at times, but only as a last resort, and the police department has been a tremendous support. People have said to me, "Why are you doing this? You're wasting your time," and there have been times when I've wondered if I should stop, but then one person would come by and let me know it was all worthwhile. We've gained the trust of these kids and their parents. Even little things make a difference. There used to be litter all over the park, now people use the trash cans because they care.
P&R: What were some of the first activities provided at the park?
Hannah: The first event was a movie night. I found a piece of vinyl and tied it to the fence. We were able to project the movie and people came to watch. We still have movie nights and we get a crowd of 30–50 people. We host many more activities now: back-to-school events, Halloween, an annual kickball game for involved businesses. At most events we go through about 300 hot dogs. We don't deny anyone a meal.
P&R: What other kinds of activities are currently offered at the park?
Hannah: In addition to events and the playground, we offer sports programming. We have four football teams, two baseball teams, four basketball teams, as well as a dance/cheer team that competes in and out of state. We're able to do this because of the support of the local businesses. I've built relationships with several local business owners. I'll send them an email or call and invite them to the park to see what we're doing, and they've provided funding for equipment and team expenses. We let any child who wants to participate, play. The cost to parents can be $225/year for their child to join the three teams — football, baseball and basketball — but we won't turn a child away if they can't meet the fee.
P&R: How many children currently participate in programs offered at the park and what is the age range?
Hannah: We serve around 250 children with our current programs. Sports programs are offered for children ages 6–17 and the teams are co-ed.
P&R: How do you get word out about the activities at the park?
Hannah: Word-of-mouth is key. I talk to parents who bring their children to the park, I walk around the community, make calls, use social media. Now, we even have people from neighboring communities asking us to give them a call to let them know when the next movie night or event is planned so they can drive over to see it.
P&R: What are you most looking forward to with the Parks Build renovation? What do you think the community will most enjoy?
Hannah: Everything! Parks are so important to our kids and our community, and this will help show we are here to stay. I believe rec and parks should be heavily funded. These parks are so important to our kids and our community. It takes everyone to make a difference. I encourage everyone, individuals and businesses, to get involved and make a difference. The community will definitely have something to be proud of when the park build is complete.
NRPA is honored to work with Baltimore City Recreation and Parks, along with our donors, as this program would not work if it was not for these fine companies stepping forward to donate playground equipment and services:
Musco
Greenfields Outdoor Fitness
PlayCore/Gametime
BCI Burke
Vortex
MDF/Most Dependable Fountains
Epic Outdoor Cinema
Gared
Pilot Rock
Dero
IPC Group
We look forward to sharing more information in the coming months about the Baltimore Parks Build Community project and hope you will join us at the ribbon cutting to kick off the 2019 NRPA Conference, September 24–26. For more information on the Baltimore PBC project, contact Gina Mullins-Cohen.
Suzanne Nathan is NRPA's Media Specialist.