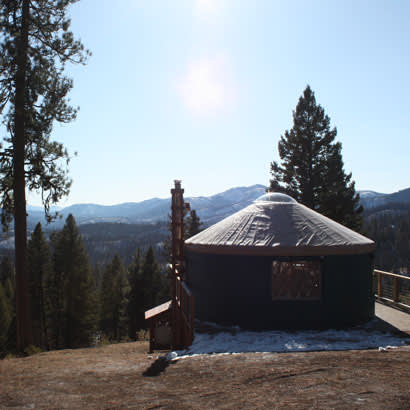 The 2016 Pioneer Fire, one of the most expensive wildfires in the western United States, decimated the Idaho Parks and Recreation yurt system in Idaho City. Starting in 1996, North Dakota native and Idaho Parks and Recreation's non-motorized trails coordinator, Leo Hennessy, built the first of what would become a system of six yurts. Each yurt, a domed, circular, Mongolian-style tent, is built on a mountain top. "We basically built them like lookouts, and you get some great 360-degree views and there are no lights as far as you can see," says Hennessy. The revenue generated from them also helps offset the cost of maintaining and grooming Idaho City's Park N' Ski system. Hennessy, who has been the trails coordinator since 1989, could have retired in 2017, but following the fire, he wanted to see the system of yurts restored before doing so.
From the site selection and the orientation of the yurts, down to the choice of kitchen tools and the placement of hooks for hanging wet clothing, Hennessy has been the hands-on, driving force behind the yurt system. "Leo is a testament to the magic that occurs when the central focus of your career is sincerely loving what you do, and we are all the beneficiaries," says Jennifer Okerlund, communications manager for Idaho State Parks and Recreation.
"I love to provide facilities and trails for people and then watch them have these great experiences," Hennessy shares. "For some, it's their first time having this great experience in luxury camping in a great outdoor environment. Each yurt has a journal, and when I read the journals, it just gives me great satisfaction seeing the experiences they've had, like seeing the Milky Way without the glare from street lights."
This winter, all six yurts will be open and availability is already limited, click here for more information. In recognition for his dedication to Idaho's trail system, a new yurt called "The Hennessy Yurt," has been added to the system, bringing the count to seven. Hennessy retired last month and, no doubt, will take every opportunity to engage in his favorite activity — leading others on the trails in Idaho's backcountry and woods.
Sonia Myrick, is NRPA's Executive Editor of Parks & Recreation magazine.