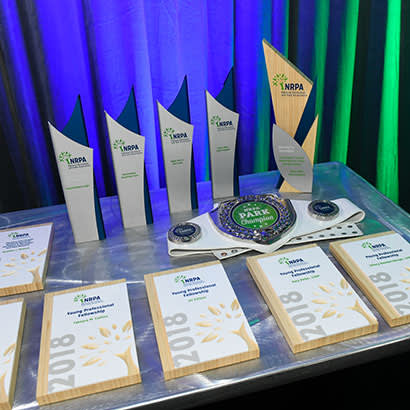 Is your agency innovative in problem solving and addressing your community needs? Do you have a program or project that is a shining example of NRPA's three pillars: Health & Wellness, Conservation and Social Equity? Or, do you know someone who excels in the field or is an amazing advocate for it?
If the answer to any of these questions is "Yes," then you should apply or nominate a deserving individual for one of the NRPA Awards! We want you to tout your achievements and be recognized for the work you do. Your accomplishment may help to inspire others.
The NRPA Awards program high­lights the most innovative and creative programs and initiatives in parks and recreation and honors the best and brightest in the field. These outstanding initiatives and exceptional people remind us daily of the work that is being done in parks and recreation to improve the quality of life for communities across our country.
This annual awards program includes several Spotlight Awards, Scholarships and Fellowships, and five Innovation Awards, all of which are presented at the annual Best of the Best ceremony during the NRPA Annual Conference. The awards are as follows:
Spotlight Awards
Robert M. Artz Advocacy Award
Robert W. Crawford Young Professional Award
Robert Wood Johnson Foundation (RWJF)-NRPA Award for Health Equity
National Distinguished Professional Award
Theodore and Franklin Roosevelt Award for Excellence in Recreation and Park Research Award
Scholarships and Fellowships
Young Professional Fellowships
Student Scholarships
Diversity Scholarships
Innovation Awards
Innovation in Health Award
Innovation in Conservation Award
Innovation in Social Equity Award
Innovation in Park Design Award
NRPA Best in Innovation Award
Nominations are also being accepted for inductees to the Robert W. Crawford Hall of Fame, which honors individuals who have worked to improve the quality of life in America through parks and recreation.
NRPA Award recipients are selected by the NRPA Awards and Scholarship Committee, except for the NRPA Best in Innovation Award where the winner is determined by public vote. Each award has specific eligibility criteria, and all applicants must be current NRPA members. To learn more about each award, scholarship and/or fellowship and to apply, visit www.nrpa.org/awards. Applications for all NRPA Awards are now being accepted, with a deadline of March 29, 2019.