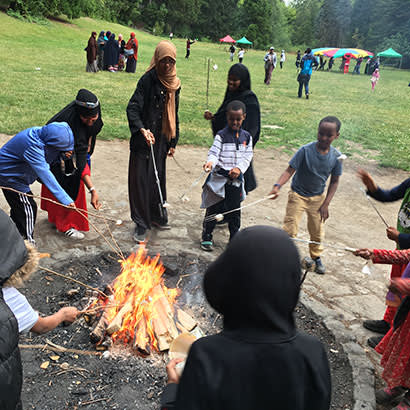 An urban, nature-immersion program for an underrepresented community
The last place you might expect to find a lush, 68-acre forested campground with 10 wooden cabins is in the middle of a large city park, but that is exactly what you'll find at Camp Long in Seattle, Washington. This past summer, Camp Long hosted the ninth and 10th Great American CampOuts, which provided a free overnight weekend retreat for 46 families, most of whom live in public housing in the surrounding neighborhoods.
How the Camp Long CampOut Began
The idea for CampOut originated with program founder, Jeanie Murphy-Ouellette, who provided nature programming and enrichment for the Early Childhood Learning program at High Point Neighborhood House. The Neighborhood House, which helps communities with limited resources attain self-sufficiency, financial independence, good health and community, is located just one mile from Camp Long. In bringing these families to Camp Long, Murphy-Ouellette discovered that most families didn't know that Camp Long was a public park that was open to them, and they really wanted an outdoor camping experience. She also learned that cost was preventing the families from participating in outdoor education programs.
As a result, in 2013, Seattle Parks and Recreation environmental education staff partnered with Courtney Sullivan from the National Wildlife Federation (NWF) to create the Camp Long Great American CampOut, a free overnight event that offers nature activities, environmental learning opportunities, forest walks, night hikes, a campfire program with songs and s'mores and shared community meals. This is part of the NWF's nationwide Great American CampOut program, an online campaign that encourages families to go out and camp, whether it's in a remote national park or right in their own backyard. We contacted NWF about combining its initiative and extending it to low-income, immigrant and refugee families who may not have the means to or know about camping out.
The primary goal of the Camp Long Great American CampOut is to provide High Point families with a nature-immersion program where they could feel safe, explore nature and share their culture with others. Seattle Parks and Recreation environmental educators wanted to ensure this nearby and historically underrepresented, low-income community was reached and had opportunities to be involved in nature and learning. Given the High Point neighborhood's proximity to Camp Long, it was also easy for park staff to engage with this community.
How It's Grown
In its first two years, 34 families from a variety of cultures participated in the CampOut program. Latino, Somalian, Vietnamese, Cambodian, African-American and Caucasian ethnicities were represented. The families enjoyed storytelling around a campfire, learning about composting and recycling, listening to multicultural stories being told by public library representatives, making nature crafts, night hikes to search for owls and stars, and a forest walk. Around the campfire, children shared stories and songs from their cultures, and in the second year, a Samoan family borrowed one of the educator's ukuleles to lead the group in song. Families also learned about the health of Seattle's urban forests and helped remove invasive plant species and put mulch on newly installed native plants.
The Camp Long Great American CampOut program has expanded since its inception, in large part because of a partnership developed with the Delridge Neighborhood Development Association (DNDA). With this support, Camp Long was able to host two CampOut programs each summer starting in 2015. This increase in capacity has allowed twice the number of families to experience this joyful and rejuvenating weekend.
Between the two 2018 CampOut programs this past summer, 262 guests from 46 families called Camp Long home for the weekend. The CampOut program not only invites and welcomes immigrant and refugee families to Camp Long, but also sets an example for welcoming and inclusive programming, as many families are feeling the stress of increasingly restrictive immigration policies in the United States.
The Camp Long Great American CampOut is very effective in getting families excited about spending time in nature. In the beginning, families were skeptical of this new program and were gently persuaded into attending. After years of building trust within the community, families lined up at community outreach events to register starting in February!
This program differs from many others in that it is entirely cost-free and entire families are welcomed. There is no age restriction, so families with infants and/or grandparents can participate in a wide variety of activities: outdoor rock climbing, oil painting lessons outside on the field, nature games, volunteer naturalist-led forest and beach walks, bubble making, face painting, African drumming workshops, soccer and badminton, a nighttime forest hike and a traditional campfire with songs, storytelling and, of course, roasting marshmallows for s'mores!
Yeggy Michael, a major partner from the Delridge Neighborhood Development Association, describes the experience for many of the families this way: "Many first-time new families came, and everyone had a great time. One of the things that stood out to me while talking to some of the families who attended the CampOut for the first time was how surprised they were this type of place existed in their neighborhood.
"They were so surprised to find this wonderful place hidden in West Seattle," he continues. "Some of the families asked how they could bring their families to other events or reserve a space for their families in the future. I think the experience left a positive impression on the kids, as well as the parents."
Seattle Parks and Recreation is proud to be able to host this event year after year and is grateful for the generous support from Disney, ABC, ESPN and NRPA of the 2018 Great American CampOut season.
Becca Reilly is the Naturalist for Seattle Parks and Recreation.