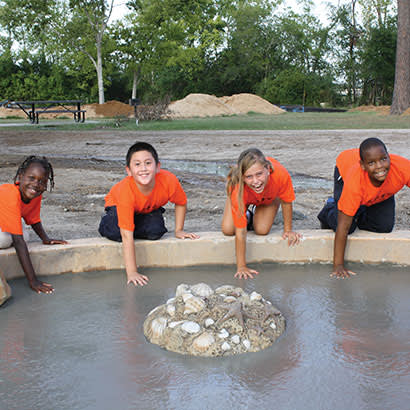 True to the very philosophy of public parks and recreation is the idea that all people – no matter where they come from, what they look like, the neighborhood they live in or how they identify – have access to quality programs, facilities, places and spaces that make their lives and communities more enjoyable. In theory, this is great. In reality, this can be a challenging goal to achieve.
With this in mind, NRPA launched the Parks for Inclusion initiative in September 2017, in response to a formal pledge made to the global Commit to Inclusion program. The goal of Parks for Inclusion is to ensure that everyone has access to the benefits of parks and recreation, especially historically marginalized groups, including those with physical and cognitive disabilities, racial and ethnic minorities, the LGBTQ+ community, and refugees and immigrants or New Americans.
These historically marginalized groups face significant health, economic and environmental disparities in relation to the social determinants of health, including diminished access to good jobs, quality housing and education, healthy food, and physical activity opportunities. Park and recreation agencies have the power and the responsibility to address these disparities by creating welcoming and inclusive spaces that promote positive health outcomes physically, socially and mentally for our most vulnerable populations and community members.
Shortly after Parks for Inclusion was launched, NRPA membership was surveyed to get a sense of how agencies were creating inclusive spaces in their facilities and programs, and what challenges existed that acted as barriers to inclusion. Agencies were also asked what resources would be valuable to them, with the goal of inclusion in mind.
Survey results were released in February 2018 in the Park and Recreation Inclusion Report, which found that while park and recreation professionals agree their facilities and services should be available to all, they may lack the resources to make that a reality. One of the most identified needs was policy creation – how to write and establish an agency-wide policy that ensures all community members feel welcomed in facilities and programs.
To meet that need, NRPA created a best practices guide for developing an inclusion policy, as well as a policy template, Parks for Inclusion: Guidelines for Developing an Inclusion Policy. The guide highlights the key components of a policy, while the template is a customizable piece for agencies to create their own unique inclusion policy and be able to hit the ground running.
In addition to practical applications and providing a step-by-step process for creating and adopting an inclusion policy, the guide acknowledges the intersection of equity and inclusion, and how the two components working together create a vibrant community, strong in its efforts to foster environments where everyone feels welcomed, safe and respected.
Available on NRPA's website, the best practices guide walks agencies through the steps to create a policy:
What is a policy
Why it's important to specifically call out inclusive practices
How to assess community needs and involve the community and target audiences in policy creation
How to measure the effectiveness of the guide
How to implement the policy among agency staff and the greater community
The guide also includes policy examples from agencies across the country and was reviewed by NRPA members involved in the association's Social Equity and Health and Wellness Advisory panels.
In addition to creating a formal inclusion policy, NRPA encourages members to make an inclusion pledge to ensure that everyone has access to the benefits of parks and recreation, especially historically marginalized groups. For more information on the Parks for Inclusion initiative, and to download the guide, visit www.nrpa.org/ParksForInclusion.
Key Findings from the Park and Recreation Inclusion Report
Park and recreation professionals often serve diverse populations with differing needs and desires. Agencies offer programming and activities for many community members, including:
Individuals with physical disabilities (74%) and/or cognitive disabilities (62%)
Members of multicultural/racial/ethnic communities (71%)
Members of the LGBTQ+ communities (30%)
Members of the refugee or immigrant communities (27%)
What they have in common is how they define "inclusion" for parks and recreation. Industry leaders agree that park and recreation facilities, programs and services should be accessible to people of all backgrounds, regardless of race, gender, sexual orientation, socioeconomic position or physical/cognitive ability. Inclusion means removing barriers that can deprive some people of the opportunity to enjoy the benefits of parks and recreation. Survey respondents also see inclusiveness at park and recreation facilities as a way to bring people together and celebrate the diversity of the communities in which they live.
Two in 5 park and recreation agencies have a formal policy that ensure their offerings and facilities are inclusive to all members of the community.
The greatest challenges keeping park and recreation agencies from being more inclusive to all members of the community include:
Insufficient funding (57%)
Inadequate staffing (46%)
Facility-space shortages (29%)
Lack of staff training (25%)
Maureen Acquino is NRPA's Program Manager and Suzanne Nathan is NRPA's Media Specialist.